Snorkeling in the Florida Keys is one of the most popular activities. The crystal clear water and variety of aquatic life make it an ideal place to explore the underwater world.
There are plenty of (dozens, maybe hundreds?) guides and tour operations that will take you out on their boat to snorkel the Keys, but what if you want to take a trip on you own? If you like to adventure on your own, or just don't want to pay for someone to get you out on the water, this is the guide for you.
The Florida Keys is a great place to snorkel because there are so many different spots to visit and at any given time, you may find a new one. You don't need a guide to find the best spots for snorkeling in the Florida keys, just know where you want to go ahead of time. Here are a few amazing spots you can't miss!
John Pennekamp Coral Reef State Park
John Pennekamp Coral Reef State Park is one of the most popular destinations for snorkeling in the Florida Keys. You'll find over 70 nautical miles of coral reefs and seagrass beds here. The park is located on Key Largo, and it features a variety of different coral reefs and fish.
Some of the best spots for snorkeling at John Pennekamp Coral Reef State Park include Molasses Reef, French Reef, and Christmas Tree Cove. There is also a shipwreck called the Spiegel Grove that is a popular spot for snorkelers.
Fort Zachary Taylor
Fort Zachary Taylor, also known as Fort Taylor, is a coastal defense fort in Key West, Florida. The fort is located on the southernmost tip of Key West and is one of the best places to snorkel in the Florida Keys. The fort is surrounded by crystal clear water and a variety of marine life can be seen including, parrotfish, barracuda, and turtles.
Snorkeling at Fort Zachary Taylor is an experience you will never forget.
Locals Pro Tip: Get there early to avoid all the sad kicked up by other snorkelers. This is a popular spot.
When you're done in the water, be sure to check out the rest of the grounds. Fort Taylor offers a unique look into the history of the Florida Keys. You can explore the town's history without breaking the bank by checking out some free things to do in Key West.
Curry Hammock State Park
Curry Hammock State Park is a beautiful park located in the upper Keys. It's home to some of the best snorkeling in the area, with several different coves and reefs to explore.
Marine life flocks to the park thanks to its shallow seagrass flats. There is no reef at the park so its a great place to cruise around without worrying about deeper waters and more dangerous conditions.
Boca Chica Key
Located in the lower keys just a few miles from Key West, Boca Chica Key has a nice hidden snorkeling spot. You'll need a kayak to reach this spot, but it's worth it.
Park in the lot at the end of Boca Chica road to launch. Paddle west for a few hundred yards to reach the Western Sambo Protection Area. This restricted zone outlaws fishing and lobstering, so keep in mind that you can't go kayak fishing there! On a clear, calm day, you'll have a great time exploring patches of reef all around this protected area.
Bahia Honda State Park
This park has so much to offer it's hard to focus on snorkeling. The park has snorkel gear for rent if you forgot to pack your own. As you kick out from the beautiful beach, you'll find seagrass beds and patches of hard rocky bottom. This habitat is home to conch, starfish, and spiny lobster.
Dry Tortugas National Park
Dry Tortugas National Park, which can be reached from Key West by ferry or seaplane, provides the best snorkeling day trip. Its magnificent 19th-century fort is surrounded by waters of unmatched clarity that are home to a plethora of colorful fish, queen conch, starfish, living coral, and other marine life. All of it is also easily reachable from a spotless white sand beach. Additionally, Fort Jefferson offers snorkeling excursions with free fins, a mask, and a snorkel.
Alligator Reef 
Without a doubt, Alligator Reef is among the top snorkeling spots in the Florida Keys. Don't worry; there aren't any alligators in this area. In actuality, a ship that sank inspired the naming of Alligator Reef. These remnants, which are located 200 feet from the Alligator Reef Light lighthouse, are fascinating to explore.
This reef is safeguarded. Due to the lighthouse located within the reef and the four yellow buoys identifying the perimeter, it is well known. Although you can't anchor here, the area is great for snorkelers and divers due to the variety of aquatic animals. Some places barely reach a depth of eight feet!
Molasses Reef 
Locals and visitors alike flock to Molasses Reef because it offers some of the best snorkeling areas in the Florida Keys. It is a typical reef that is highly defined, meaning you will witness a ton of coral development, and it has more than 30 dive spots designated with buoys.
It's vital to keep in mind, though, because diving and snorkeling here almost certainly require a tour. You can take a boat tour from Key Largo or Pennekamp State Park to get there.
The depth at Molasses Reef can reach up to 90 feet! The outside border of the reef also has strong currents, making it a fantastic place for drift diving. Since it is only 5 miles off the shore of Key Largo and the prominent coral heads are only 12–15 feet tall and barely above the sand bottom, you will discover why this is one of the best snorkeling experiences in the Florida Keys!
Biscayne National Park
Only 5% of Biscayne National Park is on land, which consists of 40 tiny barrier coral reef islands and a mangrove shoreline. Some of the most diverse life forms you may ever see are found on its coral reef.
You'll need a boat or to sign up for a tour in order to go snorkeling in this area. The payoff is well worth the effort; boats departing from the visitor center's dock will take you to the reefs, colorful fish, and shipwrecks off Elliott Key, an island in the park.
Sombrero Reef
Some of the best snorkeling in the Florida Keys, as well as in Marathon, can be found at Sombrero Reef! Marathon, a 10-mile-long family-friendly neighborhood, is situated in the Keys island chain. This makes it quite well-liked by both residents and visitors. People keep returning because of how vibrant this reef is!
It draws visitors with all levels of snorkeling experience, thanks to seas that range in depth from two feet to thirty feet. But what sets this reef apart is the chance to interact closely with any marine life. Here, the corals and dazzling neon-colored tropical fish complement. Be sure to be in awe and avoid touching them!
Looe Key Sanctuary Preservation Area
On Big Pine Key, about eight nautical miles southwest of the Bahia Honda State Park, is the Looe Key Sanctuary Preservation Area (SPA). To see the astounding variety of fish that congregate here, park visitors can sign up for a tour.
View grunts and butterflyfish on the reef crest, and surgeonfish and parrotfish to the north. You can frequently see jacks and barracudas swimming around on top of the reef.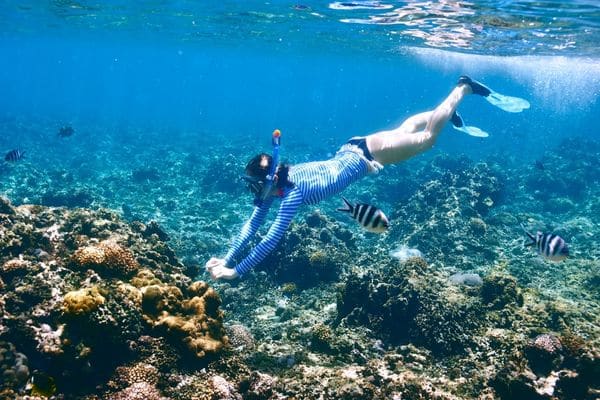 If you're looking for a really good time in the Florida Keys, you might need to find the best Key Largo snorkeling tours available. This will make you appreciate the Keys more for its vast marine life and clear waters. 
We present this ultimate guide to the Biscayne National Park snorkeling experience for avid explorers and nature enthusiasts who want a unique experience in Florida. 
Bahia Honda State Park, located at Mile Marker 37 in the Florida Keys and with an award-winning beach and historic bridge, has become a popular spot for visitors to the island paradise. Visiting the park is an ideal peaceful retreat for the whole family.
Snorkeling in the Florida Keys Without a Guide FAQs