Curry Hammock State Park is a gem waiting to be found, tucked away in the Middle Keys of the Florida Keys archipelago. This extraordinary state park near Marathon, Florida, provides a mesmerizing getaway for nature lovers and adventure seekers. 
Visitors who discover this hidden gem in the Middle Keys will undoubtedly be enthralled by its natural splendor, soothed by its peace, and motivated to safeguard and maintain this exceptional piece of paradise. Let's find out why. 
Why Is It Called Curry Hammock State Park?
Lamar Louise Curry, a renowned Miami educator whose father, Thomas, bought vast tracts of land in the Middle and Upper Keys, inspired Curry Hammock, which was established as a state park in 1991 and bears her name. 
After her father passed away, Curry gained control of his vast landholdings and cleverly sold them over time to continue an affluent but quiet lifestyle in Coral Gables. Her legacy includes Curry Hammock State Park, which she sold to the state in 1991 rather than offering it for development that was booming in the area at the time, as well as the Buttonwood Bay development in Key Largo, upon which Curry reportedly imposed strict conservation-minded deed restrictions to protect shoreline mangroves.
Curry Hammock State Park is the largest deserted area between Key Largo and Big Pine Key. The Florida Keys environment depends on the mangrove swamp, rockland hammocks, and seagrass beds protected by the park.
The park is a two-mile section of the Florida Keys Overseas Heritage Trail. This multi-use path offers access to Marathon for people on foot and bicycles and follows the path of the Overseas Railroad. The Florida Circumnavigational Saltwater Paddling Trail also traverses the park.
According to the Florida Department of Environmental Protection, Curry Hammock State Park's mission is to conserve exceptional passive, resource-based recreational opportunities for Floridians and visitors while protecting rare natural communities and the numerous listed plants and animals they support on the area's largest undeveloped parcel of land.
Experiencing Curry Hammock State Park
The park is open from 8 AM to sunset all year round. Here are the admission fees, which already include a 50-cent Monroe County surcharge per person:
| | |
| --- | --- |
| Number of People | Fees |
| 1 | $4.50 |
| 2 | $6 |
| 3 | $6.50 |
| 4 | $7 |
| 5 | $7.50 |
| 6 | $8 |
Curry Hammock State Park's shallow, safe waters are perfect for kayaking and paddleboarding since it has miles of undeveloped coastline, a lovely mangrove creek, and both. Bring your own gear or ask about rentals at the ranger station. The seashore is a well-liked location to launch kiteboards and windsurfers when the wind is blowing.
The park offers fantastic possibilities for birds all year round. Fishing in shallow water is possible in the park's bay and ocean areas. A 1.5-mile, somewhat challenging walk takes hikers through the park's bayside hammock.
The beachfront features a 28-site campground.
Curry Hammock Camping in Florida
Camping is one of the major highlights of every trip to Curry Hammock State Park. Take advantage of the spacious campsites, breathtaking sunrises, beach access, and fantastic recreational activities in this hidden gem.
Curry Hammock Camping fee is

$36 per night plus tax

, a nonrefundable

$6.70 reservation fee

, and a

$7 nightly utility fee

for RV, cabin, bungalow, boat, and yurt units. 

Utility fee includes water, electricity, and sewer.

Utility fee does not apply to tent camping.
Florida residents who are 65 years or older, have a Social Security disability award certificate or have a federal certificate of 100% disability are eligible for a 50% discount on the standard campground rate. (Utility fees and reservation fees are not included.) At check-in, you must show your documentation.
What You Can Expect From The Curry Hammock Campgrounds
A picnic table, charcoal grill, water, gravel pads, 20/30/50-amp electrical service, and hammock posts are all features of each of the 28 sites.
Here are some important things to remember so that campers will know what to expect in the Curry Hammock campgrounds:
Site 1 is ADA-accessible.

Sites 1, 2, 4-9, 20, 22-25, and 27 have tent pads. (Although most tent campers prefer tent pads, all campsites can accommodate tent camping)

Between sites 13 and 15, there is access to the beach.

Campers can use a fire pit on the beach's west end.

On campsites, no open flames are permitted.

RVs can be as long as 70 feet.

Powerboats and other powered vessels are not allowed to launch.

No laundry facilities are available.

Pets are not permitted in the bathhouses, on the beach, or in the water. 

Pets must be well-behaved and on a 6-foot, hand-held leash in the sections where they are permitted.
The campground attractions include a dump station, ADA-compliant restrooms with hot showers, and carefully managed and maintained grounds. You can make reservations up to 11 months in advance.
An overview of the Curry Hammock State Park Campground by Travel SzN
Think of a gorgeous day with blue skies, mild breezes, and no particular place to go. With more than 90 miles of paved bike paths along the Overseas Heritage Trail, you can explore the Florida Keys while riding a bike. Curry Hammock provides access to the Overseas Heritage Trail. From Key Largo to Key West, a multipurpose, paved trail extends about 90 miles. 
The Florida Keys National Marine Sanctuary, Everglades National Park, Biscayne National Park, Key Deer National Wildlife Refuge, Crocodile Lake National Wildlife Refuge, and ten Florida State Parks are just a few of the attractions and ecological resources that can be reached via the trail.
In addition to being a terrific kind of exercise, biking the Florida Keys Overseas Heritage Trail is also a great way to decompress. You let your feet move the pedals as you pass through mangroves that are so dense you cannot see the road, past tall gumbo limbo trees, and along a lovely beach where you can smell the salty air of the ocean. You have a sense of calm and relaxation, exactly what you were searching for.
Fishing is permitted within Curry Hammock State Park. Permit and bonefish are frequently found on the flats, while large sharks, snapper, snook, and other fish have been caught in the channel next to the park. Within the park, fishing laws from Florida are in effect. Regulations regarding size, number, mode of capture, and season must be followed for all fishing within the park.
Note: Please remember that it is forbidden to spearfish, own spearfishing gear, or gather tropical fish in any way at Curry Hammock. 
To learn more about what it's like to fish in this state park, read Chris' blog, which is the third installment in a series about hidden gems that offer seclusion, great fishing in a sheltered area, and fascinating history. His blog outlines his personal experience fishing at Curry Hammock State Park and dining at Barracuda Grill, one of the best Marathon restaurants on the water.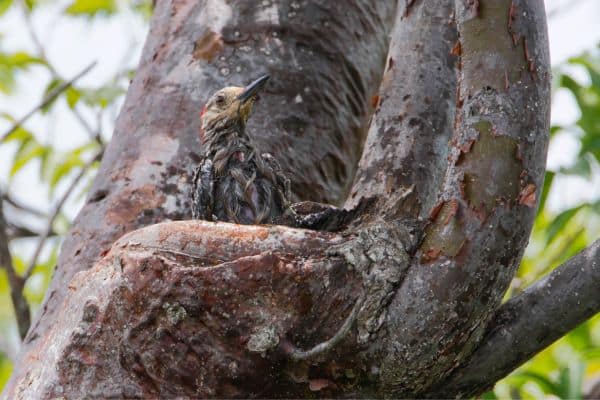 It feels like going back in time to stroll through the tropical hardwood hammock forest in the area. Hike on top of old coral that has been submerged and then fossilized. To keep their roots high and dry and out of the ocean, hardwood trees now use the coral rock as high ground. This kind of rare habitat is a haven for local and migratory wildlife.
The trailhead is one mile south of U.S. 1's main entrance to the park. Please note that there are no restrooms in this area. The coral rock makes the route quite unlevel, so watch your step and wear the proper footwear. You can stop by the ranger station to ask for a trail map.
The paddling options in Curry Hammock State Park are excellent. Kayaks and paddleboards can be brought to the water's edge and launched from the campground or day-use area. Typically, the shallow seas have quiet currents. Swim to a neighboring sandbar or paddle the mangrove tunnel loop around Deer Key Island.
At the ranger station, two-hour kayak and paddleboard rentals are provided on a first-come, first-served basis, or you can bring your own watercraft (no powered vessels are permitted).
| | |
| --- | --- |
| Kayak | Rental Rates |
| Single | $17.20 |
| Double kayak or SUP | $21.50 |
Note: The Mangroves Matter Kayak Tour happens every Friday at 10 AM. You must contact the ranger station to sign up.
The picnic area features four pavilions, each with two BBQ grills and four picnic tables, and is situated on the park's southeast side. You can reserve these pavilions. 
| | |
| --- | --- |
| Reservation | Fees (including tax) |
| Half Day | $32.25 |
| Full Day | $53.75 |
The first pavilion is ADA-compliant. These pavilions are accessible on a first-come, first-served basis when not reserved. Meanwhile, there are other picnic tables scattered across the day-use area.
Swimming is permitted in specific locations. The waves and currents are generally calm, and the water is shallow. Deep water is on the east side of the day-use area, next to the kayak launch. 
If you're seeking a more adventurous type of activity, the marine life at Curry Hammock is abundant. Visit the shallow seagrass flat at Curry Hammock, which is home to a variety of marine species. You never know what you might find, so move slowly and examine attentively. Many marine species living in the Florida Keys benefit greatly from the seagrass as a nursery.
Before visiting the coral reef, Curry Hammock is an excellent place to learn how to snorkel and hone your techniques.
Note: A diver-down flag is required while snorkeling.
Birding experts for the Florida Keys Hawkwatch at Curry Hammock State Park
Amazing wildlife viewing chances are available from Curry Hammock's shoreline. Visitors have observed manatees, dolphins, sharks, stingrays, tarpon, and more from the beach and kayak launch areas. The park hosts the annual Florida Keys Hawkwatch from August to November. There are birding experts onsite for the bird migration count.
For almost 25 years, raptor migration studies have been carried out in the Middle Keys, and numerous people, initiatives, and organizations have made significant contributions to understanding the migratory bird populations that use the Florida Keys. Raptors have traditionally been the main subject of avian migration studies in the Florida Keys.
The years passed, and the Raptor Migration Project was reorganized and redefined as a "locally-owned" operation dedicated to the long-term sustainability of a raptor migration site, rebranded as the Florida Keys Hawkwatch, under the sponsorship of Tropical Audubon Society and Florida Keys Audubon Society. This is being done to make sure that future fall migration season at the Curry Hammock site is monitored.
Curry Hammock is a birding and paddling haven along the Great Florida Birding and Wildlife Trail and the Florida Circumnavigational Saltwater Paddling Trail. Get outside and hike, ride, or paddle around the park for a more immersive animal viewing experience!
Remember to walk outside and observe the night sky when camping at Curry Hammock. Due to the lack of light pollution in the area, stargazing is highly well-liked.
Note: Current star charts are accessible from the ranger station and placed in park kiosks.
The Curry Hammock State Park In Marathon, FL
Curry Hammock is a protected area that preserves pristine seagrass beds, huge mangrove swamps, and rockland hammocks. It is also a great place to view wading and shorebirds. 
With its charming campground, facilities with an outdoor shower, wonderful beach with calm seas, playground, and picnic shelters, it is an especially great getaway location for families.  Nevertheless, despite its appealing features, Curry Hammock is rarely busy on land and even less on the water. That is why this state park seems like a hidden gem in the Middle Keys. Now you know why.
Want to spend some time on the hammock? Or do you prefer an exhilarating deep-sea dive? The Florida Keys state parks should be on your bucket list.
One of the most amazing ways to explore the uniqueness and beauty of this vast chain of islands is to go tent camping in the Florida Keys. Daytime exploration of the beaches, mangrove swamps, hammocks, and canals is followed by an evening of camping. Spend the night in campgrounds next to gorgeous turquoise seas while you cook meals and enjoy the glittering stars.
The best beaches in the Florida Keys for families practically promise days full of sunscreen, ice cream, and margaritas. The archipelago is primarily known for its breathtaking coral displays, but it also has several beautiful beaches where you can escape the intense Florida sun.
Curry Hammon State Park FAQs