Want to spend some time on the hammock? Or do you prefer an exhilarating deep-sea dive? The Florida Keys state parks should be on your bucket list. Regardless of your thrill level, they will be an excellent choice to challenge your level of exploration.
Although America's national parks may get all the attention, Florida Keys state parks have equally stunning landscapes that are accessible through a variety of activities. You can have a stunning waterfront dining experience or avoid breaking the bank with free things to do. 
Ten state parks are located in the 125-mile-long island chain. They feature some of Florida's most beautiful beaches and waterfront views, with several being only a few steps away from the turquoise waters of Florida Bay and the Atlantic Ocean.
Let's explore the numerous features that each state park has to offer.
Bahia Honda State Park is a triple threat with its array of activities. This award-winning beach, given its name by Spanish explorers centuries ago, attracts history fans and nature lovers. The 500-acre Bahia Honda State Park is an obvious choice for people who love to bask on soft sand and clear sea waters. 
Snorkel or kayak are great choices for up-close views of vibrant coral and tropical fish. To get a birds-eye perspective of the waters below, climb the original trestle railroad construction, which dates back a century, or explore the nearby flora and fauna by hiking.
Dagny Johnson Key Largo Hammock Botanical State Park
Outdoor enthusiasts should keep Dagny Johnson Key Largo Hammock Botanical State Park at the top of their list of places to visit. This Florida state park was spared from a planned condo construction and is home to one of the country's greatest expanses of West Indian tropical hardwood hammock. It also harbors an astounding 84 protected plant and animal species, from the American crocodile to wild cotton.
Take a six-mile nature hike or bike ride through Dagny Johnson's hardwood forest to see a wide range of fascinating plants and creatures up close. To navigate a self-guided tour, simply follow the signs. Alternatively, ask a park ranger for a detailed history of the area's ecosystem.
Lignumvitae Key Botanical State Park
One of the coolest spots to visit in Islamorada, a little 11-acre island, is the hidden gem known as Lignumvitae Key Botanical State Park. This park is a shelter for endangered plants and protected bird species and contains one of the last old-growth hardwood hammock forests remaining in the Florida Keys. It is only reachable by boat and has fascinating wind-powered homes and Native American cultural sites.
Take a trip through time by touring a unique Dade County Pine home from the late 19th century, or go on a guided stroll to see stunning coral formations. Bring your camera to capture the beauty of the local flora as you stroll along the nature route through the hardwood forest. You can also explore red mangrove streams and seagrass flats while paddling a kayak.
John Pennekamp Coral Reef State Park
You might expect to find a treasure trove in John Pennekamp Coral Reef State Park if you're fascinated by marine life. This underwater park spans 70 nautical miles and is home to the sole live coral reef in the continental US, the Key Largo Dry Rocks.
View this amazing ecology from a glass-bottom boat tour, or go snorkeling or scuba diving to experience it yourself. To get to the park's focal point, Christ of the Deep, a magnificent bronze statue built to honor the world below the waves, you must swim through an exotic underwater jungle.
Additionally, this barrier island serves as a shelter for rare and endangered tropical and coastal species. Kayak through a two-mile stretch of mangrove forest. Put on a pair of hip waders and throw a line into the lagoon.
Looking for a place that combines historical interest with natural beauty and fun in the water? Long Key State Park is right there at mile marker 67.5. A glass-bottom boat excursion will provide you with fantastic views of marine life. Ride a kayak or canoe and paddle across a network of lagoons. Don your snorkeling equipment to see the marine life in the clear, shallow seas. 
Explore the park's abundance of plants and fauna by hiking the 1.1-mile Golden Orb Nature Trail. For seeing wildlife, particularly rare bird species' breeding areas, bring your binoculars. You'll be rewarded with breathtaking views if you hike the route to the observation tower.
Fort Zachary Taylor Historic State Park
Want to explore a stunning natural view while getting lost in history? Visit Fort Zachary Taylor State Park right away. One of Key West's most well-known beaches is in the park, perched on the southern edge of the city. Get some equipment because snorkeling in this area's warm, shallow water is fantastic! Take a swim, paddle in the clear waters, or cast a line for other aquatic activities.
The past comes to life as you move through the red-brick corridors with their cannon and gun ports. Learn more about the fort's crucial part in the Civil War and the Spanish-American War from the informational panels and guided tours. 
Windley Key Fossil Reef Geological State Park
The Florida Keys are one of the most fascinating coastal settings in the world, and Windley Key Fossil Reef Geological State Park shows its untold secrets. Get this: A prehistoric fossilized reef served as the foundation for the road that leads to this 300-acre park. The Florida Keys Over-Sea Railroad, built in the early 1900s and connected the Florida Keys to the rest of the world, was built on this "Key Largo Limestone" as its foundation.
Investigate the old quarrying ruins. For a one-of-a-kind sight, go along the eight-foot-high quarry walls to see cross sections of lovely fossilized coral. Hike self-guided pathways that wind through a tropical hardwood hammock further out to take in the island's natural splendor.
San Pedro Underwater Archaeological Preserve State Park
Do you feel like doing some deep-dive investigation? Head to San Pedro Underwater Archaeological Preserve State Park with your snorkeling and dive gear. The San Pedro, a 287-ton Dutch-built ship that was a part of a Spanish "treasure fleet," went down in Hawk Channel during a hurricane over 300 years ago.
Explore the ship's remaining ballast stones, cannon replicas, and anchors via snorkeling or scuba diving. View the soft and hard corals that have populated the ship's wreckage up close. Take in captivating sights of the countless fish (over 65 species), invertebrates, and other underwater sea life that call this distinctive structure home.
Indian Key Historic State Park
Interested in taking less-traveled paths? Set your compass for Indian Key Historical Park off the coast of Islamorada. Indian Key, which can only be reached by hired or owned boat, is an intriguing ghost town defined by eerie reminders of days gone by. Even though the locals are long gone, you can still sense their presence as you stroll the streets and investigate the ruins of old structures. 
Explore a self-guided educational tour and ascend the observation tower to obtain a bird's-eye view of one of the Florida Keys' most intriguing historical footnotes.
Curry Hammock State Park, a 1,000-acre location protected from development, is the largest deserted area between Key Largo and Big Pine Key. Discover vast expanses of seagrass beds, mangrove swamps, and tropical hammocks—all essential components of the Florida Keys ecology. Kayak, paddleboard, or snorkel on the water. Hike the nature walk for breathtaking views of mangrove tunnels, deep water lagoons, the open ocean, grassland flats, and sandbars.
At Curry Hammock State Park, you can fly a kite or be a kite! Securing yourself to a kite-powered board, you can ride the wind over Florida Bay's stunning emerald ocean.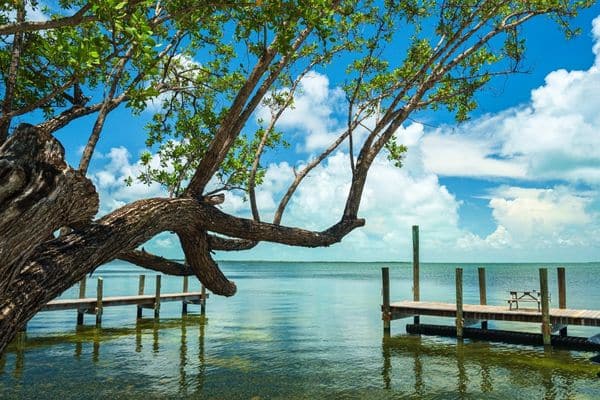 Paying several entrance fees is one thing that keeps people from visiting multiple state parks. Although the cost is high enough to make you hesitant, a pass can make sense if you visit many state parks. 
Individual annual passes cost $60, while annual family passes cost $120. One person can enter the parks for free with a $60 individual pass; any additional person must pay $2 to enter the parks.
Florida's low altitude and proximity to the ocean truly produce some lovely weather and delectably breathable humidity. You won't want to be indoors for any of these stunning parks; we guarantee it, so make sure you have your sunglasses and sunscreen! 
The Florida Keys has it all, whether you're seeking breathtaking bike rides along the seashore, tours of deserted military outposts, or petrified coral reefs.
Florida Keys State Parks FAQs