There is no shortage of free things to do in Key West, where tourists can try sampling some of the best seafood in the world to staying up late partying at one of the island's famous bars. Make sure to include some of these fantastic Key West free attractions in your itinerary if you are still planning your vacation to Key West.
As the most popular tourist destination in the Florida Keys, Key West will undoubtedly be on your agenda if you decide to visit. It's wonderful to mix up the expensive with a few free activities while on an expensive vacation. 
With these free activities in Key West, you can live your best life without breaking the bank.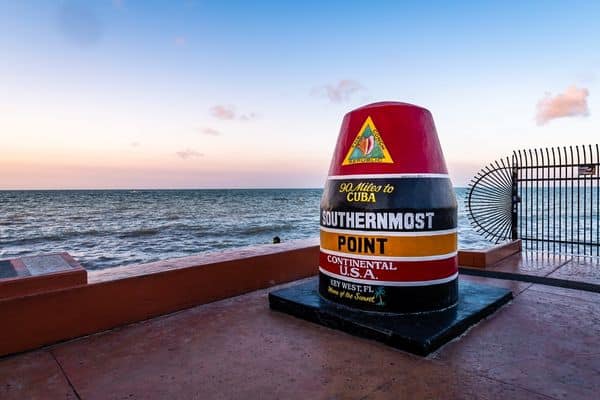 Beach lovers can't spend a vacation without anything else than the ideal balance of sun, sand, and saltwater, and that would be that sun-kissed skin. There are many beaches to select from in Key West and the whole of Florida Keys. 
Visit Simonton Beach in the north, Higgs Beach in the south, Smathers Beach in the west, and Fort Zachary Taylor Historic State Park Beach in the east. Click here to see a list of the best beaches in the Florida Keys for families. You may also enjoy visiting Florida Keys state parks while you're there.
Duval Street is the most well-known street in Key West, so taking a stroll down it is worthwhile. It stretches from the Gulf of Mexico to the Atlantic Ocean and is known as "The Longest Street in the World." 
Duval Street is home to many stores, galleries, outdoor cafés, clubs, and entertainment venues. The greatest way to experience Old Town's charm is to take a short stroll down its famed main street.
Key West is a party town, and one of the most well-known activities is bar hopping on Duval Street. Many visitors to Key West only come to the party.
Take a Tour of the Key West Legal Rum Distillery
The award-winning rum produced by Key West Legal Rum Distillery is manufactured on-site at their Simonton Street location. All distilled spirits use organic Florida ingredients, including key limes and vanilla beans.
It offers tastes particularly specific to the Key West region, such as Key lime, Florida sugar cane, and vanilla creme brûlée. Free tours of the distillery show visitors how to make the ideal rum. The complimentary tastes at the end of the tour are the best part!
Free mojito classes are another popular freebie that First Legal Rum Distillery offers. Visitors enjoy these free seminars because they show them how to prepare the ideal mojito the Cuban way!
Bask in the Beautiful Nature at the West Martello Tower
West Martello Tower is an incomplete Civil War-era fort situated on the Atlantic about a mile from the Southernmost Point. Construction started in 1863 and ended in 1873. In addition to housing radio stations during World Wars I and II, the tower accommodated troops during the Spanish American War.
It was included in the US National Register of Historic Places in 1976. Hiking through the Key West Garden Club grounds allows visitors to appreciate how nature has reclaimed the abandoned fort.
Visit the Florida Keys Eco-Discovery Center
The 2,500-gallon reef tank and more than 6,000 square feet of engaging display space at the Florida Keys Eco-Discovery Center let you study and understand the ecology of the Key's habitats, plants, and animals. The public is welcome to visit the natural history museum for free.
This is your chance to see magnificent tropical fish up close and personal if you've had trouble snorkeling in the Keys. The center is particularly fantastic for youngsters. Plan a visit here.
Take a Picture at the US 1 Mile Marker 0
Mile Marker 0 signifies the start (or finish) of US 1 and is situated at Whitehead Street and Fleming Street. Most major cities on the east coast are connected by the highway, which runs from Key West to Maine. 
In Key West, this is a must-do famous image to photograph. The queue at mile 0 is also not normally very long. This is usually a good idea if you're trying to come up with free things to do in Key West.
Interact With the Wildlife at Key West Wildlife Center
Over 1400 wild birds receive care yearly at the Key West Wildlife Center, a rehabilitation center. Visitors can enjoy the site's different flora and fauna by strolling along the seven acres of land and a nature trail. There are two aviaries and a freshwater pond where you may see herons, egrets, ibis, turtles, iguanas, and other animals.
The wildlife center's rehabilitation flying area and aviary are used to nurse back to health injured birds.
Join a Walking Tour at the Key West Cemetery
In the center of the island, halfway between West Martello Tower and the Historic Key West Seaport, stands the Key West Cemetery. There are several ways to enter, but you should start at the northwest corner of Passover Lane and Angela Street because a little office there gives fantastic free walking tour guides.
The cemetery uncovers amazing tales about Key West and its inhabitants when accompanied by a walking tour guide.
Experience the Sunset Celebration at Mallory Square
Key West Mallory Square Sunset Celebration
Mallory Square is well-known in Key West for its spectacular sunset celebration. As you take in a spectacular sunset, street entertainers, buskers, and all the different characters who call Key West home will come to amuse you.
Every night, crowds of onlookers, shoppers, and street performers congregate in Mallory Square for a few hours of fun before a breathtaking Key West sunset.
Enjoy a Scenic Stroll on the Key West Historic Seaport
Many tourists visiting Key West skip by locations that aren't right on or near Mallory Square or Duval Street.
For instance, the Key West Historic Seaport, which is a harborwalk along Key West Bight, is one of the city's most picturesque strolls and a top freebie.
The Key West Seaport has a lot to offer tourists, including charming schooners, ravenous tarpon, historical exhibits, and the finest happy hour deals in town.
Free Things To Do In Key West FAQs