Florida is renowned for its history of commercial fishing and its high-quality seafood offerings. Florida Keys seafood festivals are annual celebrations of the benefits of commercial fishing and seafood, which are held in numerous villages across the state. There are two major seafood festivals in the Florida Keys – one in Key West and one in Marathon.
The activities are geared toward families, and each community's particular flavor is distinct. Each offers mouthwatering regional seafood, and many also provide live music, arts and crafts stands, rides for kids, parades, 5K runs and walks, cooking demonstrations, and competitions like oyster shucking. The seafood festivals are enjoyed by residents and visitors alike.
You can also enjoy local seafood delicacies at waterfront restaurants.
The Florida Keys Seafood Festival in Key West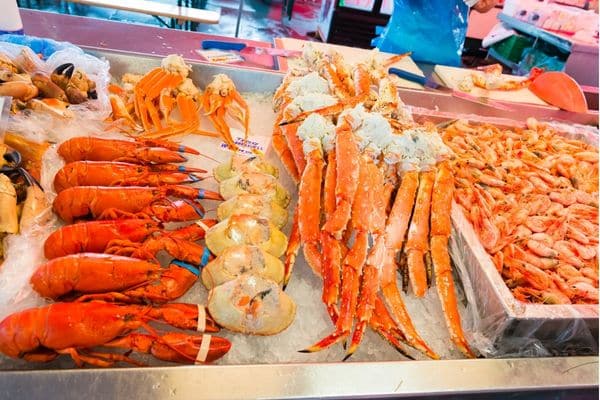 Sponsored by the Florida Keys Commercial Fisherman's Association, the Florida Keys Seafood Festival in Key West is held at Truman Waterfront Park between April 1 and 2. 
Enjoy The Fun Activities!
The Seafood Festival honors the community by bringing family and friends together in a joyous and enjoyable environment to sample the local catch. This fun-filled family event aims to highlight the freshest local seafood and the Keys' commercial fishing industry. Try these:
Shopping and art

Children's Eco-Discovery Zone with make your own slime station and lego wall

Adult beverages, beer, wine, frozen rumritas with First Legal Rum

Event t-shirts, koozies, and authentic lobster trap balls for sale

Fantastic entertainment all-day

Raffle to win $250 in seafood shipped to your home
Savor The Fresh Seafood Menu
Every year, the local fishermen and women take great pride in providing the neighborhood with a selection of seafood at affordable costs. You might have never tried some of them before. You can never go wrong with:
Fried fish baskets or platters with slaw and black beans & rice

Fried clams basket

Grilled spiny lobster platters

Stone crab claws with key lime mustard sauce

Peel and Eat Key West Pink Shrimp with cocktail sauce

Smoked fish dip with crackers

Creamy lobster bisque

Bahamian-style conch chowder

Conch Ceviche

Conch Fritters
Aside from seafood, the festival also offers…
Hot dogs

Hamburgers

Beverages (beer, wine, rumritas, rum runners, water, soda, and coffees)

Desserts (Estella's Famous Flan and Natilla, Key Lime Pie, and other homemade treats, including gelato and Italian ice)
Meet The Vendors
Arts and crafts reflecting the fishing industry and sea life are available at vendor booths and other handcrafted goods made by regional artisans. Additionally, several conservatory groups have educational and marine life exhibits. Below is a list of some of the vendors and exhibitors you'll meet at the festival:
AER Art and Photography

Reel Catch

Bluewater Outfitters, Inc.

Abaco Cottages

Reel Fishy Apparel

U.S. Coast Guard Auxiliary

The Feisty Mermaid

Splash Soap Company

Seacamp

Rewine Glassworks
Sponsors and Supporters
The annual Florida Keys Seafood Festival is a huge success because of the help and generosity of neighborhood businesses. The community's fishermen admire and recognize the efforts they make to ensure the survival of the local fishing sector. 
Low Key Fisheries

Keys Fire Extinguishers

Florida Keys Commercial Fisherman's Association

deBoer Propane

Keys Weekly

First State Bank of Florida Keys

Sunbelt Rentals

Lightship Maritime Inc.

Key West Engine Service, Inc.

Key TV
The Original Marathon Seafood Festival in Marathon
The Florida Keys' flagship festival for delicious, fresh seafood and entertainment is the Marathon Seafood Festival.  With more than 20,000 visitors each year, it ranks as the second-largest event in the Florida Keys.
The Marathon Seafood Festival is the Keys' first and oldest seafood celebration. Commercial fishermen founded it in 1976, and they catch and prepare all of the seafood there.
The festival is held at Marathon Community Park between March 11 and 12. Bring the whole family for two days of delicious food, fun, and entertainment!
Enjoy The Fun Activities!
Volunteer to work a booth and receive free admission and a free t-shirt!

Games, activities for children and adults (rock-climbing wall)

Boat show

Military tribute

Live music entertainment throughout the 2-day event

Over 200 vendors selling jewelry, clothing, art, crafts, and other great souvenirs, boat show, etc.

Raffle giveaways and other great prizes and games
*It should be noted that pets are not allowed unless they are registered service dogs. 
Savor The Fresh Seafood Menu
Through the festival, the commercial fishermen at Marathon enjoy the fruits of their labor. Fresh fish is fried and prepared along with:
Lobster tails

Stone crab

Shrimp

Oysters

Ceviche

Mahi-mahi

Conchworst

Lobster bisque

Crab cakes

Cuban croquettas

Hamburgers

Hot dogs

Sausages

Cheap beverages (cold beer, wines, & bubbly)
Meet The Vendors
Over 15,000 people travel to the lovely Florida Keys for the fantastic Marathon Seafood Festival. Visitors, Keys locals, families, fishermen, and boat lovers go with an eye for seafood and delectable fare, nautical goods and services, retail, and other things! Vendors can join this yearly event to promote their business, connect with visitors to their products and services, and improve the Marathon and Middle Keys community. Some of them are:
Sea Tow

Mobile Mountain

Sunsmart America

The Tubazaar

The Green House

Fish Bone Design

Jessica Ann Art

Custom Coastal Furniture

Coco Plum Real Estate – Gables on the Go

Pete Airbrush
Sponsors and Supporters
The Marathon Seafood Festival values its sponsors and supporters because, without them, the festival would not be able to host its biggest annual event. The event donates to neighborhood charities each year and gives scholarships to Marathon High School students who want to continue their studies in the area.
Marathon Veterinary Hospital

SeaSquared Charters

Eagle Brands

Jolly Roger RV Resort

Florida Keys Electric

Rocket Cooling

Ultimate HeliTours

Florida Keys Aquarium Encounters

D'Asign Source

First Horizon Bank
Islamorada Seafood Festival & Art Show
Islamorada Seafood Festival & Art Show has remained firmly rooted in its original mission: to be a small, neighborhood event that caters to people looking for creative seafood from the Florida Keys and imaginative art.
The four years since this festival's debut have seen tremendous growth. The festival was created by members of Islamorada Moose Lodge #2151 to highlight the fine handcrafts of local & regional artisans and the local seafood-centric cuisine of Islamorada area restaurants to raise money for local Moose Charities. It draws crowds of thousands from the Florida Keys, South Florida, and beyond.
Enjoy The Fun Activities!
The festival includes live performances by well-known artists like The Little Things, a street parade by a well-known Bahamian junkanoo band, local craft beers and libations, a well-liked Kid Zone, pet stations that welcome dogs, commemorative T-shirts, as well as events at the Islamorada Moose Lodge and all over the Morada Way arts district. Both adults and children can anticipate having a good time at the festival!
Enjoy the live music with DJs

Bahamian JunkaNew Band/Parade

Smoked Fish Dip Competition

50/50 Raffle
Savor The Fresh Seafood Menu
The festival offers mouthwatering seafood samples from many Upper Keys eateries as well as unique goods made by hundreds of selected craftsmen.
BangBang Shrimp

Bacon wrapped scallops

Bacon shrimp sliders

Oyster shooters

Shrimp mac and cheese

Kickin Shrimp

Conch fritters

Seafood Stew

Calamari
Meet The Vendors
A wide variety of artistic minds who work in paint, metals, photography, soft goods, and more make up our roster of artists. Buy regional goods at the Islamorada Seafood Festival and Art Show.
In the Sun Creations

Annie Bond Pottery

Tina's American Jewelry

Starfish Designs

Donna Shones

Finsart.com by Chris Howard

 Jellyfish Daydreams

Lionfish Jewelry & Accessories

Eleanor McCandless

Groovy Gurlz
Sponsors and Supporters
The Moose Charities are supported by the Islamorada Seafood Festival & Art Show. Islamorada Moose Lodge and Morada Way Arts & Cultural District are the hosts. Some sponsors are:
Keys Weekly

Saxe Veterinary Services

Florida Keys Brewing Co.

Islamorada Fish Company Restaurant

Sharon J. Kelly Realty
Don't miss out on a bunch of activities to do in the Keys while you're at it. You can stroll around state parks and spend the day at beautiful beaches.
Watch this local news from Key TV to visualize the out-of-the-ordinary activities you can enjoy with the locals at a typical Florida Keys seafood festival.
Florida Keys Seafood Festivals FAQs