The best Florida Keys tiki bars are where you can enjoy a chilled drink and soak up the salty breeze while taking in the laid-back atmosphere, waterfront tables, thatched roofs, and island music. These bars provide delicious seafood platters and rum cocktails with tiny paper umbrellas, making them the ideal setting for relaxing and forgetting about your concerns. 
Read on to learn about some of the best Florida Keys tiki bars, which are tucked away on a number of lovely waterways.
Location: 430 Greene St, Key West, FL 33040, United States
In keeping with preferences, Tiki House Key West serves up authentic tiki drinks made with fresh fruit juice and copious amounts of rum. The Tiki House, which is a few blocks from the Historic District and close to the water, is a quaint and laid-back lodging option with retro Polynesian decor that instantly takes you to paradise.
Every day of the week at this entertaining Key West location, there are events happening, including happy hour deals, competitions, and cocktail classes. Order the Mermaid's Milk, which is a distinctive blend of vanilla, coconut, and citrus. It is made with Thomas Tew Single Barrel Rum, vanilla syrup, cream of coconut, lime, lemon, and Angostura bitters.
At Tiki House, you can take Tiki cocktail classes, where you'll learn the history of Tiki and how to make authentic Tiki cocktails. One class costs $80 per person.
Location: 107900 Overseas Hwy, Key Largo, FL 33037, United States
The largest tiki bar in the Keys is at The Gilbert's Resort in Key Largo. This tiki bar actually goes above and beyond with waterfront dining, live entertainment, and great cuisine. Before selecting a tropical drink from the large menu, dig your toes into the sand and take in the ocean vistas.
Gilbert's is a great place to unwind. It will provide you with a genuine sense of a Caribbean island, whether you want to get away from the city for the day, the weekend, or your entire vacation while seeing all of the Keys. Consider reserving a room at the hotel if you intend to stay longer.
Gilbert's is a sizable tiki bar with a palm roof that is lively, especially on the weekends when passing boats along Jewfish Creek stop for a drink. This intersection connects the mainland to Key Largo by the Jewfish Creek Bridge and is always fun to explore. 
Choose their signature Gilbert's Punch cocktail. This specialty drink is made with 151 Rum, spiced rum, dark rum, coconut rum, pineapple, orange, and cranberry juice. They also serve drinks that benefit the American Cancer Society Making Strides Against Breast Cancer for the Florida Keys. A portion of a Boobie drink sold will be donated to the organization. 
As one of the original sites in the Florida Keys, beginning out in 1903 as a fishing camp, Gilbert's Resort has preserved its laid-back appeal. While far from the norm, you will experience the spirit of a simpler life here. Come unwind in your accommodation with a view of the water, by the pool, or on the resort's own beach.
For more dining options in Key Largo, you can access our blog about the island's stunning spots for waterfront dining.
Lorelei Cabana Bar and Restaurant
Location: 96 Madeira Rd, Islamorada, FL 33036, United States
Many people refer to Lorelei when they say "Florida Keys tiki bar." The iconic Nautilimo, a pink limousine transformed into a boat, is housed at the marina where Lorelei's Tiki Bar is situated. This item belongs in the Florida Funky Hall of Fame. In front of it is a faux pirate ship.
Some of the best seafood in the Florida Keys is served at "The Pulse Of Islamorada," The Lorelei Restaurant and Cabana Bar. It's the ideal spot to relax, order a tall, refreshing drink, and allow yourself to be enchanted. There is plenty of space to sit and take in the magnificent views of our renowned sunsets.
Beyond the parking lots, Lorelei's decks, chickee huts, palm trees, and sandy beachfront form a vast and exceptional location to view the sunset. It's great to look at Lorelei's from any time of day because it's located on a bay surrounded by mangroves. It was simple to find a table by the lake on a hot yet breezy summer day and watch the fish fight over bread crusts that children had thrown into the water as skinny needlefish rushed by. 
Serving breakfast, lunch, and dinner, with kid's menus, wonderful food, and riverfront and beachside dining options. Lorelei welcomes large gatherings, like weddings and special occasions. Mile Marker 82, Bayside, Islamorada, Florida Keys, is where you may find the mermaid. You can come on foot or by the sea!
You can add this to your list of the most fun things to do in Islamorada.
Sunset Grille and Raw Bar
Location: 7 Knights Key Blvd, Marathon, FL 33050, United States
The Sunset Grille, located at the base of the iconic 7 Mile Bridge, is the ideal seaside location and a terrific site to view the sunset while having dinner or cocktails. It features one of the largest pools in the Florida Keys and is styled after a thatched South Seas tiki hut.
Crowds are welcomed and handled by Sunset Grille. A large bar and restaurant are located beneath a tall chickee structure and have fantastic views. A pool with a bar and additional seats viewing the water and bridge is located a few steps below.
The Sunset Grille provides the whole tropical fantasy drink experience to tourists. Try their Castaway Coconut, made with vanilla rum, pineapple, orange juice, and coconut. It is served on their infamous carved coconut craft. 
Location: 84001 Overseas Hwy, Islamorada, FL 33036, United States
Since it opened in 1969, the Holiday Isle Tiki Bar has become a local and tourist favorite. The renowned Rum Runner cocktail was also created there!
The Tiki Bar, where drinks and good times have been served for more than 50 years, is also where the now-famous Rum Runner cocktail was created. According to legend, more than 40 years ago, John Elber, the manager of the Tiki Bar, had to get rid of an excess of rum and other liqueurs before new inventory arrived. 
Tiki John was asked to come up with a drink that would assist in utilizing the extra stock. He created the Rum Runner cocktail by combining Meyers rum, brandy, grenadine, and banana liqueur. Similar to bootleggers during the Prohibition era, early liquor smugglers known as "Rum Runners" lived in the Florida Keys and smuggled alcohol by ship rather than by land. He named the cocktail after them.
The Holiday Isle Tiki Bar is the ideal location to savor a Rum Runner or other delectable beverage. Thanks to the outside bar and tiki huts, the water is so close that you can reach out and touch it. Bonus: Dogs are also allowed!
You must stop for a delectable rum drink whether you're staying close to one of these wonderful Florida Keys tiki bars or driving down the Overseas Highway. On a scorching Florida day, nothing can help you cool off more.
Location: 17001 Overseas Hwy, Summerland Key, FL 33042, USA
Visitors to Sugarloaf Lodge will be in for a treat. Very laid-back, the circular tiki bar is tucked below a big palm-frond umbrella, overlooking a calm beach and bay. Local bands or trivialities are featured as nightly entertainment, and happy hour is every hour. With accommodation at the lodge that is less expensive than most in Key West, you might also think about using this as your base to explore Key West.
With drinks from Sugarloaf Marina or the on-site restaurant, South of the Seven, the Tiki Bar is perfect for unwinding and taking in the sunset. Great mojitos are served here!
Geiger Key Smokehouse and Tiki Bar
Location: 5 Geiger Rd, Key West, FL 33040, United States
You'd never know Geiger Key Smokehouse and Tiki Bar exists 10 miles from Key West (MM 10.5 Bayside at the Geiger Key Marina). This cool little tiki bar is situated just before the Overseas Highway on Big Coppitt Key at Circle K (MM 10.5). It wanders 1.3 miles south on Boca Chica Road to Geiger Road. 
Visitors love the laid-back tiki-bar atmosphere with waterfront views. Prepare to wait in line at the outside grill for dinner, as a kind and welcoming crew will make you feel at home. Huge amounts of home-style barbecue are always served with expertly cooked side dishes.
Breakfast is offered on weekends, while lunch and dinner are available daily. They have great delicious cuisine at fair prices. Look for the daily deals to whet your appetite and entice you to return. Don't forget about their dart board and pool table for the tournaments in between courses.
The bar and deck are the ideal places to view the sunset away from Mallory Square's bustle and noise. Enjoy the sunset while sipping their fancy drinks!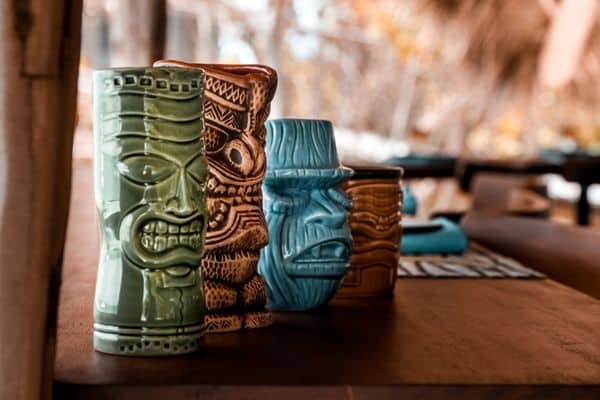 Experience The Tropics At Tiki Bars In The Florida Keys
California was the birthplace of the famous Tiki Cocktail movement at the turn of the 20th century. There was a period when rum was freely spilled, ingredients were kept a mystery, and drinks were created with actual fruit! 
In order to create a paradise within a paradise, tiki bars should only serve genuine and distinctive tiki cocktails to give you a look into the classic tiki world. A tiki bar's only objective is to provide a sensory experience that includes sight, sound, touch, and (of course) drinking!
This article will guide you through the 18 best bars in Key West, from quiet speakeasies to boisterous beachside clubs, offering an amazing evening experience for visitors and locals alike. So put on your dancing shoes and dresses, and join us as we explore the lively nightlife of Key West.
To fuel up for the exciting escapades that lie ahead, discovering the finest places for breakfast in Key West is a must. In this guide, we'll unveil the top 20 places, ensuring that your day starts with a delectable journey through local flavors and a boost of energy to make the most of your full-day escapade.
In this article, we will embark on a journey to unveil the secrets of the Florida Keys islands, diving into their captivating past, immersing ourselves in the vibrant culture, and exploring the diverse attractions that beckon visitors from around the globe. So, fasten your seatbelts and prepare for an extraordinary adventure!
Best Florida Keys Tiki Bars FAQs
The largest tiki bar in the Keys is at The Gilbert's Resort in Key Largo. This tiki bar actually goes above and beyond with waterfront dining, live entertainment, and great cuisine. Before selecting a tropical drink from the large menu, dig your toes into the sand and take in the ocean vistas.
The first tiki bar in Florida was established in 1954 and is located in Sarasota. Its selection of tempting tiki-themed beverages, such as Bahi Alohas, Mai Tais, and Hawaiian Honey Bee, go wonderfully with its live music entertainment.
Food items on the menu include Coconut Shrimp and Chicken Satay Skewers, and dessert aficionados will enjoy the Pina Colada Cheesecake. Order the Volcano Bowl if you want a party for two in a bowl.
Due to Key West's reputation for its wild nightlife, bar hopping on Duval Street is a natural activity to engage in after sundown. You can also get a full experience of Key West with the infamous Sunset Celebration.
Locals and tourists can also enjoy the night with a lot of bars and restaurants that serve great food and drinks across Key West.