If you're seeking a place with a tropical climate and a serene ambiance, you shouldn't miss out on the most fun things to do in Islamorada! This place should be at the top of your trip wish list.
Islamorada, a tranquil community in the Florida Keys spread across six tiny islands, is well-known for its sport fishing and water activities. A wide variety of water sports are available in the area, including boat tours, snorkeling trips, kiteboarding, wakeboarding, and encounters with dolphins and other marine life. There are also many great tourist attractions, like seafood eateries, bars with a tropical theme, and cozy motels. 
Whether you're seeking a thrilling experience or a very relaxing vacation, Islamorada has everything you need!
Rent Equipment From the Backcountry Cowboy Outfitters
This is obviously the first thing that comes to mind if you want to experience fun things to do in Islamorada in different ways. You need proper equipment and resources to move around a lot.
Visitors looking to explore the stunning natural surroundings of Islamorada can hire a range of high-quality equipment from Backcountry Cowboy Outfitters. 
Anyone who wants to enjoy the ocean can rent kayaks and stand-up paddleboards, while those who want to take advantage of the lovely roads on the islands can rent bikes. Helmets and combination locks are provided with every bike rental, and local delivery is an option.
Visit the Theater of The Sea
A must-see site during your trip to Islamorada is Theater of the Sea. Swimming with dolphins, getting up close to sharks, and other exciting interactive displays and activities are all available at this family-friendly park.
Visitors can interact responsibly with these wonderful creatures at The Sea Turtle Experience. Although it might seem a little expensive, admittance to the other activities at the Theater of the Sea includes the dolphin and sea turtle encounters.
Have a Nice Meal at the Best Islamorada Restaurants
At some of the best Islamorada restaurants, savor the rich and authentic seafood flavors of the Florida Keys. Check out this post for 10 best places to eat in Islamorada for a perfect getaway. 
A highly recommended place is the Square Grouper Islamorada. Square Grouper Islamorada offers innovative dining that is focused on reliability and quality at MM 80.4, bayside along Islamorada Marina. They offer fresh, regional seafood, some of the best craft cocktails, a great wine list, and first-rate service.
Explore the Florida Keys History and Discovery Center
The famous Florida Keys History and Discovery Center is a renowned museum where you can learn a lot about the history of the Florida Keys and its indigenous marine life. 
The 7,500-square-foot building contains exhibits, a movie theater, and a research library that appeal to both adults and children. Everything about the Keys, past and present, including pineapple growing and the over-the-sea railroad, may be learned.
Have a sneak peek of the place by watching the video below.
Enjoy a Delicacy at Blond Giraffe Key Lime Pie Factory
Key lime pies from the Florida Keys are famous worldwide. Therefore, Blond Giraffe Key Lime Pie Factory is a highly recommended place to go if you want to enjoy the best key lime pie in the island chain. Along with their famous key lime pie, you can also get many other desserts, such as Key Lime Candies, Chocolate Dipped Frozen Key Lime Pie on a Stick, Key Lime Rum Cakes, and Key Lime Pie Cookies.
In the adult-only Serenity Garden, full of trees and flowers, order your freshly prepared key lime pie and share it with your special someone. And purchase initialed love locks from the store, then place them on their love lock pathway.
Tour the Windley Key Fossil Reef Geological State Park
Do you want to see some otherworldly scenery? If so, add the Windley Key Fossil Reef Geological State Park to your itinerary.
All that is left of the quarry Henry Flagler exploited in the early 1900s is a petrified coral reef formed more than 125,000 years ago.
The visitor center, where you can learn more about what you're about to see, should be your first stop. Additionally, several displays here cover the park's background and Henry Flagler's Overseas Railroad. You can rest at the neighboring picnic tables after strolling along the 8-foot-high quarry walls and admiring surviving examples of quarry equipment.
Wait For Low Tide and Discover a Hidden Sandbar
One of the few locations where you can properly get your Robinson Caruso on is Islamorada and the surrounding region of White Harbor Channel. At low tide, your private island will be waiting for you to find it. 
Just enough sandbars rise above the water's surface to let tourists land and explore until the tide goes out. To explore the Atlantic, hire a boat or kayak, bring a picnic and a beach umbrella, and observe the tidal schedule. Just be aware of the changing sands and plan your escape accordingly. You definitely don't want to transmit an S.O.S. from this location!
A trip to Islamorada is incomplete without stopping at Robbie's to feed the tarpon. It is well known for allowing visitors to hand-feed these enormous fish. Both fishermen and onlookers enjoy watching this species of fish jump out of the water. They can weigh up to 250 pounds and are fighters on the rod.
Diners at a nearby restaurant may observe the tarpon feeding and the ocean while they are there. Don't forget to browse the one-of-a-kind souvenirs and artwork, particularly some lobster trap paintings. 
Learn more about feeding tarpon in the Florida Keys here.
Appreciate the Gift of Nature at Long Key State Park
Long Key has a reputation for serving the wealthy and well-known. It's simple to understand why it's such a sought-after spot, given the stunning beaches that provide the backdrop for an ideal sunset. The longest Golden ORB nature walk in the Keys is located in Long Key State Park and is excellent for birdwatching, swimming, or sunbathing.
Try kayaking or maybe fishing if you're feeling more daring. Even before the construction of the international highway, anglers flocked to the area for generations, giving Long Key a rich fishing heritage.
Be Amazed by the Flora and Fauna at Crocodile Lake National Wildlife Refuge
The Crocodile Lake National Wildlife Refuge is perfect for reconnecting with Florida's natural environment. It was founded in 1980 to protect the critical habitat for species, including the critically endangered American crocodile.
The preserve's 6,700 acres of land are home to salt marshes, mangrove forests, and tropical hardwood hammocks, which provide the ideal environment for the region's flora and wildlife, including the Key Largo woodrat, Burmese Python, Eastern indigo snake, and others that are federally listed.
The Crocodile Lake Community Butterfly Garden, which protects endangered butterflies, is another attraction of Crocodile Lake NWR.
Learn More at The History of Diving Museum
The History of Diving Museum, which was only made accessible to the general public in 2005, is home to a collection of diving artifacts and gear meticulously gathered over the previous 40 years. 
A few topics covered in the exhibits include the development of scuba diving, the lives of well-known local divers, and the inspiration for the novel 20,000 Leagues Under the Sea. There are also guided tours.
Watch this education video about The History of Diving Museum to learn more about the non-profit organization before visiting.
Take a Walk at the Florida Keys Overseas Heritage Trail
The Florida Keys Overseas Heritage Trail between Key Largo and Key West runs through some of the state's most beautiful landscapes and connects the island settlements of the Keys.
Biking along the Overseas Railroad's path and through some of its iconic bridges promises an experience like no other. This 106-mile paved multi-use trail is a favorite destination for cyclists, hikers, and outdoor enthusiasts since it includes bike paths that are paved and 23 of the historic Flagler Railroad bridges.
Additionally, there are numerous campsites with adequate spacing, benches, and fishing platforms along the path.
Know The Importance of The Florida Keys Turtle Hospital
Marine turtles of different species can be found in the warm waters off the coast of Florida. The Florida Keys Turtle Hospital was founded in the middle of the 1980s to offer rehabilitation to sea turtles that had been harmed or orphaned in the wild. It is situated on Overseas Highway in Marathon.
The hospital is a non-profit organization that works to rehabilitate most animals in their natural habitats. The hospital's staff provides a range of educational tours and activities focused on conservation for people of all ages.
Try Standup Paddleboarding
While visiting Islamorada, Beach Bum Paddle Sports can offer you everything you need for a great day on the water if you're interested in standup paddleboarding. Along with paddleboards, they also rent out accessories like drybags and anchors. Customers can rent any of the equipment by the hour, the day, or the week. Weekly and daily rentals both come with a free home delivery service. 
The business takes great pride in providing paddleboarding instruction and escorted eco trips that take guests through mangrove swamps and allow them to see animals like turtles, manta rays, and manatees.
Get Fresh Produce at the Florida Keys Farmers Market
The Florida Keys Farmers Market opened its doors in 2017 and is the place to go for regional cuisine, fine art, and other unique things. Although the vendors change weekly, the usual goods for sale are fresh fish, locally produced veggies, and handmade jewelry. 
The area is covered in vibrant artwork, which offers numerous fantastic photo opportunities. Every October, a special event called Growfest takes place in the parking lot of Islamorada Gardens, where the market is located. Pets on leashes are welcome, and parking is free.
Have Some Beer at the Florida Keys Brewing Company
Visit the Florida Keys Brewing Company, the Upper Keys' first microbrewery, if you're in the mood for beer.
Beer lovers can visit the taproom for a tasting flight, growler fill of favorites, seasonal beers, and limited releases, or kick back and relax while savoring delectable beer in the beer garden at this locally owned brewery, which has been in business since 2015.
The Florida Keys Brewing Company is situated at Mile Marker 91.5 in Islamorada, Florida. You may visit the brewery from Monday through Friday from 9:00 a.m. to 4:00 p.m. and Saturday from 10:00 a.m. to 2:00 p.m. For more information, visit their website at floridakeysbrewingco.com.
Discover What's Below The Alligator Reef Lighthouse
Lighthouse enthusiasts will adore including a visit to this distinctive structure on their schedule. A well-known Keys landmark, the USS Alligator, is being watched by the Alligator Reef Lighthouse. The Navy abandoned and devalued this pirate-hunting ship after it ran aground in 1822 to prevent it from falling into the hands of outlaws.
Four miles off the coast of Islamorada, a 144-year-old lighthouse marks the location of the ship's wreckage. The 136-foot-tall beacon was automated in 1963 and has survived numerous hurricanes and storms. Despite the lighthouse warning, quite a few ships have been lost on the reef.
Over 500 different types of marine life can be found in the area around the lighthouse, which is only 20 feet deep. From the sea's surface, you can see parrotfish, barracuda, and a growing reef.
Bask in the Island's Tradition Through the Morada Way Arts and Cultural District
Finding signs of "Main Street America" in a region renowned for its stunning, untamed beaches may come as a bit of a shock. The islands in the Keys are home to a variety of villages, but unlike many towns on the mainland, they frequently don't have a traditional city core. Contrary to popular belief, the Morada Way Arts and Cultural District is an exception.
The only classic small-town "main street" between Miami and Key West is this quirky six-block stretch, which is enjoyable to explore. You can easily spend a few hours getting lost among the artwork and handicrafts of local artisans at this delightful area full of galleries, cafés, stores, and art studios, not to mention picking up a few one-of-a-kind items for your home along the way. 
Along with numerous festivals and community gatherings, such as the yearly Seafood Fest, it also hosts sidewalk sales and art fairs.
Join a Ranger-Led Tour at the Dagny Johnson Key Largo Hammock Botanical State Park
The well-known Dagny Johnson Key Largo Hammock Botanical State Park has a variety of natural habitats and a wealth of outdoor activity possibilities it provides visitors. It is situated along County Road 905 in Key Largo, just a short distance from Islamorada.
Alligators, crocodiles, and a variety of terrestrial creatures may all be seen from the park's pathways, making it a favorite among nature enthusiasts and wildlife photographers.
The trails are clearly designated, provide places to sit and look out and have signage that explains what you're seeing. For further information on ranger-led excursions, see their website.
Watch a Dolphin Show at The Dolphin Research Center
Previous visitors to the Grassy Key Dolphin Research Center have said that it was a destination that was far beyond their expectations.
The center is a research facility but is well known for its dolphin exhibitions. To save and safeguard dolphins and other marine creatures like sea lions, it was established in the middle of the 1980s. Animals that cannot be released back into the wild live there permanently; while they frequently entertain visitors, the facility's main goals are education, research, and conservation.
The center is best experienced on guided tours, and numerous age-appropriate seminars and workshops are often given.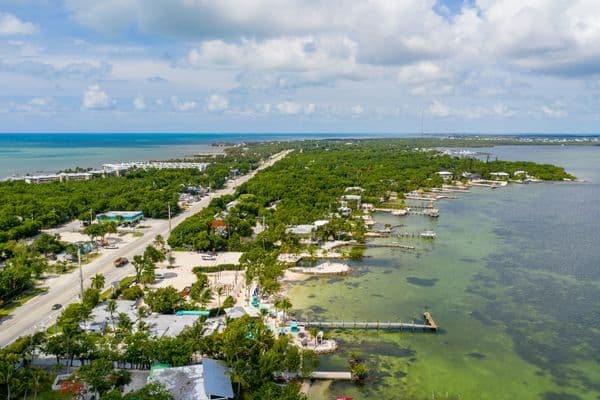 Islamorada calls itself the "Sportfishing Capital of the World," and whether you're pursuing sailfish in the sea or bonefish in the bay, the fishing here is undoubtedly among the greatest you'll find anywhere.
But that's not all there is to this island community in the Upper Keys, a two-hour trip from Miami. Excellent recreational possibilities may be found in Islamorada, including kayak excursion in the Keys and paddling out to the historic Indian Key along a stretch of the Florida Keys Overseas Heritage Trail.
There are also many well-known Florida Keys hot spots and fantastic restaurants and bars in Islamorada.
Things To Do In Islamorada FAQs