The Dolphin Research Center in the Florida Keys is a nonprofit facility for education. It has been providing sanctuary to marine animals since 1984. Visiting the facility is definitely one of the most fun things to do in Islamorada.
Jayne Shannon-Rodriguez and Armando "Mandy" Rodriguez formed the Dolphin Research Center in the Florida Keys. They wanted to create a special education and research facility while also making sure the dolphins had a permanent home.
The Dolphin Research Center From The Ground Up
It's crucial to understand the history of the Dolphin Research Center in the Florida Keys in order to comprehend it now. To put it simply, the path from modest beginnings to the reputation they enjoy today around the world is intriguing.
Milton Santini, a commercial fisherman, was the first to import dolphins to dwell on Grassy Key. He started gathering dolphins in the 1940s for private buyers as well as other marine animal parks and aquariums. The first building on these grounds, Santini's Porpoise Training School, was built by Milton after he used dynamite to blast out the deep lagoons in the Gulf of Mexico.
They adored the dolphins that lived in Milton and Virginia's home, and they gave them the finest care they could. Mitzi was Milton's preferred dolphin. Milton broke his back soon after Mitzi was brought in. He would sit in a recliner by the front lagoon and squeeze a black rubber ball as part of his rehabilitation to restore his strength. He dropped the ball one day, and it landed in the lagoon. The ball was picked up by Mitzi, who at this point had no training, and she tossed it back to Milton! This time, he flung it out into the distance on purpose. It was retrieved by Mitzi, who then threw it back to Milton to continue the impromptu game. Milton made a commitment never to sell Mitzi to another facility as a result.
At this point in his career, Milton was a novice trainer. He gained knowledge by watching his dolphins and their reactions. When they did something he liked, he would try to remember what he had done just before it and then replicate it to see if they would react the same way.
Milton cherished sharing the dolphins with the general public. He observed that the dolphins appeared to react, especially to kids. Several present staff members can recall first meeting Mitzi and the dolphins in the 1960s.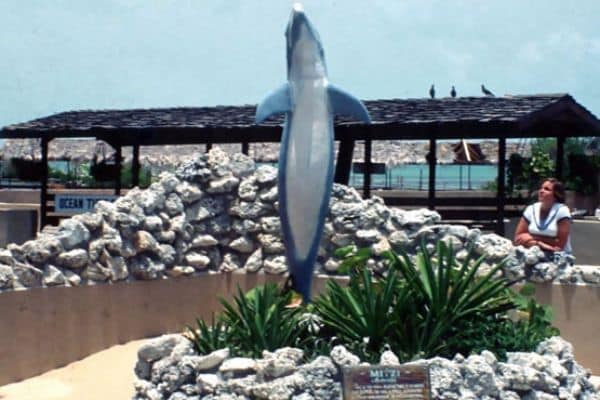 In 1972, Mitzi passed away. Today, a monument honoring her can be seen on the DRC premises. Devastated by Mitzi's passing, Milton sold the site to Wometco Corporation, who changed the establishment's name to Flipper's Sea School.
A young married couple from the New England Aquarium came to Boston in 1973 to interact with dolphins that would be moving to their facility. On the other hand, Jayne and Mandy fell in love with the Florida Keys and wished to stay. Then they were given a job at Flipper's Sea School. Mandy occasionally had the good fortune to be hired as a dolphin trainer and consultant for films like Where the River Runs Black, The Big Blue, and Cocoon. He was able to pay more bills through it.
The Dolphin Research Center in the Florida Keys evolved gradually. Both animals in need of new homes and those with chronic illnesses in need of urgent medical care were taken in at the facility.
Dolphin Research Center has a long history of pioneering research into incredible species and disseminating that knowledge to the public. Despite the fact that it is situated on a small island, the world is aware of the facility's reputation and expertise. The team at Dolphin Research Center takes great pride in being innovators in the fields of education, research, and care for marine mammals. They have been at the forefront of educating people worldwide and creating programs that allow the general public to interact with dolphins in various ways.
The Dolphin Research Center in the Florida Keys still adheres to the same values that guided the establishment more than 35 years ago. It receives more than 70,000 tourists each year. All throughout the world, people use and share its programs, methods, and concepts.
With 80 employees, three generations of dolphins, and two generations of animal trainers, DRC is still committed to its initial mission of advancing via research and instruction the peaceful cohabitation, collaboration, and communication of humans, marine animals, and the environment shared by everyone. All other objectives are subordinated to the dolphins' health and welfare at the Dolphin Research Center. No program or activity that DRC undertakes will jeopardize this fundamental commitment.
An International Tourist Destination
The Dolphin Research Center is located on Grassy Key, in the center of the magnificent Florida Keys. Miami is a little over two hours away, and Key West is an hour and twenty minutes away.
Currently residing at the facility are bottlenose dolphins and California sea lions, who offer a variety of personalities and histories. More than half of the mammal families were born at the Center, while the remaining individuals either arrived from other institutions or were saved, treated, and released back into the wild but now have a permanent home at Dolphin Research Center after being ruled unreleasable by the government.
You and your family can experience each mammal's personality in fun-filled, narrated behavior sessions for a few hours or the entire day. Visit the tropical birds, play in the Sprayground, attend educational lectures in between, or just take in the breathtaking outside Florida Keys scenery.
Dolphins and sea lions decide whether to take part in sessions, such as participatory events conducted from docks or in the water. No one is ever forced to do so. As a result, depending on the requirements of the animals on any given day, program availability and times may change.
Visitors at the Dolphin Research Center are not allowed to bring or use selfie sticks inside the facility for the security and welfare of the dolphin and sea lion families. Only floatable, waterproof cameras are permitted in regions with participatory aquatic programs. Underwater program trays, floating docks, and platforms do not allow cell phones or non-floating, non-waterproof cameras. Drones are also prohibited.
At Dolphin Research Center, well-behaved dogs on leashes are always invited to stroll the grounds with their owners. They cannot, however, walk on boardwalks, docks that float or go swimming. Your dog must stay with a member of your group who isn't participating in the program if you want to participate in one of the entertaining interactive activities.
Here's a sneak peek of interactive activities with the dolphins at the Dolphin Research Center in the Florida Keys:
Dolphin Research Center offers a wide range of programs for kids and adults. You can choose from one of these to see more of the facility:
Programs

Rates

Ages

General Admission

Adults: $28

Military/Veterans: $25

Children 4-12: $23

Children 3 and under: FREE

For all ages

Dolphin Encounter

$210 per person

5 yrs and up

Family Dolphin Splash

$130 per person

(Ages 4 years and up – includes all-day admission)

For all ages

Ultimate Trainer for the Day

$695 per person

10 yrs and up

VIP Experience

$475 per person

5 yrs and up

Researcher Experience

$475 per person

10 yrs and up

Play with the Dolphin

$95 per person (includes General Admission cost)

4 yrs and up

Meet the Dolphin

$50 per person (includes General Admission cost)

1 yr and up

Exclusive Private Dolphin Encounter

$2189 for one to six people in a private group

For all ages

Paint with a Dolphin

$110 per person

3 yrs and up
All details above are based on DRC's website. For more details on each program, you can visit their website.
The Dolphin Research Center in the Florida Keys has always prioritized research. The Institute for Delphinid Research gave rise to DRC. Research continued to be a top priority when DRC's founders took over the facility in 1984. Since then, they've broadened the scope of their internal research initiatives and collaborated with eminent researchers who traveled to the DRC to examine the dolphin colony. 
The three main themes of DRC's research program are cognition, behavior, and husbandry. The research programs are important because:
It stimulates the minds of the dolphins and sea lions. The animals refer to "cognitive research" as "thinking games," and they have a great time pondering and figuring things out.
It advances our understanding of dolphins and other animals from a scientific standpoint. As humans, we still don't fully understand dolphins. For instance, we know that dolphins are intelligent, but we are still unsure of many crucial details. Dolphins have developed in a very different habitat from humans for a very long time (90 to 95 million years). They also have different body plans and neuroanatomies. Therefore, when we learn that dolphins are capable of something, we also assess it against what humans and other animals are capable of, which enables us to learn both (1) about dolphins and (2) about how intelligent behaviors generally develop.
The animals, both those in human care and those in the wild can profit from the new knowledge that research produces. The better the ability to accommodate these animals' demands, the more we can comprehend them.
Studies on cognition motivate conservation. Humans are compelled by nature, for better or worse, to care more about intelligent animals. When visitors to DRC witness Talon performing math problems or Tanner cleverly copying, it encourages a new sort of relationship with the dolphins. More kindness and compassion for dolphins and their environment may result from this relationship.
The staff and volunteers are glad to assist you in learning even more about beautiful creatures by spearheading different educational programs for all ages! The Dolphin Research Center provides:
DolphinCamp & DolphinLab

Dolphin Day Camp

Onsite Programs for Groups

Distance Learning

Outreach Programs

Free Curriculum for Teachers

Resource Library
Professional Animal Trainer (PAT) Program
The Professional Animal Trainer (PAT) Program is a continuing education course offered by the Dolphin Research Center Training Institute to people who are actively employed in the animal training/handling industry or who have at least one year of continuous training/handling experience during the last two years. Despite the program's emphasis on marine mammals, trainers who work with both marine and terrestrial animals might benefit from the courses given.
After completing the PAT program, students will have increased their knowledge and abilities to assess animal behavior, skillfully offer appropriate husbandry care, and effectively implement positive training strategies for the welfare and enrichment of the animals in their care. Additionally, students will learn new skills that enhance their capacity to use creativity and critical thinking to forge greater bonds with others.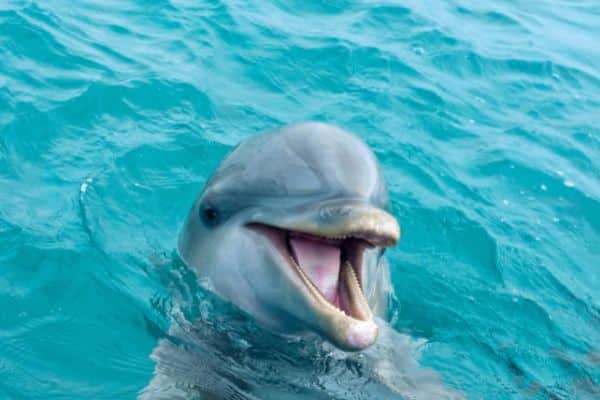 Program details:
This hybrid learning program combines online and in-person instruction.

Length: 5 days on-site at DRC and a minimum of 14 weeks of virtual learning.

Out of the 11 courses available, the student can select six.

The program's on-site component can take on up to 20 individual students per year.

You can find out more about the training program here.
How You Can Help The Dolphin Research Center
Depending on your level of membership, becoming a Dolphin Research Center Member entitles you to year-round free entrance, mailings, online access to their Members Only portion of the website, invitations to special events, discounts at the onsite and online Gift Shops, and other advantages. Adoptions are fantastic presents for your friends and family as well as for you, and all membership fees, gifts, and donations are fully tax deductible.
Membership and donation options include:
Adopt-A-Dolphin or Sea Lion
Do you want to adopt a particular dolphin or sea lion? An adoption certificate, color photo, biography, and other perks like an annual pass for entrance with additional free guest admissions based on your adoption level are all included. For as little as $25 per year, you may adopt a dolphin or sea lion.
Dolphin Society Membership
The annual DRC entrance, newsletters, and other amenities are all included in Dolphin Society Memberships, which start at just $40. Your contributions enable the facility to give the dolphins and sea lions the best possible care and home and support the mission's goals of manatee rescue, teaching, research, and other areas.
Commemorative Walkway Membership
Classroom Memberships are the ideal way to support Dolphin Research Center while also educating kids about the value of the marine ecosystem. Depending on the membership level, benefits may include an adoption certificate, a full-color photograph, and biography of the dolphin or sea lion of your choice, newsletters, membership cards for the pupils, and more. 
The ideal present for a class is an adoption of a classroom. General entrance is not included in classroom subscriptions.
Business Memberships come with a plaque you can display each year to demonstrate your support for the DRC, DRC admissions, free passes for your personnel and clients, newsletters, a location for a business event, event entry, and other perks.
Spend a few minutes or a day with the Dolphin Research Center staff. You will have a blast whether you purchase a basic entry to get a close-up view of the dolphins and sea lions at their behavior sessions or opt for an interactive package that includes swimming with dolphins.
In sessions that involve high-flying acrobatics, research, playing, and husbandry instruction, you may observe the dolphins' various "dolphinalities" as they go about their daily routines. In the theater, with air conditioning, you can enjoy educational presentations. Don't forget to amuse the dolphins while they observe people!
Dolphin Research Center In The Florida Keys FAQs