The Florida Keys Turtle Hospital is a 501(c)3 nonprofit organization where sea turtles can live in and be cared for in the structures and are provided by the Hidden Harbor Motel. Every day of the week, the Turtle Hospital provides guided educational programs to the general public.
The Turtle Hospital is equipped with the most recent tools required to carry out various procedures on various sea turtle species. They are provided by local medical centers, practitioners, and people who care about the environment.
Visiting the hospital is one of the fun things to do in Islamorada.
Rescue, Rehab, and Release at The Turtle Hospital
The Florida Keys Turtle Hospital first opened its doors in 1986. It has four main goals: 
Rehab the injured sea turtles and release them back into the wild

Participate in outreach initiatives and visit neighborhood schools to educate the public

Participate in and conduct research that benefits sea turtles (in collaboration with state universities)

Pursue environmental legislation that would make the water and beaches safe for sea turtles
Many sea turtles that are ill or hurt can be helped. Intestinal impactions brought on by consuming too many crabs or other waste, shell damage from boat collisions, entanglement injuries from fishing gear, and other conditions are only a few of the illnesses treated at the Florida Keys Turtle Hospital. Treatment is most frequently given for fibropapillomatosis, which affects more than half of the juvenile green sea turtle population worldwide.
Research teams from the Florida Keys Turtle Hospital, the University of Florida, and the University of Georgia College of Vet Medicine have been working to investigate the causes of fibropapilloma tumors, which are brought on by a virus that is spread by red tide and water pollution. Currently, this is the only illness that affects wild animals on a global scale. It has been demonstrated that this virus is contagious by successful transmission, and current research focuses on identifying the root cause.
Since its inception, the Florida Keys Turtle Hospital has successfully treated more than 2,000 sea turtles. The turtles are released as close to their original location as possible so that it appears they are continuing from where they left off. Adults, sub-adults, and juveniles are taken to a nearby beach to be set free on the sand. To deposit the hatchlings and post-hatchlings in a secure weed line, they are transported 20 to 30 miles offshore into Florida Bay.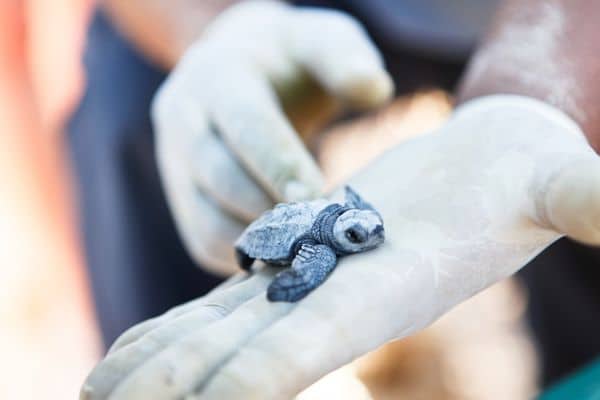 The Florida Keys Turtle Hospital has a large rehabilitation center. The chain link enclosure is covered with a shaded fabric for the convenience of the turtles, the staff, and the visitors. There are 23 separate tanks inside, ranging in size from 150 to 800 gallons, in addition to the 100,000-gallon saltwater tidal pool.
Two sections of the enclosure make up the individual tanks for the sea turtles that need intensive care. Patients undergoing active treatment, undergoing surgery, or simply not feeling well are housed in the upper cage.
Turtles nearing the end of their treatment or recovering before being released have tanks in the lower enclosure. The Florida Keys Turtle Hospital continuously gathers information and supports studies to comprehend how the fibropapilloma (FP) virus affects turtles. They prevent contamination by keeping turtles with FP apart from turtles without it.
For hatchlings and smaller patients, there are rectangular tanks with mesh netting at the back of the cage. Around 60 to 100 hatchlings are saved by the facility each nesting season and housed for the duration of the season to heal and protect them from predators.
There is also a 100,000-gallon saltwater pool, which was once the swimming area for motel guests. Currently, sea turtles with persistent disabilities are housed in the tidal pool. They are ineligible for release because they suffer from Positive Buoyancy Syndrome (also known as "Bubble Butt Syndrome"), have too many flippers missing, etc., and would struggle to survive in the wild. Some will be adopted to qualified zoos or aquariums around the world, while others will spend the rest of their lives as permanent residents at the hospital.
The "Hurricane Tanks," located at the front of the property and elevated above sea level, were erected in 2007 after Hurricane Wilma destroyed the property in 2005. Its purpose is to guarantee patients' protection in a hurricane or tropical storm. It can be divided into sections to create dwelling places for numerous sea turtles and holds up to 30,000 gallons of filtered saltwater.
There are just seven varieties of sea turtles that are still alive today in the entire ocean. Of the seven, the Green, the Loggerhead, the Leatherback, the Hawksbill, and the Kemp's Ridley are all found in Florida. The two species not found in Florida water are the Olive Ridley and Flatback sea turtles.
Educational programs are held from 9 AM to 4 PM. It's a working hospital, so you must be enrolled in one of their Guided Educational programs to meet with the turtles. Admission prices are:
Adult: $30.00

Children (4-12 years old): $15.00

Children under 4: Free
Minors must be accompanied by an adult. Meanwhile, the Education Center and Gift Shop are open daily from 9 AM to 6 PM.
Visitors are welcome to join a tour of the hospital's facilities and the sea turtle rehabilitation area. This informative activity lasts between 70 and 90 minutes and includes a presentation on sea turtles and an inside look at the facilities used for medical care and rehabilitation. Guests are welcome to feed the permanent residents at the end of each event.
Permanent residents are sea turtles that the Florida Fish & Wildlife Conservation Commission (FWC) has decided unsuitable for release. Five long-term residents will spend their whole lives at the Florida Keys Turtle Hospital. You can "adopt" April, Bender, Bubble Butt, Montel, and Rebel from the group.
Reservations are strongly advised. You can either call the hospital at (305)743-2552 or book here for a reservation. Due to the limited availability of space, reservations are strongly advised.
Watch this video of BZTV visiting the Turtle Hospital in Marathon. You'll see that they have ambulances, too!
School group visits are welcomed at The Florida Keys Turtle Hospital. You can get in touch and arrange a visit if you want to organize a school field trip to the facility. For information, send an email to theturtlehospital@yahoo.com with the subject line "Special School Group Pricing."
A signed waiver is required from each visitor to enter the building. It is advised for groups to complete and sign the waiver before departure. Anyone at least 18 years old will need to finish one on their own. A parent or legal guardian must claim anyone under 18.
Outreach and Virtual Classes
Educating as many individuals as possible is one of The Florida Keys Turtle Hospital's main objectives. They participate in neighborhood outreach programs at state parks, festivals, and schools to do this. Email one of their outreach coordinators at theturtlehospital@yahoo.com if you want them to visit your school or event. These activities might be instructive or participatory and must take place in the Florida Keys.
The Florida Keys Turtle Hospital also holds outreach classes through Google Meet or Zoom. They have created a program that offers a tour of the rehabilitation facility and the opportunity to personally get to know some of their patients. There are several topics they can discuss:
Basic details on sea turtles, such as species, size, and diet.

Information about the hospital that is a little more sophisticated, in-depth, and regarding many procedures

More details about environmental conservation efforts and what students may do to help

Nesting – information on nesting and illustrations of the various life stages, from egg to adult (depends on the season and whether they have hatchlings at the facility)

Straightforward question-and-answer sessions during interviews with a lead educator
These seminars normally last 30 to 45 minutes, though availability may cause timing to change. 
Although there is no cost for these sessions, the space is limited.
How You Can Help The Florida Keys Turtle Hospital
Here are ways you can help the Florida Keys Turtle Hospital:
1. Donate to rehabilitation and conservation organizations. Without contributions from other people, these organizations would not exist. Tax deductions are frequently available for financial donations made to nonprofit organizations. The Turtle Hospital accepts donations in the following forms:
Adoptions –

You can "adopt" one of the sea turtles that live there year-round! Your $35 annual donation gives your sea turtle food and treatment. You will receive a certificate of adoption, a photo magnet, a biography of your turtle, and updates all year long. (Please be aware that this adoption is merely symbolic and does not imply that you actually own the turtle.)

Donations –

Donations can be provided online through the organization's

online store

or through their

Donation Form

that's printed and mailed to: The Turtle Hospital, 2396 Overseas Highway, Marathon, FL 33050

Memberships –

You can become a member if you frequent the hospital or want to give it a bit more support. Rescue, Rehab, and Release are the three different degrees of help. Each one has a variety of passes and benefits. Click

this link

to view the available options and choose the one that best suits your needs.
2. Make wise purchasing decisions. Understand where and how your seafood was caught. You can learn what is sustainable and what is not by visiting websites. For a free resource on sustainable seafood, you can utilize at restaurants or grocery shops, go to www.seafoodwatch.org. Once you've mastered it, develop the willpower to resist it.
3. Reduce, Reuse, and Recycle. You should consume less. Purchase goods with less packaging (especially fresh produce). What you can, reuse, and what you can't, recycle. Instead of using single-use plastic bottles, invest in reusable water bottles. A plastic water bottle has a 5-minute lifespan and a 500-year lifespan. A recent study shows 47,000 bits of plastic per square mile on average in our oceans.
4. Be a careful boater. Be cautious when driving through seagrass beds, and watch your speed. Use a GPS or a chart. Keep an eye out for marine turtles who are adrift and remain vigilant. A marine turtle that is drifting cannot dive under a boat that is approaching.
5. Make sure to properly dispose of your fishing line. Don't throw away fishing lines in the ocean. If you see any fishing line, grab it. Monofilament fishing lines will inevitably tangle and take up to 600 years to biodegrade. In the Florida Keys, monofilament recycling boxes may now be found on every fishing bridge, beach, and marina. Hold onto your fishing line and put it in a recycling bin rather than throwing it in the trash!
6. Encourage lawmakers to enact and enforce the necessary rules and regulations to stop unchecked coastal expansion and unsustainable agricultural practices.
The Florida Keys Turtle Hospital featured in The Atlantic
Get in Touch With the Turtle Hospital in the Florida Keys
The interest and generosity of people are the only sources of funding for The Florida Keys Turtle Hospital, a small non-profit committed to the rehabilitation of sea turtles that are at risk of extinction. Please contact The Turtle Hospital's 24-hour Stranding Hotline at (305) 481-7669 if you accidentally collide with a sea turtle or encounter one who is hurt and in need in the Florida Keys. 
Learn more about how you can identify that a sea turtle is hurt.
The Dolphin Research Center in the Florida Keys is a nonprofit facility for education. It has been providing sanctuary to marine animals since 1984. Visiting the facility is definitely one of the most fun things to do in Islamorada.
Finding manatees in Florida Keys can be a challenge, but your chances of seeing these gentle and lovely creatures are substantially higher if you're in the islands! We've developed a list of the finest places to watch manatees in Florida Keys. Learn more about manatees and how to detect them by reading on!
If you're seeking a place with a tropical climate and a serene ambiance, you shouldn't miss out on the most fun things to do in Islamorada! This place should be at the top of your trip wish list.
Florida Keys Turtle Hospital FAQs