If you're looking for the best  Islamorada restaurants for the perfect vacation getaway, you've come to the right place! (Or the right article!)
Islamorada is a place of natural beauty that attracts people from all over the world. But if you're coming to Islamorada and want to find places to eat, you might not know where to start. That's why we've compiled this list of places for you!
The Islamorada Fish Company
"Purple Isle" is the meaning behind the name, Islamorada. Early Florida Keys residents gave the place its name around 1907. In this lovely area, the Islamorada Fish Company restaurant originally opened its doors in 1948!
They are the most sought-after location, which looks out over the breathtaking Florida Gulf Coast bayside with famous sunsets and gentle bay breezes. To host the ideal event, their knowledgeable staff and banquet coordinators will collaborate with you.
The Zane Grey Long Key Lounge is also housed here; it's on the second floor of World Wide Sportsman in Islamorada. Fishing enthusiasts could enjoy the Total Package in Angling, Dining, and Entertainment thanks to the 1997 opening of Zane Grey Lounge and World Wide Sportsman.
The lounge itself is a homage to the Long Key Fishing Club, which the illustrious Zane Grey established in 1917 in the Florida Keys, close to Layton, Florida. Legendary sportsmen and entertainers like Curt Gowdy, Clarence Clemons, Stu Apte, Ted Williams, and many others have enjoyed the Zane Grey Lounge's Rod and Gun atmosphere.
Keys Fisheries – Restaurant, Market, & Marina
Keys Fisheries is conveniently located in the center of the Florida Keys, north of Marathon's 7 Mile Bridge. Visitors can enjoy the stunning, tropical paradise that is the magnificent Florida Keys. The seafood restaurant is situated on the shore of Florida Bay, providing loyal patrons with stunning vistas and spectacular sunsets.
Visitors can travel to the Florida Keys for lunch or dinner by boat or can rent dockage for both short- and long-term visits. The marina offers convenient access to and from the marina and dockage for yachts up to 60 feet in length.
South Florida's freshest Florida Keys seafood is served at Keys Fisheries Restaurant. They offer Florida Keys-inspired appetizers, entrees, signature meals, and regional specialties. Several favorites are:
Grilled Mahi-Mahi
Lobster Reuben
Conch Chowder
Jumbo Stone Crab Claws
Hog Fish Francaise
The Island Grill
In Islamorada, at milepost 85 on the southern end of the Snake Creek Bridge on the river, is The Island Grill. On the inside as well as the outside, The Island Grill isn't very attractive. But they start serving delicious cuisine at 7:00 a.m. alongside breakfast.
Although the interior and exterior of this Florida beach bar are primitive, isn't that what we would expect from a beach bar in the Florida Keys? This place is a well-liked hangout location for celebrations and weddings. You can see live entertainment in the evenings.
The Island Grill showcases the top local bands, and a magician occasionally performs there.
Morada Bay Beach Café
The Morada Bay Beach Diner is a sand-filled, outdoor Mediterranean cafe. To reach your table, which is situated with a view of the azure waves and palm trees, you must first stroll through the sand and then follow a path decorated with tropical flowers. This is the ideal location to begin your holiday and set the mood for relaxation.
Enjoy the numerous wine options, cold drinks, and cocktails if you plan to stay a while. If it's only a quick pit stop on your way there, you can indulge in the island-inspired meal made with fresh local seafood and produce.
Cheeca Lodge & Spa
The restaurants of Cheeca Lodge & Spa are created to satisfy the culinary preferences of all of Cheeca's numerous visitors. Cheeca was just named one of "Florida's Best Places To Dine" by Florida Trend Magazine. Esquire, Gourmet, and Food and Wine have all given Cheeca praise in the past. Over 200 well-chosen wines make up Cheeca's large wine list, which has received Wine Spectator's "Award of Excellence."
The restaurants at Cheeca are the following:
Atlantic's Edge
Mia Cucina
Nikai Sushi Bar & Restaurant
Tiki Bar
25 South Tiki Bar
Woody's Waterfront Café
In St. Pete Beach, Florida, Woody's Waterfront Cafe and Beach Bar serves delicious meals and provides stunning views over Blind Pass and the Gulf of Mexico. See for yourself why Woody's fans from all around the world keep coming back.
A wide variety of delicacies are available at Woody's, including fresh seafood! Enjoy a generous basket of wings, clams, shrimp, or chicken as well. Woody's provides a ton of flavorful, fresh salads as well as enormous burgers and sandwiches. Additionally, they have a complete bar with an excellent choice of beer, wine, mixed cocktails, and frozen drinks.
The Lazy Lobster
Visit The Lazy Lobster at Mile Marker 102 in Bayside to join hosts Chef Lupe Ledesma and David Ornelas. Enjoy excellent fresh fish and cuisine prepared in the Keys.
Fresh seafood, seafood pastas, vegetarian pastas, sandwiches, steaks, and chicken are all available at Lazy Lobster for affordable prices. Chef Lupe will prepare your catch as well!
Daily lobster specials, a children's menu, amazing handcrafted desserts, and a selection of beers and wines are available. Dine inside or outside on the expansive tiki-adorned patio with a tropical setting. Every night, enjoy soothing live music!
Chef Michael's
Elegant dining in a relaxed island environment is a specialty of Chef Michael's. The restaurant is renowned for having Islamorada's best selection of freshly caught fish and offers upmarket fish dishes as well as contemporary American cuisine.
The restaurant's eponymous chef-owner, Michael Ledwith, started his career in some of New York's top dining establishments. He eventually traveled to the Caribbean, where he acquired the skill of seafood preparation. His restaurant is regarded as one of the best in the Upper Keys. He made a name for himself in Central Florida before being drawn to the island lifestyle in The Keys.
Try the day's catch, the hogfish, or come to Chef Michael's renowned Sunday brunch. Watch this video of Chef Michael showing viewers how to prepare his infamous pan-seared fish.
Green Turtle Inn
The Green Turtle Inn can be your go-to lunch spot if you're just passing through Islamorada and won't be there long. The Green Turtle Inn, a landmark in Islamorada, has been a favorite among locals since 1947. It may be familiar to you because it was featured on the Food Network show Diners, Drive-Ins, and Dives.
Green Turtle Inn offers genuine Keys cuisine and charming old-Florida atmosphere. The relaxed cafe serves meals like Florida Keys delicacies and southern favorites for breakfast, lunch, and dinner. The burger is excellent, and the desserts are delicious.
Mangrove Mama's
Mangrove Mama's is the place to go if you want to unwind and enjoy the best meals in Sugarloaf Key.
Mangrove Mama's has been a renowned restaurant for over 40 years, earning a reputation for providing the finest local seafood, unique beverages, and prize-winning desserts. You can enjoy your meals and drinks inside or on an outdoor patio surrounded by palm trees, with live music and a tropical Florida ambiance. Whether you come in for lunch or dinner, you'll be talking about Mangrove Mama's for days.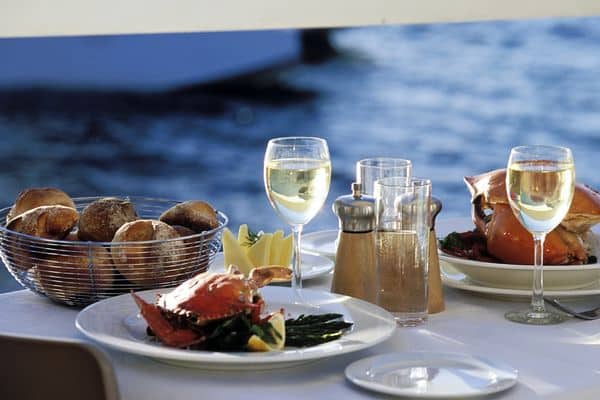 Don't Miss These Islamorada Restaurants
No matter what you're in the mood for, Islamorada has a place where you can eat! So don't miss out on these great places to eat while you're in the area. But here's a bonus: Check out this blog to learn more about Square Grouper Islamorada – another famous dining spot that will elevate your experience!
This list of places to eat is by no means exhaustive – there are many, many more places to eat in Islamorada. But we hope this gives you a good starting point for finding something to eat while you enjoy your time at the beaches.
Square Grouper Islamorada offers inventive dining focused on reliability and quality at MM 80.4, bayside along Islamorada Marina. They are all about fresh, regional seafood, some of the best craft cocktails, a great wine list, and first-rate service.
Islamorada fishing charters help retain the island's "Sportfishing Capital of the World" title, as it caters to anglers of all skill levels. The town features a variety of fish species due to its access to gin-clear flats, pristine backcountry, and open ocean. 
If you're seeking a place with a tropical climate and a serene ambiance, you shouldn't miss out on the most fun things to do in Islamorada! This place should be at the top of your trip wish list.
Places to Eat in Islamorada FAQs
If you're coming to Islamorada and want to find places to eat, you might not know where to start. Here are the most popular restaurants worth visiting.
The Grille at Islamorada Fish Company

The Keys Fisheries Market & Restaurant

The Island Grill

Morada Bay Beach Café

Cheeca Lodge & Spa

Woody's Waterfront Café

The Lazy Lobster

Cabana Breezes

Tarpon Creek Grill

Mangrove Mama's
The most well-known restaurants in Islamorada that offer takeout include:
Bayside Gourmet

Twisted shrimp

Wahoo's Bar and Grill
There is a wide variety of food available in Key West that you simply don't see on a daily basis elsewhere. Here is a list of the best local dishes in Key West.
Key lime pie

Coconut water

Conch chowder

Spiny lobster

Pink shrimp

Conch fritters

Fish sandwich