Fort Zachary Taylor Historic State Park is nestled at the southernmost point of the continental United States. It's a captivating destination that seamlessly blends history, natural beauty, and a tropical paradise. Located in Key West, Florida, the state park offers visitors an extraordinary experience, showcasing the rich heritage of the region while providing a range of recreational activities.
Delve into the wonders of Fort Zachary Taylor Historic State Park—a true gem of Key West. Let this guide be your companion as you navigate the park, discover its hidden treasures, and create lasting memories in this tropical paradise.
Fort Zachary Taylor History and Heritage
Fort Zachary Taylor brings history to life in a way that books and images cannot, when you walk through the red-bricked halls in person.
You get a better understanding of how soldiers lived while defending the nation's southeastern shore.
Fort Zachary Taylor is a wonderful illustration of Florida's rich history. Today, The park spans 54 acres, is a National Historic Landmark that played an important part in the early history of Florida. The fort's construction began in 1845, just after Florida became a state. 
The fortification was named after United States President Zachary Taylor, who died in office earlier that year in 1850. Fort Taylor's building was delayed throughout the 1850s. Yellow fever, material and manpower shortages, remoteness, and hurricanes hindered work.
Capt. John Brannan occupied the fortress before the start of the Civil War, putting it under Union control. During the Civil War, Fort Taylor's primary function was to act as the headquarters for the United States Navy's East Gulf Coast blockade squadron. This squadron prevented numerous supply ships from arriving at and departing Confederate ports in the Gulf of Mexico. While Fort Taylor never witnessed any hostile action, many historians claim that because of Fort Taylor and its duty, the War of Rebellion could not extend any longer than it did.  
The fort's 10-inch Rodman and Columbiad cannons had a three-mile range. The Confederate navy was deterred from attempting to seize the stronghold or the island of Key West due to this impressive deterrence. Fort Taylor remained in Union hands throughout the Civil War, proving to be a significant loss for the South. Many outstanding features were introduced when the three-story fort was finally built in 1866 (21 years after it was started). As early as 1861, sanitary facilities flushed by the tide and a desalination facility producing drinking water from the sea were available. To secure the fort, 140 guns and a significant amount of ammunition were on hand.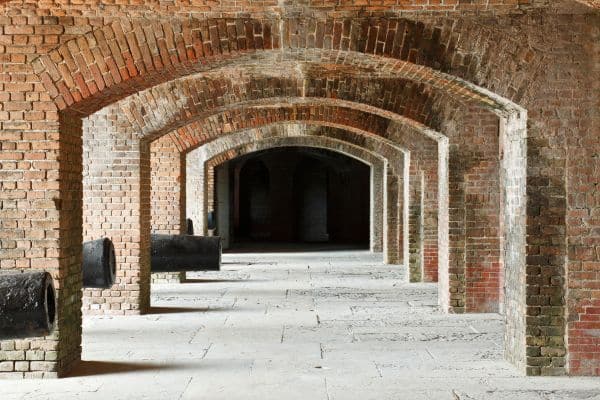 Throughout the years that followed, during the Spanish-American War, Fort Taylor was utilized once again. To modernize the stronghold, the upper levels were torn down in 1889 to make room for newer armaments. On the inside of the fortress, the additional refurbishment included the installation of Batteries Osceola and Adair. With the arrival of the twentieth century, more sophisticated weapons and, eventually, radar and other technology replaced guns. By 1947, the Army had handed up Fort Taylor to the Navy to maintain. 
Beginning in 1968, digs for historic armaments in the gun chambers resulted in the discovery of several Civil War-era firearms and ammunition. This is only a small portion of the underground arsenal, which has the largest collection of Civil War cannons in the United States. Fort Taylor was added to the National Register of Historic Places in 1971 in recognition of this. The fortification was named a National Historic Landmark two years later.
Tour guides and informative panels explain the fort's significance in the Civil War and the Spanish-American War. Local re-enactors undertake historic demonstrations on the third Saturday of each month, putting history front and center. The park also has Key West's favorite beach, which is located at the park's southern end and offers chances for picnicking, swimming, snorkeling, paddling, and fishing.
Exploring Fort Zachary Taylor Park's Natural Beauty
The park is open from 8 AM until sundown every day of the year. The fort closes at 5 PM. Below are admission fees at the park:
| | |
| --- | --- |
| Rates |   |
| $6 | per vehicle of up to eight people (A Monroe County surcharge of 50 cents will be added per person) |
| $4.50 | single-occupant vehicle or motorcycle (Monroe County surcharge included in this price) |
| $2.50 | pedestrians, bicyclists, extra passengers, passengers in vehicle with holder of Annual Individual Entrance Pass (Monroe County surcharge included in this price) |
Fort Zachary Taylor Beach
A trip to Key West isn't complete without a day at Fort Zachary Taylor Beach. Experience the most beautiful sunset in Key West, where the Atlantic Ocean meets the Gulf of Mexico. 
There are numerous beach day activities for the entire family. If you want to grill up a picnic, play beach sports in the sand, read a book in your hammock, snorkel, view some tropical wildlife, simply lay in the sun, and/or much more.
The park, also known as Fort Zach or rocky beach by locals, has the best swimming on the island. A wide sand and pebble beach and neighboring breakwaters are rich with tropical fish ensuring plenty of fun in the sun for beachcombers and snorkelers. The currents maintain the water clean and pristine despite its proximity to the main shipping canal.
Showers are available for rinsing off after a day of sunbathing. Because of the rocky sea bottom, water shoes are recommended. Snorkeling equipment can also be rented or purchased at the picnic area concession.
Cayo Hueso Café serves food and refreshments while overlooking the sea. You can get ice cream, hot dogs, pizza, sandwiches, and more!
The concessionaire also has a small gift shop where you may get last-minute supplies like sunscreen, towels, and snorkeling equipment. A chickee hut offers chairs, umbrellas, and snorkeling equipment. If you want to get married at this beautiful site in Key West, the concession can also assist you in finding the ideal venue.
Recreational Activities at Fort Zachary Taylor
Leave no one behind when you plan a vacation to Fort Zachary Taylor, because there is definitely something for everyone!
Biking day trip at Fort Zachary Taylor Historic State Park and Beach by G-bacher Adventure Chronicles
In Key West, biking is considered the best mode of transportation. Bikers are accommodated at Fort Zachary Taylor by offering plenty of bike racks, trails, and even a separate entry lane for cyclists and walkers. 
Gather your picnic supplies, load them into your bike basket, and come spend the day lounging beneath our shady hammock near the beach. Bring your fresh catch and grill it in the beautiful shaded picnic area. 
Picnic tables and charcoal grills are supplied, but you can bring your own. Please carry your trash with you when you visit this park because it is pack in, pack out.
When you're feeling up to it, hop on your bike and explore one of our biking trails.
The Great Florida Birding Trail includes Fort Zachary Taylor Historic State Park. Come witness the bird migrations in the fall and spring. 
This park is the first dry land that many migrants see on their way north and their last chance to refuel before heading south. As a result, when weather patterns are conducive to migration, the natural habitat may support enormous populations of birds. 
Over 35 species of wood-warbler have been reported in the park, and it's not uncommon to observe 20 or more on a good day. Rose-breasted Grosbeaks, Painted Buntings, Yellow-billed Cuckoos, Red-eyed Vireos, Gray-cheeked Thrushes, and other migrants can also be spotted at the park. Magnificent Frigatebirds soar overhead all year, and shorebirds and seabirds flock on the seawall and breakwaters. In the summer, look for Roseate Terns. 
The park is well-known throughout the United States for attracting tropics rarities. La Sagra's Flycatcher, Sulphur-bellied Flycatcher, Loggerhead Kingbird (1st US record), Fork-tailed Flycatcher, Thick-billed Vireo, Cuban Vireo (1st US record), Bahama Mockingbird, Yellow-faced Grassquit, Western Spindalis, and Red-legged Honeycreeper have all been found in the park by birders from as far away as Alaska.
If you're visiting the Keys in the spring or fall, Fort Zachary Taylor should be at the top of your list of places to see. There are bird lists accessible at the ranger station.
Fishing is particularly popular in the Florida Keys, including Fort Zachary Taylor. Try your luck – and talent – at fishing off the rock jetty next to the main shipping canal. Anglers of all ages can take on grouper, snapper, jacks, tarpon, and other local favorites. Bring your fishing license as well as a camera.
The Florida Fish & Wildlife Conservation Commission has a lot of information regarding getting a fishing license. If you need a pole, try Key West Bait and Tackle for rentals or a nearby grocery store for a cheap pole.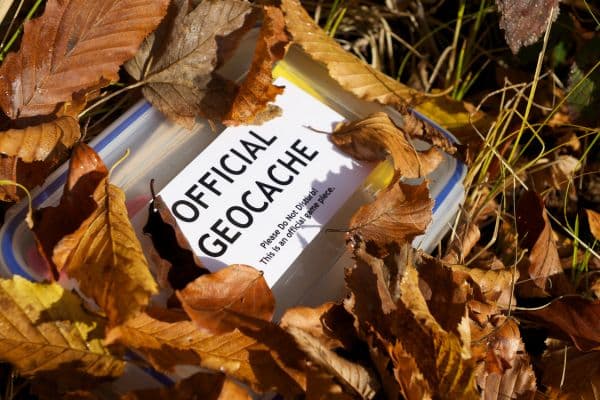 Explore the park in an unusual and challenging method. Geocaching is an outdoor game that uses handheld global positioning systems (GPS) devices. It's a low-cost, interactive high-tech treasure hunt and a terrific way to study geography.
Participants use GPS coordinates to locate caches. Some caches are simple to locate, while others are more challenging. The thrill of the hunt and discovering a previously unknown location is the greatest reward.
Geocachers with prior experience have asked permission to hide caches carrying trinkets, treasures, or information at various locations throughout the park. Please go to the Geocaching website for the most recent information and clues to locate these caches.
Explore the Tropical Hammock Trail to learn about our native plants and reconnect with nature. When Fort Zachary Taylor was erected, it was surrounded by water—and you can see that there is now a wonderful beach there, the greatest in Key West for swimming, sunning, and snorkeling. Because the area surrounding the fort was filled in throughout the decades following the Civil War, the native vegetation isn't as lush as it is on other parts of the island. 
Begin your journey down the coastline to the Point Trail, which is accessible by bicycle. After you've finished, stroll along the Fort View nature trail to see the 19th-century stronghold from the outside. There are guided tours twice daily (at 12 and 2), but you can also tour the fort at your own pace.
One of the main attractions for scuba diving at Fort Zachary Taylor is the impressive coral reef system. These reefs are home to an abundance of marine life, including vibrant tropical fish, sea turtles, rays, and even the occasional encounter with nurse sharks. As you glide through the water, you'll be immersed in a vibrant underwater tapestry, witnessing the delicate balance of nature and marveling at the beauty of the underwater world.
It's important to note that diving in Fort Zachary Taylor requires adherence to responsible diving practices and respect for the marine environment. As a protected area, it's essential to follow the park's guidelines, which may include restrictions on touching or collecting marine life, proper buoyancy control to avoid damaging the reefs and carrying out any waste or debris you encounter during your dive.
Come witness the beautiful coral reef that is being constructed in Key West. If you intend to use scuba diving equipment, please bring a dive flag and always go with a companion.
Bring your own snorkeling equipment or rent it here. Fort Zachary Taylor offers some of the best snorkeling in the Florida Keys from the beach. The snorkeling area at Fort Zachary Taylor Beach is known for its calm and relatively shallow waters, making it ideal for beginners and families. The place is excellent for beginners.
Exploring the underwater landscape, you'll encounter a kaleidoscope of tropical fish darting through vibrant coral formations. Look out for parrotfish, angelfish, sergeant majors, and even the occasional stingray or sea turtle gracefully gliding by. The rich biodiversity and thriving ecosystem create a visual feast for snorkelers, providing endless opportunities for discovery and awe-inspiring encounters.
Here's a stunning video from Antares Wong for a closer look on the experience of snorkeling at Fort Zachary Taylor:
Fort Zachary Taylor Park is an excellent starting point for any paddling expedition. Standup paddling, often known as paddleboarding, is becoming increasingly popular among visitors drawn to the Florida Keys as an active-lifestyle destination. 
The experience, like mat yoga, is intended to calm the mind and build flexibility and strength through chanting, breathwork, and seated and standing postures — all while performing warrior, downward-facing dog, and headstand poses on the anchored paddleboard.
The Paddle Sports Center at Ibis Bay Resort in Key West even provides a night paddleboarding experience, keeping on-the-water entertainment fresh and inventive. During nighttime paddling journeys through shallow Gulf waters, paddleboards (and glass-bottom kayaks) are outfitted with weatherproof LED light bars that highlight the waters and sea life.
In addition, the Keys host a number of important paddling events. During the 12-mile Key West Paddleboard Classic in May, racers must tour the mainland United States' southernmost island, while the Hemingway 5k Sunset Run and Paddleboard Race in July require competitors to paddle a 3-mile ocean route.
Bring your own canoe, kayak, or paddleboard and use our launch on the beach's east end. All hard-bottom flotation devices must be kept away from swim buoys.
Tips for a Memorable Visit
Consider visiting Fort Zachary Taylor Historic State Park during the shoulder seasons, such as spring or fall, when the weather is pleasant and crowds are smaller. This allows for a more peaceful and enjoyable experience. Plan your visit on weekdays to avoid the weekend rush and have more space to explore the park at your own pace.
Here are some essentials to bring for your own convenience no matter what activity you'll be doing:
Sunscreen:

Key West is known for its abundant sunshine. Protect your skin by applying sunscreen with a high SPF rating before entering the park and reapplying as needed.

Water:

Staying hydrated is crucial, especially in the Florida heat. Bring an ample supply of water to keep yourself refreshed throughout your visit.

Comfortable Footwear:

With nature trails to explore and the fort's grounds to wander, comfortable footwear is a must. Opt for sturdy, closed-toe shoes that provide support and are suitable for walking on various terrains.

Hat and Sunglasses:

Shield yourself from the sun's rays by wearing a wide-brimmed hat and sunglasses to protect your eyes and face.
Explore Nearby Attractions and Dining Options From Fort Zachary Taylor
Aside from the activities in the state park itself, people can also explore other tourist spots nearby. 
Key West Historic Seaport:

After you visit Fort Zachary Taylor, head to the nearby Key West Historic Seaport. Experience the charm of this maritime district, stroll along the waterfront, and enjoy the bustling atmosphere. Explore the shops and art galleries, and indulge in delicious seafood at one of the many waterfront restaurants.

Mallory Square:

Located in the heart of Key West's historic district, Mallory Square is a vibrant gathering place known for its nightly Sunset Celebration. Enjoy street performers, local artists, and breathtaking sunset views over the Gulf of Mexico. Remember to sample some mouthwatering street food from the various vendors.

Duval Street:

Take a stroll down Duval Street, the famous main street of Key West. This lively strip has shops, bars, restaurants, and entertainment venues. Immerse yourself in the vibrant atmosphere, grab a refreshing drink, and

sample local cuisine

.
A Captivating Key West Gem: Fort Zachary Taylor Historic State Park
Fort Zachary Taylor Historic State Park stands as a captivating gem in the heart of Key West. With its rich historical significance, breathtaking natural beauty, and an array of recreational opportunities, this park offers an unforgettable experience for all who visit.
Beyond its historical allure, the park's natural surroundings are equally captivating. From the sparkling, crystal-clear waters to the pristine sandy beaches and lush foliage, Fort Zachary Taylor offers tranquility and natural splendor. Whether you choose to snorkel among vibrant coral reefs, hike along scenic trails, or simply bask in the sun's warmth on the beach, you'll be immersed in the beauty of the Florida Keys.
Key West biking is another level of exploration if you want to immerse yourself as a tourist on the island. You will love riding in Key West, whether you ride through picturesque neighborhoods or take one of the many routes lined with stunning views thanks to the island's low-speed restrictions and plenty of bike racks.
One of the greatest pleasures of visiting this enchanting island is dining with a breathtaking view. Key West restaurants on the water just complete the perfect tropical paradise you might have imagined while planning your vacation. This article will explore the 12 best Key West restaurants on the water, each offering a unique dining experience that combines exceptional flavors with picturesque surroundings.
Fort Zachary Taylor Historic State Park FAQs