Key West biking is another level of exploration if you want to immerse yourself as a tourist on the island. Key West is riding heaven because it's only 4.2 square miles, easy to traverse, and you can always find a bike parking. 
You will love riding in Key West, whether you ride through picturesque neighborhoods or take one of the many routes lined with stunning views thanks to the island's low-speed restrictions and plenty of bike racks.
The finest Key West biking route is a combination of five amazing routes laid out on the island. Every level cyclist will enjoy touring the tropics of America on two wheels.
East Perimeter Trail Loop
The peaceful side of the island is traversed via the East Perimeter Route, primarily made up of cycling routes. If you continue along the way, it will take you around an hour to finish the seven-mile route. What's the joy in that?
The walk begins at the West Martello Tower, a former gunnery range on the island that has been transformed into a horticultural garden. Since this is a loop path, you can begin at any point in the middle of it. You travel along Atlantic Blvd from West Martello until you reach Bertha St. at the Southernmost Hockey Club. 
Before you reach Smathers Beach, the route jogs right for a block. The best trail in Key West is Smathers Beach. Up until Cow Key Channel, you may cycle along the boardwalk with stunning ocean views for approximately a mile. 
You'll pass Fort East Martello along the route, home to Robert the Doll, the spookiest and most haunted doll in the world. The perspective varies as you move along the channel, going from the ocean to mangroves and eventually to a neighborhood.
When you cross Highway One, the Poinciana Plaza and New Town shopping areas of Key West are on your left, and a salt marsh is on your right. Up until you reach the Key West Historic District, you keep traveling alongside Roosevelt Boulevard. The route indicates a link down White St. to finish the loop at West Martello for convenience's sake.
Read on to learn more about how to connect the Historic District rides with the east island bike trails to create the ideal biking route through Key West.
Before diving into Whitehead Street's direction, you must know that there's an alternative route. Whitehead Street is less relaxed and laid-back than taking Front Street to Fort Zachary Taylor. The two paths can be combined to create a loop in the Historic District. 
If you wish, you could join the Perimeter Road through Palm Avenue and a few jig-jogs, but the wealthy part of Front Street begins at the Shipwreck Museum. One of Key West's most charming areas, the Truman Annex, is traversed along the Front Street Route. 
One of the better snorkeling spots in Key West is Fort Zachary Taylor State Park, which you pass by as you ride your bike past The Little White House, where Harry Truman spent his winters. Along the way, you'll pass by the Florida Keys Exploration Center, the USS Ingham Museum, and the Mel Fisher Maritime Museum.
You can travel the Higgs Beach Connector from the southernmost point to Fort West Martello, where the Perimeter Road begins. The connecting path is zigzagging and has numerous detours. 
If you miss a zig, don't panic, you can catch the next one. You will simply come to a dead end in the water if you zig too soon. It follows South-Vernon-Wadell-Alberta-Seminole-Reynolds as its main axis. 
Go South to Reynolds, turn right, and proceed to the ocean if you like only some of the turns. In any case, the distance is around a mile.
Along the route are attractions, including Higgs Beach, Barefoot Billy's, and the Key West Butterfly and Nature Conservatory. The Perimeter Loop and the Historic District Loop are two excellent Key West bike loops connected by the Higgs Beach connector, which won't confuse you.
The five-mile Stock Island Loop is a smooth, enjoyable ride with arguably the nicest vista of any Key West Cycling route at Boca Chica Pass. The Florida Keys Overland Trail begins close to the intersection of Roosevelt Blvd and Highway 1. 
You pedal swiftly through Cow Key Channel and turn left onto College Road. There is a sidewalk if you like it, but College is a quiet street with a good shoulder. Before returning to Highway 1, you make a mile-long loop while passing the Key West Botanical Gardens.
The Shell Station at Key Haven Road is a tenth of a mile along the Overland Trail once you get back on Highway 1. The Overland Trail has a gap. But crossing Key Haven Drive, you can see the path beginning to move again. 
To get to Boca Chica Pass, keep cycling. The trail ascends the bridge after passing underneath Highway 1. Enjoy the view while biking onto the bridge. You'll have no trouble getting back to the starting point at Roosevelt Avenue, thanks to the bike route and bike lanes.
The greatest way to bike through Key West while taking in the major attractions in a thrilling one-mile trip is along the Whitehead Street Bikeway, which runs along Duval St. You can start this route at the Shipwreck Museum rather than Mallory Square on purpose. 
Mallory Plaza is a great site to watch the sunset, but there is too much foot traffic to enjoy riding there. In addition, cycling down Wall Street in front of the Key West Aquarium is less enjoyable due to the cobblestones.
While bicycling down Whitehead, you'll pass the US 1 Mile Marker 0, the Hemingway House, and the Key West Lighthouse. The southernmost point of the continental US is where Whitehead Street ends. If you're an early bird, now would be the ideal opportunity to take a photo of Key West's most popular photo location before the crowds arrive.
Key West Bike Loop Journey from Kentucky Cycling
The Florida Keys Overseas Historic Trail will soon connect Key Largo and Key West. A total of 37 bridges are involved in the 107-mile one-way trek, many of which are pedestrian-only. Although there are still many holes in the trail, it will soon be a popular location for cyclists looking for a multi-day experience pedaling the Keys.
Key West Biking: Tours & Rentals
There are numerous places to rent bikes in Key West. Depending on the bike you choose and the length of your rental, Key West bike rentals range from $10 to $20 per day. Locks, helmets, and lights are frequently included. 
Call in advance to make reservations and inquire about rental pickup and delivery.
The fastest and healthiest way to go around Old Town is on a bike, which can help you burn off those vacation buffets and drinks. It feels fantastic as well! 
We Cycle offers a free drop-off and pick-up service for your new bike as part of every bike rental. You can get your bike delivered right to your door anywhere in Key West or Key Haven. 
Just before you depart Key West, stop by the store on US 1. We Cycle offers bicycle sales, rentals, and repairs of all sizes. Their eccentric green store is easy to spot because of the enormous bike pyramid sculpture in front of it.
Bike Rental Contact: 305 292 3336
Address: Old Town – 326 Southard St, Key West, FL 33040, United States
Looking for entertaining things to do in Key West? The best method is to bike. Choose from a variety of choices to fit your upcoming adventure. 
Island Bicycles has bikes for every member of the family, including road cycles and beach cruisers. They are only a phone call away, whether you need a simple flat, grip to gears, or pedal to post. 
If you're looking to buy a bike, you can find your ideal ride by working with the experts at Island Bicycles. They have many types of bicycles, including cruisers, mountain bikes, road or triathlon bikes, and accessories.
Bike Rental Contact: 305 292 9707
Address: 929 Truman Ave, Key West, FL 33040, United States
At Eaton Bikes, renting bicycles in Key West is made simple. They have the rental bikes for your Key West vacation, so reserve online to schedule contact-free delivery or by the full-service shop at 830 Eaton Street. 
Sun cruisers, Sun tricycles, Sun tandems, BMC road bikes, BMC hybrids, and Burley trailers are all available from Eaton Bikes. For new bikes, bicycle repair, accessories, and cycling shirts stop by the store.
Bike Rental Contact: 305 294 8188
Address: 830 Eaton St, Key West, FL 33040, United States
Fury Key West Bike Rentals
The Fury Bike Rentals store is one of the best choices when you're prepared to tour the Conch Republic. The best way to get around the island is on two wheels because of its small size and densely packed attractions and sites of interest. You won't need to keep driving around the same street, searching for that coveted and elusive parking place. 
With Fury, you won't have to worry about how much time is left on your meter while enjoying a nice lunchtime meal. In Key West, bicycles rule the road and provide the most enjoyable, carefree, and adaptable means of experiencing paradise.
Bike Rental Contact: 888 976 0899
Address: 1200 Duval St, Key West, FL 33040, United States
Use Island Safari Rentals bike to navigate the tropical haven of Key West. As you take in the sights, cruise across the islands at your own speed. They provide several different kinds of Key West bike rentals:
Adult Cruiser

Sports Cruiser

Tandem Bike

Electric Bikes

Scooters
The store is located close to the original Sloppy Joe's Bars, just two streets from the cruise ship dock.
Bike Rental Contact: 305 414 8142
Address: 424 Greene St, Key West, FL 33040, United States
At 401 Southard St., just half a block off Duval Street, directly across from the renowned Green Parrot Pub, Pirate Scooter Rental Company is the best place in Key West to rent scooters, electric cars, and golf carts. They are open seven days a week from 9:00 am to 7:00 pm. 
Pirate Scooter Rentals offers the greatest transportation alternatives in Key West with its sizable fleet of well-maintained vehicles. For your protection, they are one of just a few Key West scooter rental companies that provide damage waivers. Free gas refills are another wonderful perk from Pirate Scooter Rentals.
Bike Rental Contact: 305 563 6324
Address: 401 Southard St, Key West, FL 33040, United States
Lloyd's Tropical Bike Tour
Visit the Key West Wildlife Center, a gorgeous botanical garden housed inside a historic fort, and the houses of well-known authors to learn about their untold stories. 
Every age group is welcome on the biking journey at Lloyd's Tropical Bike Tour. Go on a ride with Lloyd to discover why you came to Key West. It's Lloyd himself leading the renowned and outstanding Key West tour!
Bike Tour Booking Contact: 305 428 2678
Address: 929 Truman Avenue, Key West, FL 33040, United States
For a genuinely distinctive and amazing Key West experience, ride with Key Lime Bike Tours.
You will tour many of the island's main sights with your local guide, including Mallory Square, Mel Fisher Museum, The Custom House, Truman's Little White House, Mile Marker 0, Key West Lighthouse, The Hemingway House, The Southernmost Point of the Continent, and more. Then get a complimentary slice of award-winning key lime pie to cap off the ride! 
You can inquire about their private and custom tours. Key Lime Bike Tours provides tours for every event!
Bike Tour Booking Contact: 305 340 7834
Address: 122 Ann St, Key West, FL 33040, United States
Watch this promotional video of Key Lime Bike Tours as an introduction to its founding history and how they manage each tour.
Great Bike Tours cycles you through towering palms, turquoise water, and pleasantly mild ocean breezes. Imagine being transported to this idyllic tropical location where you may relax your body, mind, and spirit. 
So remove your shoes and come explore Key West through cycling!
Bike Tour Booking Contact: 802 777 2009
Address: 3282 Mt. Philo Rd, Charlotte, VT 05445, United States
In Key West, bicycles are a popular form of transportation. Key West residents and workers who live and work there commute to their workplaces and pretty much everywhere else on bicycles. It's time to consider why you don't bike if you live here, and if you're a visitor, rent a bike and make the most of your time in Key West.
Below is a list of biking destinations you can add to your itinerary:
Old Town

Fort Zachary Taylor State Park

Geiger Key Marina

Hogfish Bar and Grill

Key West Cemetery

Garrison Bight

Smathers Beach

Higgs Beach

Baby's Coffee
If you're a bit worried about your budget, the good news is that there are free things to do in Key West.
Safety Tips When Biking in Key West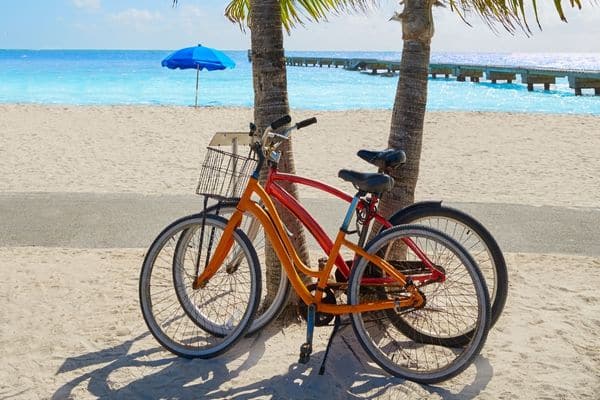 The laid-back side streets in Key West are identified by signs informing vehicle drivers that they are in a popular bike region and asking them to drive slowly and attentively. The Crosstown Greenway, which travels through Key West's downtown via peaceful neighborhoods, is a well-liked path. Take this route if you want to escape dense traffic and strong winds.
Although there is no motorized traffic on trails, you must still share the path with walkers and runners, so be cautious. For a true adventure, take a ride on the 106-mile Florida Keys Overseas Heritage Trail, which connects Key Largo and Key West. Rather, stay in Key West and stroll along the oceanfront Atlantic Boulevard Trail.
Here are some safety tips when biking in Key West:
Bikes must abide by all traffic laws because they are considered vehicles.

Never go the other direction on a one-way street.

At night, always have a light on.

Never ride against traffic flow; always stay on the right side of the road.

On sidewalks, bicycles are permitted—except on Duval Street. Always move aside for pedestrians.
Always secure your bicycle even if you're leaving it for just a while.
Make a copy of the serial number on your bike and snap some pictures.

Get a U-lock, and lock your frame and back wheel to something strong.

Never secure your bicycle to a tree, a fire hydrant, a piece of private property, or a street sign.

Lock it away in crowded areas. Stealing is prevented by foot traffic.