One of the greatest pleasures of visiting this enchanting island is dining with a breathtaking view. Key West restaurants on the water just complete the perfect tropical paradise you might have imagined while planning your vacation. 
From laid-back beachfront eateries to upscale dining establishments, Key West offers a remarkable array of restaurants on the water, where you can indulge in sumptuous meals while captivated by the mesmerizing ocean vistas. This article will explore the 12 best Key West restaurants on the water, each offering a unique dining experience that combines exceptional flavors with picturesque surroundings.
Location: 0 Duval St, Key West, FL 33040
Nestled at the vibrant heart of Key West's historic seaport, Sunset Pier stands as a captivating oasis where dazzling sunsets, live music, and delectable cuisine converge. Perched on a picturesque pier jutting out into the crystal-clear waters, Sunset Pier is a lively hub of activity that effortlessly blends the laid-back island charm with a vibrant atmosphere. The atmosphere is infectious, with a palpable sense of joy and celebration. 
From families and friends seeking a leisurely afternoon to couples searching for a romantic evening, Sunset Pier caters to all, ensuring that each guest is treated to a truly memorable experience. Beyond its culinary delights, Sunset Pier is renowned for its live music performances, enhancing the vibrant ambiance and filling the air with the sounds of talented musicians. From lively reggae beats to soulful acoustic melodies, the music at Sunset Pier sets the stage for a delightful evening of entertainment and relaxation
The culinary offerings at Sunset Pier are equally impressive, boasting a diverse menu that caters to various tastes and preferences. Whether you're craving fresh seafood, mouthwatering burgers, or delectable tropical-inspired dishes, the skilled chefs at Sunset Pier deliver flavors that are as bold and enticing as the setting itself. Pair your meal with a refreshing tropical cocktail or indulge in a selection from their extensive wine list, all while reveling in the panoramic views of the Gulf of Mexico.
Location: 245 Front St, Key West, FL 33040
Bistro 245 in Key West is an elegant waterfront restaurant located at the Margaritaville Key West Resort. The restaurant's inviting atmosphere and stylish decor provide a perfect setting for a memorable dining experience. The menu features a fusion of contemporary American cuisine with local island flavors, showcasing the culinary expertise of talented chefs who prioritize high-quality ingredients and meticulous preparation. 
The restaurant's prime waterfront location along Key West Harbor offers breathtaking views of the marina and stunning sunsets, whether enjoyed from the outdoor terrace or through the floor-to-ceiling windows indoors. Bistro 245 also offers an impressive selection of wines, craft cocktails, and artisanal beers to complement the delectable dishes, with an attentive staff on hand to provide expert recommendations.
Location: 245 Front Street, Key West, FL 33040
Latitudes is an exceptional dining destination on Sunset Key, near Key West. This enchanting restaurant offers a harmonious blend of delectable cuisine, a serene atmosphere, and breathtaking views of the Gulf of Mexico. 
With its open-air design, elegant decor, and choice of indoor or outdoor seating, Latitudes provides an intimate and romantic setting for guests to savor their meals while enjoying panoramic ocean vistas. The menu showcases the finest local ingredients, featuring diverse dishes catering to various preferences, including seafood, steaks, and vegetarian options. 
The restaurant's waterfront location immerses diners in the natural beauty of the ocean, allowing them to witness awe-inspiring sunsets and feel the gentle ocean breeze. Complementing the exceptional cuisine, Latitudes offers an extensive selection of wines, cocktails, and beverages expertly paired by knowledgeable staff.
Location: 1405 Duval St, Key West, FL 33040
Southernmost Beach Cafe is a waterfront eatery located at the southernmost point of Key West, offering a perfect blend of beachside relaxation and delicious cuisine. With its open-air setting and proximity to the lively Duval Street, the cafe provides a laid-back atmosphere where guests can enjoy mouthwatering food while taking in the stunning views of the Atlantic Ocean. 
The menu features a variety of delectable dishes inspired by Key West's culinary scene, including fresh seafood, burgers, salads, and sandwiches. The cafe caters to various dietary preferences, ensuring that everyone can find something to enjoy. Alongside the flavorful cuisine, Southernmost Beach Cafe offers a selection of tropical cocktails and beverages that complement the beachfront experience. 
Guests can also enjoy live music performances, adding to the vibrant atmosphere of the cafe. Whether it's a leisurely lunch, a romantic dinner, or a relaxing drink while watching the sunset, Southernmost Beach Cafe provides a memorable dining experience in the heart of Key West.
Location: 231 Margaret St, Key West, FL 33040
The Half Shell Raw Bar is a vibrant and beloved seafood establishment nestled in the heart of Key West, Florida. Located in a charming and inviting setting, this restaurant offers a laid-back atmosphere that perfectly captures the essence of the island lifestyle.
As you step inside the Half Shell Raw Bar, you're greeted by a lively and bustling scene. The interior is adorned with nautical decor, creating a warm and welcoming ambiance. The walls are adorned with photos, posters, and memorabilia that reflect the rich maritime history of Key West.
The highlight of the Half Shell Raw Bar is undoubtedly its mouthwatering selection of fresh seafood. Known for its outstanding raw bar, the restaurant offers an impressive array of oysters, clams, shrimp, and other delights from the sea. The oysters are renowned, and guests can savor them on the half shell or indulge in delicious Rockefeller or chargrilled preparations.
In addition to the raw bar, the menu features a variety of seafood dishes cooked to perfection. From succulent crab legs and tender lobster tails to grilled fish and shrimp, there's something to satisfy every seafood lover's palate. The chefs at Half Shell Raw Bar take pride in sourcing high-quality ingredients and creating flavorful dishes that capture the essence of Key West's culinary heritage.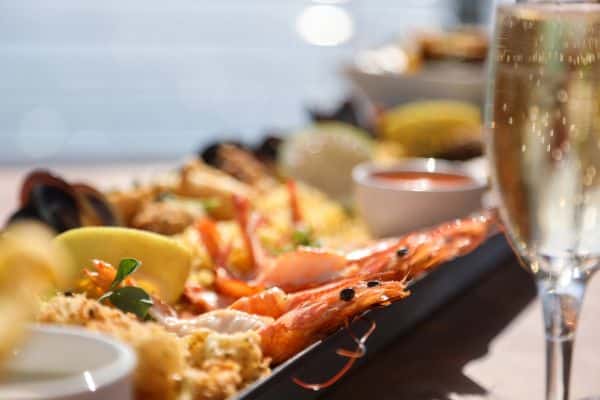 Location: 0 Duval St, Key West, FL 33040
The Hot Tin Roof Restaurant in Key West is an upscale dining establishment within the Ocean Key Resort and Spa. Led by talented chefs, the menu combines local ingredients and global influences, resulting in creatively prepared dishes, from appetizers to desserts. The seafood options are particularly impressive, featuring fresh catches prepared with precision. The menu also caters to different preferences with expertly crafted meat and vegetarian choices. 
A wide selection of fine wines, handcrafted cocktails, and premium spirits complement the cuisine. The attentive and knowledgeable staff provides exceptional service, ensuring a pampered dining experience.
Location: 700 Waddell Ave, Key West, FL 33040
Louie's Backyard is an iconic and highly regarded restaurant in Key West. Situated in a historic mansion with panoramic views of the Atlantic Ocean, Louie's Backyard offers an enchanting and picturesque dining experience.
As you step into Louie's Backyard, you are greeted by a vibrant and inviting ambiance. The interior is tastefully decorated with tropical accents, creating a relaxed and casual atmosphere that reflects the island's spirit. The restaurant boasts a spacious dining area and an outdoor patio where guests can bask in the gentle sea breeze while enjoying their meal.
The culinary offerings at Louie's Backyard are a true delight. The menu showcases a fusion of flavors inspired by Caribbean, Latin, and Asian influences, resulting in a diverse and eclectic selection of dishes. From fresh seafood caught locally to tender meats and vibrant vegetarian options, there is something to please every palate.
The chefs take pride in using fresh and seasonal produce, ensuring that each dish bursts with flavor. Whether you choose the succulent grilled fish, the perfectly cooked steak, or one of the innovative vegetarian creations, you can expect a culinary experience that satisfies and surprises you.
The oceanfront setting adds an extra layer of magic to the dining experience at Louie's Backyard. The restaurant offers breathtaking views of the azure waters, creating a serene backdrop as you indulge in your meal. The outdoor patio, surrounded by lush tropical foliage, provides a romantic and intimate setting for a memorable evening.
In addition to the exceptional food and beautiful setting, Louie's Backyard also offers an extensive wine list featuring a curated selection of varietals from around the world. The knowledgeable staff can assist in choosing the perfect wine to complement your meal, enhancing the overall dining experience.
Location: 1000 Atlantic Blvd, Key West, FL 33040
Salute! On the Beach in Key West offers a unique dining experience with its beachfront location, Mediterranean-inspired cuisine, and warm hospitality. The restaurant features a bright, inviting interior, coastal decor, and local artwork. 
The menu highlights fresh and flavorful dishes influenced by Mediterranean and Italian flavors, including seafood, pasta, and appetizers. Salute! On the Beach, a sister restaurant of Blue Heaven offers its own delightful rendition of Key Lime Pie. The pies feature a luscious key lime custard nestled on a flavorful graham cracker crust, topped generously with fluffy meringue. 
Guests can dine on the outdoor patio right on the beach, enjoying panoramic ocean views and the soothing sound of waves. The full-service bar offers a variety of cocktails, wines, and beers to complement the meal.
Matt's Stock Island Kitchen & Bar
A brief introduction to Matt's Stock Island Kitchen & Bar
Location: 7001 Shrimp Rd Suite 200, Naval Air Station Key West, FL 33040
Matt's Stock Island Kitchen & Bar is a renowned dining destination. This vibrant restaurant boasts a range of unique characteristics that attract customers and set it apart from other establishments in the area.
The restaurant takes pride in supporting local farmers, fishermen, and artisans, ensuring the freshness and quality of the ingredients, and contributing to the region's sustainability. This farm-to-table approach results in a menu showcasing the Florida Keys' vibrant flavors, with dishes highlighting the bounty of the surrounding land and sea.
In addition to its dedication to local sourcing, Matt's Stock Island Kitchen & Bar embraces the spirit of Key West's vibrant culinary scene by offering a fusion of flavors and influences. The menu combines Caribbean, Latin American, and Southern cuisine elements, creating a dynamic and diverse culinary experience. Guests can expect to find innovative twists on classic dishes and bold and unexpected flavor combinations that tantalize their taste buds.
The ambiance of Matt's Stock Island Kitchen & Bar is another draw for customers. The restaurant is housed in a beautifully restored historic building with rustic and industrial charm. The interior features an open kitchen concept, allowing guests to witness the culinary magic as the chefs prepare their meals. The outdoor seating area offers a tranquil setting, surrounded by lush greenery and waterfront views, creating a serene and inviting atmosphere for diners.
Location: 700 Front St, Key West, FL 33040
A&B Lobster House is a celebrated seafood restaurant known for its distinctive qualities that captivate customers and make it a standout dining destination.
One of the defining characteristics of A&B Lobster House is its rich history and iconic location. The restaurant is housed in a historic building dating back to the 1800s, exuding old-world charm and a sense of heritage. Situated right on the Key West Harbor, A&B Lobster House offers stunning waterfront views, creating a picturesque backdrop for an unforgettable dining experience.
A&B Lobster House's commitment to serving the freshest and highest-quality seafood is another aspect that attracts customers. As the name suggests, the restaurant is renowned for its superb selection of lobsters and other delectable seafood offerings. From succulent lobster tails to perfectly prepared crab legs and shrimp, guests can indulge in the ocean's bounty, expertly cooked to highlight the natural flavors of the sea.
In addition to its exceptional seafood, A&B Lobster House takes pride in its extensive wine list and upscale atmosphere. The restaurant features a refined and elegant interior adorned with beautiful maritime-inspired decor, creating a sophisticated ambiance. The well-curated wine selection complements the seafood offerings, allowing guests to pair their meals with a perfect vintage.
Location: 202 William St, Key West, FL 33040
Schooner Wharf Bar in Key West is a beloved establishment known for its authentic atmosphere, live music, refreshing drinks, maritime ambiance, and vibrant events. Nestled in the Historic Seaport area, the bar offers a laid-back vibe and an open-air setting with scenic harbor views. Live music sets the stage for dancing and enjoyment. 
The bar is renowned for its selection of cold drinks and cocktails, providing a quintessential Key West experience. The nautical decor and maritime heritage showcase the island's seafaring past.
Conch Republic Seafood Company
Location: 631 Greene St, Key West, FL 33040
Situated in the Historic Seaport area, Conch Republic Seafood Company offers picturesque harbor views, creating a scenic backdrop for a memorable dining experience. Guests can enjoy their meals while overlooking the shimmering waters, observing boats passing by, and embracing the vibrant maritime atmosphere of Key West.
Conch Republic Seafood Company is renowned for its emphasis on serving fresh and delicious seafood. The restaurant prides itself on sourcing high-quality local seafood, including Key West pink shrimp, stone crab claws, and fresh fish. Each plate offers a delectable taste of Key West's coastal cuisine, from succulent shellfish to perfectly grilled fish.
Another characteristic that attracts customers to Conch Republic Seafood Company is its casual and welcoming atmosphere. The restaurant features an open-air dining area with a laid-back island vibe. Guests can choose between indoor seating or outdoor patio options, both of which offer a relaxed and comfortable setting. 
Additionally, Conch Republic Seafood Company embraces Key West's vibrant spirit by incorporating live music into its dining experience. Local musicians perform a variety of genres, ranging from lively island tunes to classic hits, adding an extra layer of entertainment and enhancing the overall ambiance.
The restaurant's commitment to sustainability is another unique characteristic that sets Conch Republic Seafood Company apart. It actively participates in sustainable fishing practices and strives to support local fisheries, ensuring the long-term health of the surrounding marine ecosystem.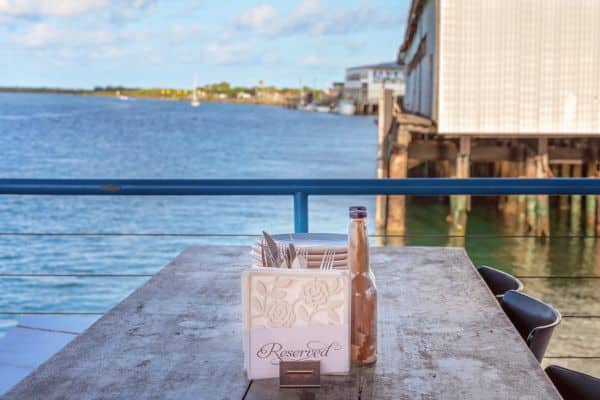 Key West Restaurants On The Water FAQs