Sunset Pier in Key West is ideally situated between Key West Harbor and Mallory Square. The Caribbean cuisine, vibrant décor, live music, and mouthwatering drinks are just the right components of a venue that anyone can enjoy. 
Although Sunset Pier is right in the middle of the activity, it provides a small buffer from the masses that throng Mallory Square every evening for the infamous sunset celebration. Here are some general information about Sunset Pier in Key West for tourists looking to visit the place:
Location: 0 Duval St, Key West, FL 33040, United States
Contact: 305-296-7701
Hours: Daily 11:30 AM – 8:30 PM
You might want to see this video of a vlogger checking out the Sunset Pier in September 2020.
The Sunset Pier in Key West is located at the end of Duval Street. Despite being a part of the Ocean Key Resort, it is accessible to the community's fun-loving beer drinkers. Each umbrella, chair, and table at the Pier Bar has a different hue and faces the Key West Harbor.
Did you know that Key West left the Union in the 1980s? They seceded because they were fed up with American immigration laws. Key West submitted an application for assistance from the government after a brief but amusing battle with the Coast Guard.
A crew of pirates and the Coast Guard recreate this incident every April. The greatest place to view this competitive event is from the Sunset Pier Bar as they engage in fire hose combat in Key West Harbor.
There are some pretty talented Florida Keys beach bar performers at Sunset Pier in Key West. The location is amazing as you can watch the sailboats arrive and go and enjoy the sunset there.
While waiting for the sun to set, why not grab dinner? The Sunset Pier in Key West is ideal for exotic cocktails, mouthwatering cuisine, and, of course, breathtaking sunsets.
The menu combines Cuban cooking with traditional Key West seafood dishes like crab cakes, conch fritters, and raw bar favorites. Island classics like Lobster Grilled Cheese and Peel & Eat Key West Pink Shrimp are on a fantastic menu at Sunset Pier.
There are six variations of the margarita, four caipirinha flavors on the cocktail menu, and other vacation favorites, including frozen drinks with a shot of Cruzan dark rum. Local selections are also available, like the Sunset Pier Amber Ale and Key Lime Hard Cider.
Sunset Pier in Key West features tables with umbrellas at each one to provide shade as you wait for sunsets. You may observe all the sunset cruises, sailboats, and other ships passing by while sitting here. As they pass, raise your glass and give them a wave. 
Who doesn't enjoy a beautiful sunset? The red, yellow, and purple colors. That sensation of being completely at ease with the world. It's one of nature's most beautiful scenes. This bustling pier is a beautiful heaven. 
The Tiki Bar & Grill is a terrific place to unwind, enjoy a drink, and get food. Additionally, you can enjoy dancing and music every night while watching the sun drop into Key West Harbor.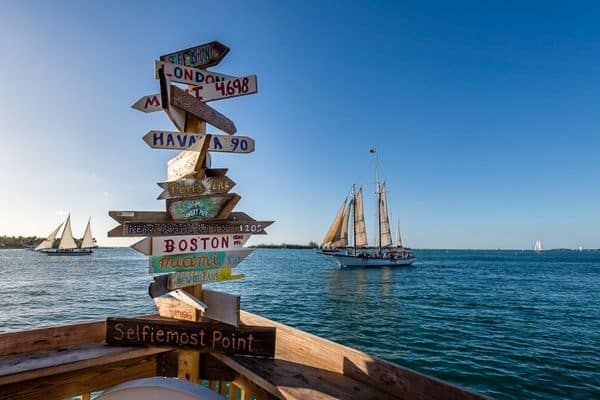 The Sunset Pier in Key West is the largest and most recognizable outdoor space. Every day of the year, fun events and enjoyable music are in store for you! 
Because of their Zero Duval location, you can easily bike or walk to all you wish to visit. It is strongly advised either use their valet parking service or hail a taxi when leaving the airport. It is quicker and easier to get around the island without a car.
In getting around, you might want to know that there are a lot of free things to do in Key West that can save you money. Watch out for the Key West chickens who run free across the island!
Sunset Pier in Key West FAQs