Aiming to have the most fun family adventure? Here are the top 15 things to do in Key West with kids that will definitely complete your travel plan while surrounded by sun-soaked beaches and swaying palms.
Key West promises a treasure trove of activities tailored for the little ones. From exploring fascinating marine life to discovering the island's rich history, this list is your passport to creating unforgettable memories with your family. Let's see what's the most perfect itinerary for you and your kids!
A trip to Key West wouldn't be complete without taking in the Sunset Celebrations in Mallory Square, which feature lively crowds, gorgeous skies, and eye-catching entertainment that will astound parents and young children. In fact, this is one of the best free things to do in Key West.
This place is home to many people, including musicians, jugglers, flying cats, and psychics. Many local artisans are also setting up shop in the square, where you can purchase beautiful mementos like underwater photos, t-shirts painted by hand, and silver jewelry made by hand in addition to conch fritters and coconuts.
2. Dry Tortugas National Park
The Dry Tortugas National Park, which spans the Atlantic, Caribbean, and Gulf of Mexico, is well-known for its shallow beaches and popular sites for snorkeling, particularly around the remnants of Fort Jefferson.
Moreover, the only ways to get to Dry Tortugas are via seaplane or ferry, which adds to the excitement, especially for kids. You may escape to remote islands and tropical beaches at Dry Tortugas National Park, which makes for an extended boat ride and gives you an excellent view of the islands and ocean.
It costs $15 per person to enter Dry Tortugas National Park, and the pass is valid for seven days in a row. No admission fee is required for anyone under sixteen (including international tourists).
3. Key West Butterfly and Nature Conservatory
The Key West Butterfly and Nature Conservatory Walking Tour by The Villages In Video
Location: 1316 Duval Street, Key West
Contact: 305-296-2988
Encounter hundreds of fluttering butterflies, exotic birds, and two magnificent flamingos while strolling through the towering glass-domed tropical butterfly habitat. Key West Butterfly & Nature Conservatory has actually been named "Best Attraction in Key West" and "Best Place to Take the Kids." 
A fascinating introduction to the world of butterflies can be experienced at the Key West Butterfly & Nature Conservatory's Learning Center. To set the scene, a fifteen-minute clip will explain the life cycle and salient features of butterflies.
Then, wander through a welcoming and exotic setting home to hundreds of butterflies among nature's most exquisite flying animals. You will see an amazing assortment of trees, bubbling waterfalls, and blooming plants on your exploration.
See their ticket prices below for reference:
| | |
| --- | --- |
| Ticket | Price |
| General Admission | $17.50 |
| Local (Monroe County) | $15.00 |
| Seniors 65+ | $14.50 |
| Military | $14.50 |
| Children 4-12 Years | $12.50 |
| 3 years & Under | Free |
4. Florida Keys Eco-Discovery Center
The Florida Keys Eco Discovery Center – Key West by Small City Expo
Location: 35 Quay Road, Key West, FL 33040
The Eco-Discovery Center in Florida Keys National Marine Sanctuary has been open to tourists and locals since 2007. Now, 6,000 square feet of exhibit space have been reimagined, maintaining the original entry fee-free experience while offering a modern, immersive experience!
While guests can take a self-guided tour of the Eco-Discovery Center, professionals and volunteers are also available to answer questions about the Florida Keys. On weekends, educational carts with skeletons of different sea animals teach about animal adaptations.
5. Fort Zachary Taylor Historic State Park
Location: 601 Howard England Way, Key West, FL 33040
Contact: 305-292-6713
The biggest collection of Civil War weapons in the world is kept in Fort Zachary, a National Historic Landmark that predates the Civil War. Tour guides and interpretative panels explain the fort's significant contributions to the Civil War and the Spanish-American War.
While finding immaculate beaches in Key West is not guaranteed, you can definitely find them at Fort Zachary. You'll discover clean, well-kept sand, umbrellas, beach chairs, and water sports here. The 54-acre state park teems with colorful coral reefs and natural paths that excite snorkelers and environment lovers alike.
Please refer to the entry fees below:
| | |
| --- | --- |
| Admission | Fees |
| One vehicle with up to 8 people (A Monroe County surcharge of 50 cents will be added per person) | $6 |
| Single-occupant vehicle or motorcycle (Monroe County surcharge included in this price) | $4.50 |
| Pedestrians, bicyclists, extra passengers, passengers in vehicle with holder of Annual Individual Entrance Pass (Monroe County surcharge included in this price) | $2.50 |
6. Key West Shipwreck Museum
Location: 1 Whitehead St, Key West, FL 33040, United States
Contact: 305-292-8990
In the heyday of sailing, more than a hundred ships visited Key West daily. But they knew full well that the waters they were on were among the world's most dangerous. On average, a ship would capsize somewhere along the Florida Reef every week.
You can travel back in time and learn about Key West's distinctive maritime history and how it rose to become the richest city in the country by visiting the Key West Shipwreck Museum. The Isaac Allerton wreck, which sank in 1856 on the dangerous Florida Keys reef, was rediscovered in 1985 and is showcased at the Key West Shipwreck Museum through the use of actors, films, and real artifacts.
See ticket prices below:
| | | |
| --- | --- | --- |
| Ticket | Retail Price | Online Price |
| Adult | $18.26 | $17.99 |
| Children (4-12) | $9.66 | $8.99 |
Location: 1 Whitehead St, Key West, FL 33040, United States
Contact: 305-296-2051
One of the most well-liked attractions on the island for visitors of all ages is the Key West Aquarium, which is situated in the well-known Mallory Square of Key West.
In addition to interactive conservation presentations and animal feedings, visitors can experience this home to jellyfish, sharks, and many other marine species. With commentary from the knowledgeable guides of the aquarium, you will encounter sea cucumbers, conch, barracuda, grouper, tropical fish, and moray eels.
Visit the Key West Aquarium to have an amazing day in Key West and interact with some of the most fascinating animals in the Florida Keys up close and personal! The admission fee is $20.99, which involves shark and turtle feedings, a hands-on experience in touch tank, and seeing a wide variety of fish and wildlife.
Key West Conch Train & Walking Tour by TheDailyWoo
One of Key West's most well-known and historic attractions is the Conch Tour Train. Engineers who are familiar with the city and enjoy sharing anecdotes about their homeland operate the train. 
The tour lasts 90 minutes and passes through Mallory Square and the old Old Town. Among many other things, you will see the Ernest Hemingway House and Museum and the Key West Lighthouse. Make sure you grab some handmade fudge or ice cream for the kids at the first stop so they can snack on it on the way!
Aside from the individual entrance fees, there are ticket packages involving the Conch Tour Train Key West Aquarium, and the Key West Shipwreck Museum for a more comprehensive excursion.
| | |
| --- | --- |
| Tour | Fees |
| Aquarium and Shipwreck Museum Package | $33.98 |
| Aquarium, Trolley, Tour, and Shipwreck Museum Package | $90.08 |
| Conch Tour Train | $42.84 |
| Old Town Trolley Tour | $52.82 |
9. The Hemingway Home and Museum
Location: 907 Whitehead Street, Key West, FL 33040
Contact: 305-294-1575
Built in 1851 in the Spanish Colonial style, the Hemingway residence was constructed using locally quarried limestone excavated from the property. When the Hemingways acquired the house, it was in terrible disrepair, but Ernest and Pauline could see through the debris and ruin and recognize the home's magnificent design and stateliness. The house was transformed into the National Historical Landmark that hundreds of visitors enjoy today because of the extensive renovation and reconstruction they carried out in the early 1930s.
The Ernest Hemingway Home and Museum is open year-round from 9 AM to 5 PM. The 20-30-minute guided tour will give guests full access to the home, gardens, and the writing studio where Hemingway created many pieces. 
| | |
| --- | --- |
| Admission | Fees |
| Adult | $18 |
| Children (6-12) | $7 |
| Children 5 and Under | Free |
10. Truman Little White House
Location: 111 Front St, Naval Air Station Key West, FL 33040
Contact: 305-294-9911
The only presidential site in Florida is the Harry S. Truman Little White House. Its most significant use was as Truman's winter White House, where he resided for 175 days between 1946 and 1952 while serving as president. Among the challenges Harry Truman faced were rebuilding Europe, the Palestine issue, labor upheaval, civil rights, foreign policy shifts, and the end of the Cold War.
Currently on display at the Little White House is the 1950 Cosmopolitan Lincoln Limousine from President Truman's presidential fleet. The White Glove Tour, provided by the Key West Harry S. Truman Foundation and the Little White House Museum, will include the Limousine.
See the tour rates and packages below:
| | |
| --- | --- |
| Tours & Packages | Fees |
| Museum Tour | $22.95 |
| VIP White Glove Tour | $645.00 |
| Museum Tour, Trolley Tour & Shipwreck Museum Package | $90.54 |
| Museum Tour, Conch Tour Train & Shipwreck Museum Package | $80.57 |
11. Nancy Forrester's Secret Garden
Location: 518 Elizabeth Street, Key West, Florida  33040
Contact: 305-294-0015
Among the top things to do in Key West with kids is to visit ​Nancy Forrester's Secret Garden. Talk, laugh, and dance with the orphaned parrots!
Nancy Forrester's Secret Garden is an educational haven for orphaned parrots. It is the smallest parrot sanctuary in the United States, among the first to open its doors, and one of the few that regularly provides public education in person. 
For thirty-five years, artist, educator, environmentalist, and plant and animal lover Nancy Forrester has been rescuing and finding new homes for orphaned parrots. Putting an end to parrot abuse is the goal of this establishment. 
Families with kids and animal enthusiasts are always invited to visit the Secret Garden to discover more about other parrots and gorgeous South American macaws, four of which are critically endangered. Entrance fees are $10 for each adult and $5 for each child aged 5 to 11. 
Clarence S. Higgs Memorial Beach Park, maintained by the county, is situated on Key West's Atlantic Oceanfront and spans roughly 16.5 acres. The 400-foot Reynolds Street Pier is located in the park.
Higgs Beach features a Civil War Era Fort, Fort West Martello, home of the Key West Garden Club, which is listed on the National Register of Historic Places, a beachside café, the African Refugee Memorial and burial site, and an AIDS memorial. It also boasts stunning sandy beaches, clear turquoise waters, and tropical vegetation. Swimming, snorkeling, tanning, beach volleyball, tennis, pickleball, and a kids' playground are offered.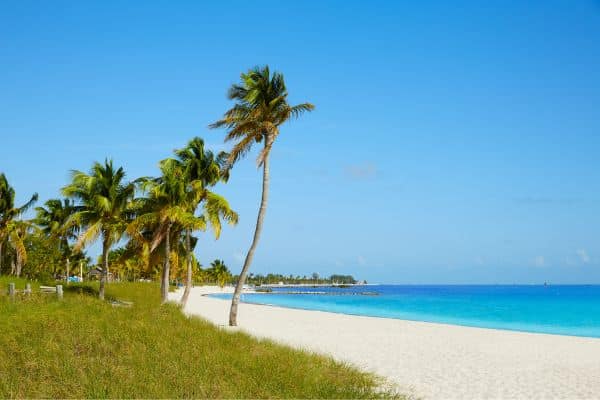 Smathers Beach is one of the Key West's four beaches, and during spring break, many people go there. It sees about fifteen thousand visitors a year. It's the biggest public beach in Key West, around fifty yards long. 
The beach is easily accessible from anywhere in Key West because it is next to Highway A1A. Plus, it's free. Smathers is a great place for swimmers because of its tranquil waters.
Amenities include:
Beach volleyball nets

Jet ski rentals

Restrooms

Shower facilities

Volleyball courts
Although the Navy-owned Southernmost Point isn't actually the southernmost point of Key West, it's a famous location for photos—one of those shots you just have to have to show that you saw everything significant in Key West!
The colorful buoy is situated just ninety miles north of Cuba, near the intersection of South and Whitehead streets. The point honors the Cubans who lost their lives at sea attempting to reach American territory.
A photo opportunity at the Southernmost Point is strictly mandatory for tourists of all ages. The buoy is free to access, making it an affordable yet fantastic, family-friendly location to explore.
Location: 201 William St, Key West
Contact: 305-296-2554
Established in 1984, Sunset Watersports is the original watersports company in Key West. Award-winning Sunset Watersports is a watersports provider that is highlighted on numerous top travel websites. The family-run business has been designing and organizing the most reputable watersport trips in Key West for more than 38 years. 
Sunset Watersports only offers its customers the greatest experiences on the island. Every trip and tour has been carefully chosen and specially created to provide the best possible value at the lowest pricing on the island. Offering top-notch sandbar charters, reef snorkeling, parasailing, jet ski tours, dinner cruises, boat rentals, eco-kayak excursions, and more in the Key West!
Island Adventures In Key West For Kids
Key West isn't just a destination; it's a canvas of memories waiting to be painted. Whether the young ones were captivated by wildlife wonders or enchanted by sunset celebrations, each moment etched in the sands of Key West is a treasure that will linger in a kid's heart. The little explorers have witnessed the wonders of marine life and delved into this tropical paradise's rich history.
This tropical paradise has proven to be a treasure trove for families seeking both excitement and relaxation. So, as the sun sets over this vibrant isle, it marks the beginning of cherished recollections that will forever echo the joyous spirit of Key West for kids.
As the most popular tourist destination in the Florida Keys, Key West will undoubtedly be on your agenda if you decide to visit. It's wonderful to mix up the expensive with a few free activities while on an expensive vacation. With these free activities in Key West, you can live your best life without breaking the bank.
When is the best time to visit Key West? You might be wondering about that while planning your next vacation with friends or family. In this blog post, we'll break down the different seasons and factors that can help you decide the ideal time to visit Key West.
To fuel up for the exciting escapades that lie ahead, discovering the finest places for breakfast in Key West is a must. In this guide, we'll unveil the top 20 places, ensuring that your day starts with a delectable journey through local flavors and a boost of energy to make the most of your full-day escapade.
Things To Do In Key West With Kids FAQs