Let's embark on a journey to discover the best Key West beaches that promise a tropical escape like no other. Nestled at the southernmost tip of the United States, this tropical paradise boasts a collection of beaches that beckon travelers to unwind and bask in their serene beauty.
So, pack your sunscreen, grab your shades, and get ready to immerse yourself in the allure of Key West's beachfront destinations, along with the hidden gems that are the most fascinating to explore.
Location: 601 S Roosevelt Blvd, Key West, FL 33040
One of the most popular Key West beaches and its largest, Smathers Beach is at the top of this list of Key West beaches due to its exceptional snorkeling conditions, two miles of pristine sand, and extensive activities. 
Numerous services and amenities are available to beachgoers, including showers, restrooms, volleyball facilities, and vendors. Several rental shops along the shore also offer beach chairs, umbrellas, snorkeling gear, kayaks, jet skis, and other water sports equipment. 
Located midway along the island's southern coast, this south-facing stretch of white sand is 3 miles away from the partying on Duval Street and is, therefore, devoid of revelers. A gently sloping shoreline enables children and less-capable swimmers to traverse a considerable distance into the water while keeping their feet on the sand. This, coupled with the beach's gentle currents, makes it Key West's best beach for families. 
It can feel crowded during peak hours, so arrive early to secure a position and avoid the crowds. Later in the day, when everyone has left Mallory Square to watch the magnificent sunset, it is a less crowded time to visit. In addition, there is no fee to enter Smathers Beach. The on-street parking is also free, but you may have to park and walk a short distance to reach the beach during peak hours.
And don't be surprised if you see crowds gathered on the shore around sunset; this is a popular location for weddings, and weekends frequently bring these parties to the water's edge for photos, vows, and million-dollar views.
Explore Smathers Beach with Florida 4K
2. Fort Zachary Taylor Historic State Park Beach
Location: 601 Howard England Way, Key West, FL 33040
The beach at Fort Zachary Taylor Historic State Park, located on the island's southwestern point, is by far the best Key West beach for swimming and snorkeling (due to its relatively deep waters). It is also regarded as one of the finest beaches in the Florida Keys. 
The abundant plant and animal life at Fort Zachary Beach will make you fall in love with it. Here, you will observe everything from schools of small reef-dwelling fish to Goliath grouper, dolphins, and turtles. It is also a popular destination for bird watchers who also enjoy sunbathing.
You can rent snorkeling equipment, beach chairs, and umbrellas at a nearby kiosk. And when you've had your fill of beach relaxation or simply need a respite from the sun, take advantage of the park's shady, scenic nature trails.
The Fort Zachary Taylor Historic State Park Beach by JNL Travel Adventure TV
During the American Civil War in 1845, the park's fort was used to prevent Confederate ships from landing. Join ranger-led tours at the historic Fort Zachary to learn more about its history. In addition to exploring the Civil War-era fortifications and learning about the harsh conditions Union soldiers endured while stationed here, you'll have the opportunity to photograph the breathtaking sea views and the ancient cannons partially buried in the building's foundations. Grab a hot dog and daiquiri from Cayo Hueso Cafe, a refreshment shack on the water with expansive ocean views.
There is ample parking at Fort Zachary Taylor Beach. Additionally, Duval Street is only a 25-minute walk away, so you should consider leaving your vehicle here and walking downtown.
3. Clarence S. Higgs Memorial Beach
Location: 1000 Atlantic Blvd, Key West, FL 33040
Clarence S. Higgs Memorial Beach Park, commonly abbreviated to "Higgs Beach," is one of the beaches located within the C.B. Harvey Rest Beach Park. This tiny but beautiful public space contains a restaurant and gardens. Higgs Beach is located just a few blocks west of Smathers Beach and is another popular Key West beach. 
There are shallow waters for swimming and snorkeling over seagrass, beach volleyball, tennis, and pickleball facilities, and a beachfront playground for children. For those looking to make a day of it, various rental options are available, ranging from beach chairs and volleyball nets to snorkeling equipment and water activities.
A walking tour of Higgs Beach by MileMarker4K
Salute! On the Beach is a well-known cafe at Higgs Beach that serves seafood delicacies with Caribbean influences and tropical cocktails. There are also significant historical sites here. The oceanfront park is home to a fort from the American Civil War, the largest African refugee burial ground in the northern hemisphere (honoring slave ship victims), and the Key West AIDS Memorial.
There is also a pier at Higgs Beach, where, with luck and patience, you can often observe stingrays and other marine species swimming by. Additionally, there are free parking, public restrooms, and showers.
Location: Between Emma Carrero Cates Pier and a sizable resort at the end of Duval Street
South Beach in Key West is located on the southern side of Duval Street, close to the Southernmost Point marker, and is a far cry from the crowded beach of the same name in Miami. 
A day at this Key West beach places you within walking distance of shops, restaurants, and bars, as well as some local history — island lore claims that when Tennessee Williams lived in Key West, he frequented South Beach almost daily. Make time to stroll onto the Emma Carrero Cates Pier, an ideal location for photographs during golden hour and capturing a breathtaking island sunrise.
Despite being one of the smaller sand playgrounds in Key West, South Beach is another family favorite. It can feel cramped, only 200 feet long, and it only takes a short time for all available spaces to be occupied, so plan to arrive early or late in the day when the masses have dispersed.
The beach's tranquil and shallow waters are perfect for splashing around if you're traveling with children. Additionally, there are no public facilities. However, adjacent businesses typically accommodate visitors, particularly if you're purchasing their products or services. But there are public water fountains available.
Location: Simonton St, Key West, FL 33040
Simonton Beach during Labor Day of 2020 by Oakland Travel
This Key West beach is frequented by locals and tourists who stumbled upon it while exploring the island. Simonton Beach is located on the Gulf of Mexico side of Key West, at the end of the street of the same name. It is the only public beach in downtown Key West just a few steps from Mallory Square. 
From here, people embark on fishing and island-hopping day excursions by launching their boats into the turquoise waters via ramps. If you would like to sunbathe on the beach, there is a concession stand where you can reserve chairs and umbrellas.
This pet-friendly beach is a favorite among locals, so it's best to arrive as early as feasible to secure a spot on the sand. The shoreline can be somewhat rocky despite the beach's soft sand, so swimmers should bring water sandals. You will need to locate a parking lot off-site and walk to the shore, as parking spaces are very limited in this location.
6. Bahia Honda State Park
Location: Florida 33043, United States
Bahia Honda State Park preserves 524 acres on Big Pine Key in the Lower Keys, 37 miles east of Key West, and is home to one of the most popular oceanfront campgrounds in the United States. 
The name Bahia Honda is derived from the Spanish phrase for "deep bay," which makes sense given that the waters here tend to be deeper and thus cooler and more refreshing on a sweltering summer day. The park features extensive stretches of gorgeous natural beachfront, ideal for sunbathing, snorkeling, and swimming. 
Set up your beach gear at Calusa Beach, close to the Bahia Honda Bridge, or the mile-long Sandspur Beach, close to the park's entry. Both beaches are ideal for swimming and snorkeling. Day-use visitors can access showers, 80 campsites, six cottages, and RV options. To explore the park, kayaks and bicycles can be rented, and boat trips transport snorkelers to the reef at nearby Looe Key.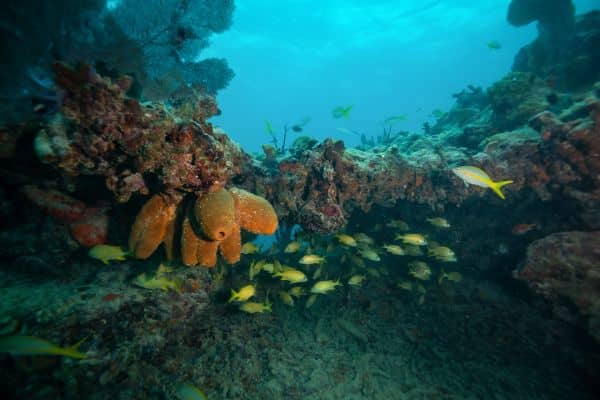 This area has nurse sharks, rays, barracuda, and other reef-dwelling species, making it a popular snorkeling destination. On land, the park is home to the once-thought-extinct, critically endangered Miami Blue butterfly.
7. Dry Tortugas National Park
Location: 901 Caroline St, Key West, FL 33040
For an exciting day excursion from Key West, travel approximately 70 miles west to Dry Tortugas National Park's remote beaches. Even though Dry Tortugas Beach is 70 miles away in Fort Jefferson National Park, it is considered part of Key West due to the Dry Tortugas Ferry. This service aboard the Yankee Freedom takes approximately 2 hours each way, leaving an additional 4 hours for shore enjoyment.
The 100-square-mile park is accessible by boat or seaplane and is the least-visited national park in Florida. It consists primarily of open water and seven small islands. Fort Jefferson is located on Garden Key, its masonry walls starkly contrasting the dazzling blue waters surrounding it. On this island, you can snorkel directly above protected coral reefs. If you want to spend the night here, basic campsites are available on a first-come, first-served basis.
The beach is a palm-lined paradise where you can unwind, play, and swim, but the park's most alluring feature is its vast coral reef system. If meals are not included in your ticket, bring food and any other supplies you may require, as there are no stores on the island.
Location: C.B. Harvey Rest Beach Park
Rest Beach, located within the same park as Higgs Beach, is a tiny but popular (and therefore crowded) Key West beach. Its most celebrated feature is the beach's location, which provides visitors with the finest sunrise and sunset views. 
Warm, shallow waters and a soft sand shoreline make this a popular destination for shell collectors and families, as the conditions are ideal for wading and playing. Those seeking a change of pace from the lively ambiance of Mallory Park's sunset celebrations should visit this location.
As a testament to the tranquility of Rest Beach, there is a designated yoga platform where visitors can participate in yoga classes in the morning and evening.
Location: 1500 Vernon Ave, Key West, FL 33040
An insight into Dog Beach by Bike Lane Propaganda
Dog Beach is revered by pet owners in Key West and tourists alike, despite its small size and length of only twelve feet.
As the only beach that allows dogs to run free, canines of all sizes can play in the water and search among the rocks for buried treasure without their human companions worrying about their four-legged furry children drenching a sunbather or destroying a child's sandcastle.
If you miss the small sign, inquire at Louie's Backyard for directions to Dog Beach. This dog-friendly restaurant is adjacent to the shore, and the staff will be eager to assist you.
Location: 1100 Atlantic Blvd, Key West, FL 33040
County Beach, situated between Rest Beach and Higgs Memorial Beach Park, is an excellent spot for sunbathers not particularly interested in swimming (swimmers will want to visit the neighboring beaches). Although the sand is flat, this man-made beach's shoreline comprises large boulders arranged to keep the sea out.
The upside? Families with children tend to migrate westward to Higgs Beach, which is typically calmer and less crowded. In addition, it is situated in a picturesque area, as the West Martello Tower, which is extremely photogenic, is adjacent to it.
This appealing red-brick fortress is the home of the Key West Garden Club, and strolling these shady, verdant grounds is a welcome change of pace from all that beach lounging.
11. Key West Nature Preserve
Location: 1799-1691 Atlantic Blvd, Key West, FL 33040
On the south side of this densely populated urban island, there is a designated nature preserve that most visitors to Key West need to be made aware of. Travel to the southern end of White Street, intersecting with the White Street Pier and Higgs Beach, and turn left onto Atlantic Boulevard. 
The Key West Nature Preserve is an uncommon stretch of undeveloped beachfront and mangrove forest that the City of Key West has acquired and preserved as a natural area and beachfront. Do not underestimate it because of its modest size and proximity to condominiums and apartment complexes. It is a wonderful place to stroll with the children or enjoy solitude. 
The quarter-mile path to the shore is a mini-adventure journey, and the beach has a substantial length of walkable sand. Numerous birds, butterflies, lizards, land crabs, snakes, and amphibians inhabit the region.
Given the demand for development property in Key West, the preserve is an incredible hidden gem. It is maintained by the Key West Garden Club to benefit visitors and numerous non-native and native plants and animals. The Key West Nature Preserve is open daily from mid-morning until sunset.
Discover The Best Beach in Key West
After delving into the beauty of the best Key West beaches, we have learned a symphony of coastal experiences. In our quest to uncover the best Key West beach retreat, we've embarked on a journey through sands and tides, nature's artistry, and tranquil havens. It led us to hidden coves, vibrant shores, and serene vistas, each with its own unique feature to offer.
Now, what's the best beach in Key West for you? No matter what you choose to visit based on this list, we can guarantee that the best Key West beaches can cater to different kinds of individuals and their needs.
Located in the stunning Florida Keys archipelago, beaches in Key Largo are a tropical paradise renowned for their crystal-clear waters. If you're planning a visit to Key Largo and want to make the most of your beach experience, this complete guide will provide you with essential information on what to do, where to park, and more.
Delve into the wonders of Fort Zachary Taylor Historic State Park—a true gem of Key West. Let this guide be your companion as you navigate the park, discover its hidden treasures, and create lasting memories in this tropical paradise.
In Bahia Honda State Park, there are numerous opportunities for leisure and relaxation. Let's explore each activity that anyone can enjoy at the park. There's something for everyone!
Best Key West Beaches FAQs