Bahia Honda State Park, located at Mile Marker 37 in the Florida Keys and with an award-winning beach and historic bridge, has become a popular spot for visitors to the island paradise. Visiting the park is an ideal peaceful retreat for the whole family. The park is renowned for its year-round, mild sea breezes that caress the coasts, in addition to its trademark Florida Keys beauty, sandy beaches, gin-clear waters, and breathtaking sunsets.
In Bahia Honda, there are numerous opportunities for leisure and relaxation. Let's explore each activity that anyone can enjoy at the park. There's something for everyone!
The History of Bahia Honda Key
The uninhabited island of Bahia Honda Key became a popular tourist destination thanks to Henry Flagler's ambitious plan to construct a train to Key West in the early 1900s.
The park was a component of Henry Flagler's East Coast Railway holdings in more recent times. Bahia Honda Key was one of the hardest structures to build because of how deep the channel was; building each piling took a lot of resources and work. Bahia Honda Key continued to be a well-liked rest point along the trip when the railroad started operating four years later, allowing travelers to disembark and swim or enjoy the refreshing sea breezes.
Starting in 1905 and ironically known as "Flagler's Folly," the train to Key West was eventually finished in 1912 but was completely wrecked by a hurricane in 1935. The 1935 Labor Day Hurricane severely damaged the bridge, swept a train off the tracks, and wrecked miles of rail lines. The railroad ceased operations forever. 
The bridge, however, was given new life in 1938 when the state covered it with a concrete slab and opened it to automobile traffic as the Overseas Highway. What was left of the railroad was transformed into U.S. Route 1.
The toll bridge district that managed the route built a petrol station and a park in Bahia Honda. The state acquired ownership in 1961. Before the last of the island's private proprietors surrendered their holdings and turned over control to the Florida Park Service, it took another more than 20 years.
Since the park's first 13 acres were bought in 1961, Bahia Honda has gained a reputation as one of the Keys' greatest recreational treasures. Currently, Flagler's vision is commemorated by the Old Bahia Honda Bridge. Visitors can get a bird's-eye view of the island and the waterways nearby from the bridge.
The island is now the location of one of Florida's most southern state parks, renowned for its stunning beaches, stunning sunsets, and good snorkeling. Guests can swim, enjoy a beach picnic, and enjoy the year-round warm sea breezes that caress the coastlines.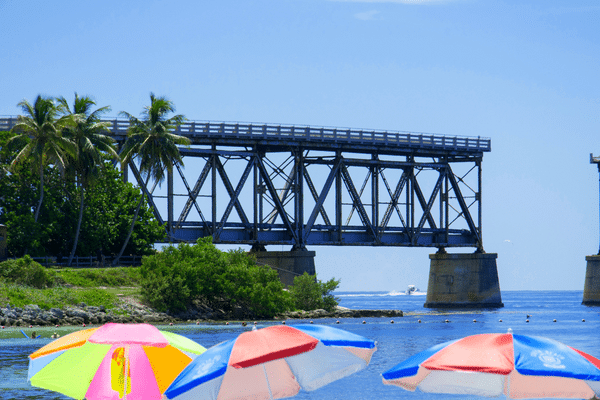 The park opens every day at 8:00 a.m. up until dusk, 365 days a year. The concession building is open up to 5:00 p.m. See the admission prices below:
$8 per automobile (two to eight people). There will be a 50-cent Monroe County surcharge per person.

$4.50 for a single-passenger car or motorcycle (Monroe County surcharge is included)

$2.50 for pedestrians, cyclists, additional passengers, and occupants of vehicles with Annual Individual Entrance Pass holders (Monroe County surcharge is included)
All park ranger stations and museums sell annual entrance passes. This is your best choice if you need to immediately utilize your pass. Passes may be purchased during regular business hours year-round. To ensure availability, kindly give the park a call ahead of time. 
Anyone who qualifies for a discounted or free pass may get one using this approach. By going to the Florida State Parks website's page for annual entrance passes, customers can purchase annual entrance passes online. Learn more about the annual entrance passes here.
The Concession Building at Bahia Honda State Park
A quick day drive or weekend getaway to Bahia Honda is possible from any Florida Keys location. There are facilities, outdoor showers, picnic spots, a concession stand, and a gift shop on this lovely beach in the Florida Keys.
It is advised to get there early on weekends and holidays. As there is little shade on the sandy beaches, it is recommended that visitors either bring their sunshades or umbrellas or rent some from the concessionaire. Chairs, snorkeling gear, kayak rentals, snacks, and meals are all available at the concession.
The Stunning Beaches For Leisure Activities
The calmly isolated white-sand beach, located on a spotless spur between the Atlantic and the Gulf of Mexico, is still present and just as stunning as ever. Bahia Honda Key, located 12 miles south of Marathon, offers three beaches in one park that front some of the clearest ocean imaginable.
Calusa Beach, situated in a prime location close to the marina, is reached by slightly ascending on the other side and heading towards the interior side of the gulf. Although the beach is modest, its primary benefit is its sheltered location, which lets you swim in the warm, tranquil water even when the sea is rough at other beaches. Showers, cottages, and a bar with an adjacent store are behind the beach.
In addition, the first section of the railway bridge is reachable through a short walk beginning directly behind the beach. From there, you can take in a stunning elevated perspective of Calusa Beach. From a specific vantage point, keeping the best record of Flagler's grand idea is one of the goals of the State Park.
The largest, Sandspur, stretches along the island's southeast coast. It contains a restroom, showers, and three sizable pavilions. 
Sandspur Beach is a small stretch of sand flats and shallow water. You can escape the crowds if you're ready to walk the beach. You'll find the bathrooms by the parking lot.
On the island's westernmost point, Loggerhead Beach confronts the wide Atlantic. However, it lost significant sand from Hurricanes Ian and Nicole in 2022.
Although Bahia Honda's the least popular beach, it is tough to miss. After passing the rangers' hut, continue on the main road until you reach the first parking area, which is in front of the long, narrow strip of Loggerhead Beach, distinguished by a breakwater made of rocks.
The appealing shallow-water sandbar at Loggerhead, located on the island's southern side, is only a few feet from the shore. Adults place their loungers in the cool sea during the day to enjoy the lapping waves. Seashells are taken from the sand by kids. It is also ideal for enjoying a picnic at the designated spot a bit further on.
Explore Bahia Honda's Famous Beaches and Restaurants
Visitors to the park can participate in events all year long on various topics related to natural and cultural history. Seasonal or on-demand guided tours are available to both individuals and groups.
Here are the five major activities visitors in Bahia Honda State Park anticipate.
Kayaking is a well-liked activity at Bahia Honda. The water invites kayakers with its bright Caribbean-quality water and abundant bird and marine life. But keep in mind that this will be open-water kayaking and that currents and tides can be very severe. 
Bahia Honda Park offers snorkeling equipment and safe and stable ocean kayaks for rent. You can also launch your canoe or kayak from the boat ramp on the gulf side of the park or the Loggerhead parking lot on the park's Atlantic side.
In the concession, you may hire secure, sturdy sit-on-top ocean kayaks. Keep in mind that kayaks and canoes are not allowed in designated buoyed swimming areas for the safety of swimmers.
In the port of Calusa Beach, there is a concession stand where you may hire sit-on-top kayaks. Kayakers have several options, including circumnavigating Little Bahia Honda Island or paddling the two-and-a-half miles across the open sea.
With typically very clean water, Bahia Honda State Park beaches are excellent for snorkeling. Seagrass is frequently piled up along the shore; while it benefits the beach's ecology, many people find it unsightly.
Park concessions offer numerous daily snorkeling trips from Bahia Honda to Looe Key Marine Sanctuary. Both novice and experienced divers will enjoy the reef's distinctive U shape and range of depths. All the snorkeling equipment is available for rent. 
More than 50 types of coral, including staghorn, elkhorn, star, brain, and fire corals, as well as more than 150 species of fish, can be found on the breathtakingly brilliant reef. It is teeming with moray eels lurking in the coral crevices and yellowtail, angelfish, parrotfish, sergeant majors, and barracudas.
The ballast stones from the HMS Looe and the captured French ship it was towing are still at the eastern end of the reef, which gave its name to a shipwreck. Another ship was purposefully sunk in 1998, this time as an artificial reef and diving attraction three miles west of Looe Key. Several through-holes on the 210-foot Adolphus Busch are located in 110 feet of water.
Another well-liked pastime is fishing; the key is to have a license, which can be purchased online and is required to rent boats when fishing for snappers, a fish common to this region. You can ask for a guide to go with you who is knowledgeable on where to cast your line.
The region has some of the best tarpon fishing in the whole state. During tarpon season, charter boats and guides are typically available for rent. Florida requires licenses for saltwater fishing. Inside the park, all fishing must adhere to the size, number, mode of capture, and season rules. It is also forbidden to collect live shells and Queen conchs.
Anglers can launch their boats at one of the two boat ramps or cast their lines from the shore. If you prefer to bottom fish for snapper or grouper at Bahia Honda Park, it is advised to cast your line off the old sea walls on either side of the Old Bahia Honda Bridge. Fly-fishing is preferable on the shallow sand flats for bonefish, permit, or barracuda. It is not permitted to spearfish or harvest tropical fish at Bahia Honda.
Putting aside the shorelines and water, the park is a paradise for bird watchers. Along the way, you'll see waders, herons, ibises, and white-crested pigeons. The chance is guaranteed from mid-September until mid-November, when migratory hawks can be spotted flying in the sky.
The Great Florida Birding Trail recognizes Bahia Honda State Park as the best birding environment in the Keys, making it a birder's paradise. In addition to more than 30 species of wood warblers that migrate through during the fall and winter, it is home to endangered white-crowned pigeons. At low tide, flocks of shorebirds, including red turnstones, plovers, and sanderlings, congregate to feed in the wrack line. 
In the fall, hawks fly above the water. Also, the now-defunct rail bridge that extends over the park's southern portion offers a genuine bird's-eye perspective of the tropical trees where migrant yellow-billed cuckoos and American redstarts are common affords a true bird's-eye view of the trees.
The trail's 3.5 miles of the paved park can be used for enjoyable and healthful cycling rides as long as you stay off the sidewalks. Under Florida law, children under 16 must wear safety helmets, and adults are encouraged to do so.
In addition to the biggest known stand of Florida silver palms, Bahia Honda State Park is home to over 150 different species of plants, including the uncommon yellow satinwood, key thatch palm, and small-flowered lily thorn. Three distinct trails lead through tropical hardwood hammocks dotted with gumbo limbo, poisonwood, and the more common sea grape and Jamaica dogwood. Hikers (and leisurely meanderers, too) have their pick of these routes.
Or, continue on the route beyond the Loggerhead parking lot to the Wings and Waves Butterfly Garden, which is widely known for drawing Lyside Sulphurs, Malachites, Martial and Mallow Scrub-Hairstreaks, and a variety of skippers.
Campsites, Cabins, & Boat Slips
Nowadays, Bahia Honda State Park has three duplex cabins on stilts that look out over the bay and 72 campsites that range from basic to fully equipped and have space for RVs and tents. Some sites are rented on a first-come, first-served basis, while some can be scheduled in advance. Reservations are strongly advised since they book up rapidly.
Each of the five cottages can house up to six people and has two bedrooms. One has a wheelchair lift and a single bedroom. All include full bathrooms, central heating and cooling, a living area with a sofa bed, and a kitchen. The Florida State Parks reservation system can be used to make reservations for the cabins and campsites at Bahia Honda.
Meanwhile, the marina offers 19 boat slips, each with access to water, electricity, and sewage pump-out, for people arriving by boat and planning to camp in Bahia Honda overnight. All park amenities, including any of the several BBQ grills scattered throughout the park, are included with their use.
Watch this enjoyable YouTube video from Traveling Robert, which involves the exciting excursions mentioned above.
More Attractions & Experiences Around Bahia Honda State Park
Bahia Honda is one of those places you desire to go to now and then. You feel wrapped by a protagonist's nature and don't need many adjectives to describe it.
Here's an additional list of experiences you can have in and around Bahia Honda State Park.
Road Trip Through the Lower Keys Audio Tour
You can visit the most stunning beaches in the Keys, get a tan on a secret nude beach, see an alligator quarry, see a rare Key deer, eat the best shrimp pizza in the Keys, fish or bike on bridges with breathtaking views, discover a local swimming hole, stop to kayak or paddleboard, and jump off an abandoned bridge into a deep canal in just one and a half hours of driving between Key West and Marathon. 
The automatic audio commentary starts as you travel up or down the renowned Overseas Highway. Historical images, a GPS-linked map, websites, and restaurant menus are at your disposal during the Lower Keys Audio Tour. This our has five stops:
Blue Hole

Bahia Honda State Park

Sugarloaf Key

Seven Mile Bridge

Ramrod Key
You can also get on a self-guided audio tour of the Florida Keys if you want to explore the island at our own pace.
Starting at the Spanish Harbor Bridge and traveling upward to the Bahia Honda Bridge and the Seven Mile Bridge, this boat ride/loop lasts one hour. Then, the tour will sail back down the oceanside after ascending the bayside (or vice versa). See mangroves and beaches while learning about the history of the bridges and the Flagler Railway. 
A one-hour private Bridge Loop Boat Ride in Big Pine Key is a wonderful way to oversee the Keys!
Florida Keys Nature & History Tour from Key West
On the Florida Keys Nature & History Tour of the Lower Keys from Key West, your eyes are free to wander. Travel to three islands in a comfy van as you pass by the Overseas Highway and more than 20 bridges, stopping at Blue Hole, Bahia Honda State Park, and other locations. This small-group tour has a maximum capacity of 13 people and comes with private audio headsets to hear your driver's commentary as you travel.
Bahia Honda State Park FAQs