Are you planning a long and relaxing vacation with family and friends? If so, you don't want to miss the best RV campgrounds in the Florida Keys!
A vacation to some of the top RV parks in the Florida Keys will leave you with lifelong memories. This post will be helpful for you if a tropical RV camping trip in the Florida Keys with the sound of lapping waves and swaying palm palms seems like your ideal getaway.
Boyd's Key West Campground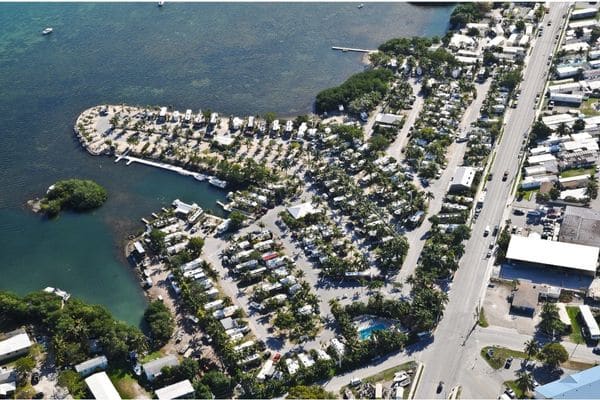 Since 1963, Boyd's Key West Campground has been a famous campground in the Lower Keys and a favorite destination for Key West visitors! 
When Boyd and Elsie Hamilton first visited the Florida Keys to escape the bitter Canadian winters, they fell in love with everything about the island. They established this company to give families and other travelers a fantastic location to stay. 
Since the facility's debut weekend, it has expanded significantly. There is now a game room, pool, and even a general store at the campground. Despite being close to the Key West crowds, the 150 RV sites here have a tropical vibe because of the coconut trees, waterfront sites, boat launch, and swimming beach. 
Boyd's is the ideal place to experience all the commotion of Key West because it is situated directly on the waterfront and is only a short distance from Duval Street. Free WiFi, a heated pool, a boat launch, and docks are available as amenities. On-site rentals for boats and paddleboards make it possible for visitors to spend the day on the water. 
For those who prefer to stay on dry land, the campground offers a lovely garden, fishing pier, and bike trails. The fish cleaning facility is very helpful if you are fishing there. To move around, you can hire a golf cart.
This isn't a tranquil, quiet campground. Boyd's honors the Conch Republic with events like ice cream socials, movie evenings, cookouts, live music, and more. You won't be able to get any sleep because of the wild roosters. Party hard at the campground's beach, tiki cabana, or heated pool.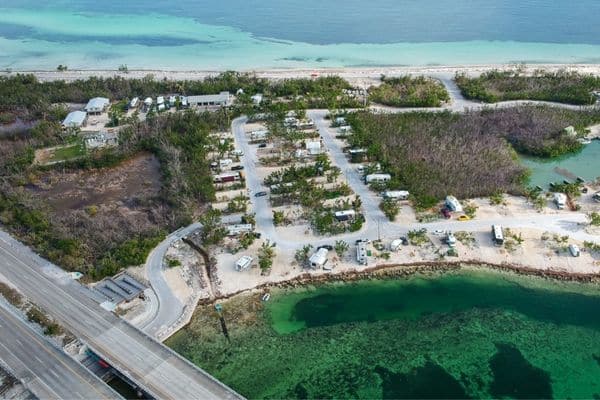 The highlight of Florida's Keys state parks is Bahia Honda State Park. Bahia Honda is one of the most well-liked Florida State Parks for RV camping, making it difficult to reserve RV campsites. But the beautiful beaches along the Atlantic and Gulf coasts make it worthwhile.
In addition, the Old Bahia Honda Railroad Bridge, the highest point on the Overseas Railway, provides beautiful background vistas. Rental kayaks are provided near the marina, where kayaking is popular.
Three of the nicest beaches in the Florida Keys may be found at this stunning state park: Sandspur, Calusa on the Florida Bay side, and Loggerhead on the Atlantic Ocean side. These beaches are great for swimming, sunning, and spotting exotic wildlife.
The best times to visit are early morning or later in the day because certain beaches can close when they reach capacity due to their popularity. Beautiful stargazing is another nighttime amenity in Bahia Honda State Park. In addition, Bahia Honda offers three sizable cabins for rent that can accommodate groups of up to six persons.
This 500-acre island, which is located right after the Seven Mile Bridge, is genuinely paradise on earth. The spectacular remnants of the demolished Overseas Railroad Bridge are visible if you come down from the Upper or Middle Keys. This park is one of the most picturesque locations in the Florida Keys, thanks to the stunning white sand beaches and the dramatic perspective.
Reservations can be made up to a year in advance because the sites are always fully booked. There are 80 campsites spread over the park's three campgrounds.
The largest RV-friendly campground is Buttonwood. Every site has a picnic table, grill, water, and electricity hookups. Tent campers would be wise to stay away from this area because the sites are gravel-based. A dump station, restrooms with hot showers, and a dozen or so of the sites are waterfront.
There are eight sites in all at Bayside. Although no electric hookups exist, all campsites feature water, a grill, and a picnic table. There is a little bathroom, but if you want showers, you'll have to go half a mile up the road to Buttonwood. The campground is only accessible by driving under the brand-new Bahia Honda Bridge, which prohibits cars taller than 6'8″.
The most desired locations in the park are in Sandspur (64-72). Only tents, pop-ups, and campers shorter than 14 feet long and 8 feet high are permitted; nonetheless, many are located directly next to the park's award-winning beach's fine powder sands. Every site has water, a grill, and a picnic table; some even have power hookups.
Key Largo Kampground and Marina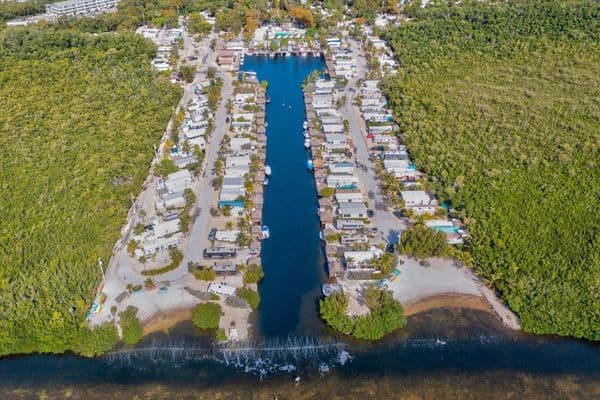 Near Cannon Beach is the lovely waterfront RV facility and marina known as Key Largo Kampground. This campground is a peaceful haven just steps away from a variety of tour companies, restaurants, and retail establishments. The marina cuts the 40 acres in half, leaving two sandy beach areas on either side. 
Both of the beaches are great for kayaking. Mangrove paths can be found in Pennekamp State Park, which is close to the beaches, or you can travel south to Bonefish Flats, which is home to a variety of species, including manatees and several little mangrove islands.
The campsite has charm, with a few permanent trailers decorated with oddball items one could find in the Florida Keys. Additionally, the clubhouse frequently hosts events like bingo evenings and square dancing parties to keep visitors entertained.
The campground is spotless, secure, and picturesque, but it also boasts a ton of amenities, including an ice maker, playground, two beaches, and two bathrooms to offer visitors. Numerous recreational opportunities are offered on-site, such as a heated pool for swimming in fresh water, a basketball court, and a shuffleboard court.
Jolly Roger RV Park & Resort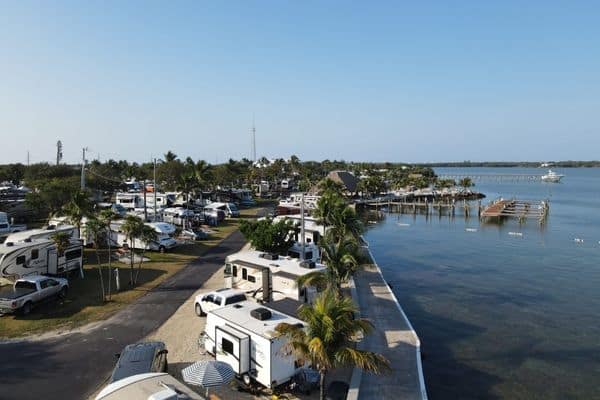 Jolly Roger is an excellent starting point for visiting all of the Keys because it is only one hour from Key West and 45 minutes from Key Largo. If you'd rather stay close to home, Marathon has a ton of eateries and shops in addition to the Dolphin Research Center, which is just up the road. Visiting the research center is one of the most fun things to do in Islamorada.
Off the dock and along the sea wall, there is excellent snorkeling. While camping in the Florida Keys, you can take advantage of some of the best snorkeling in the world at the neighboring Sombrero Reef.
The Jolly Roger has a swimming pool, snorkeling equipment rentals, and a meeting pavilion outside.  Families might find an affordable and enjoyable choice in this 11-acre RV park. Television cable and washing are available. In the entire park, including your particular camper, there is WiFi. 
Pets are allowed (limited to two per RV site). They can run loose in the Bark Park that is close by. This pet-friendly 160-site park has full hookups on the Gulf and many trees.
They include a pool that is kept at a comfortable temperature and a beachfront pavilion where you can watch the renowned Florida Keys sunsets. Despite the lack of a typical sandy beach at the campground, you can swim or snorkel from the rocky shore to see starfish, crabs, lobster, and other marine life. 
Grassy Key RV Park & Resort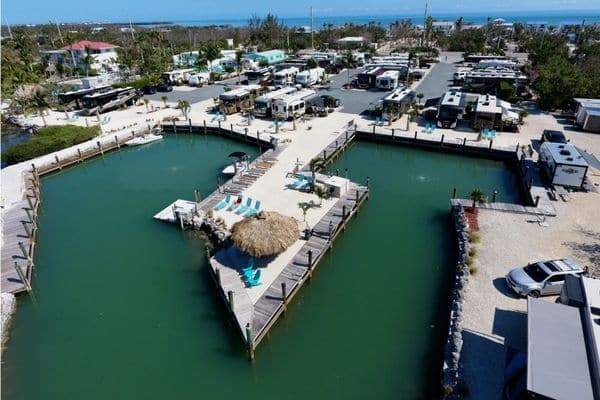 The Grassy Key RV Resort offers stunning beachfront views and a relaxed atmosphere at the 58.7-mile mark.
It is a lovely campground with a private beach, a pool, and a volleyball court situated on the Gulf side for breathtaking sunsets. Additionally, the resort is adjacent to notable landmarks, including the Dolphin Research Center, Turtle Hospital, and breathtaking Sombrero Beach.
You know how upscale hotels go out every morning and "groom" the beach with a rake to keep everything looking immaculate? Grassy Key also acts in the same manner. They are renowned for their meticulousness. 
The park's wide, well-kept gravel roads are properly maintained. Although the pool is modest, the water is incredibly clear. Water jets have been erected at the marina's entrance to keep seaweed out, making the entire area look spotless.
The resort welcomes pets, so bring your four-legged friends along. The clubhouse also has a WiFi connection, which is perfect for nomad travelers who work remotely while traveling. A boat dock, kayak launch, clubhouse, playground equipment, and picnic tables are all located at the park.
Grassy Key RV Park & Resort provides 38 RV sites with full hookups. The sites are roomy and can handle huge rigs even though the park is small and quiet. You may either draw in or back in for the best views from your RV. 
There are very few trees in the park, and swimming is not permitted from the beach. If you visit the Keys in the summer, bear that in mind because it gets hot there.
Tips For RV Camping In The Florida Keys
Travelers enjoy the RV campgrounds in the Florida Keys all year long. They travel there in search of cool ocean breezes, idyllic beach days, views of the ocean, and less tourist traffic. Additionally, many RV campgrounds in the Florida Keys offer discounted "off-season" summer prices.
The shoulder seasons are sought after by many tourists. These are November through mid-December and March through June. The weather is often moderate and dry, and the winter crowds have dispersed or haven't yet come.
Here are some tips if you're planning to visit one of the RV campgrounds in the Florida Keys:
1. State parks vs. private RV campgrounds in the Florida Keys
The four state parks in the Florida Keys are some of the most coveted RV campgrounds and beaches. The cost of RV camping in Florida's state parks does not vary with the time of year, and it is considerably less than the cost of standard RV campgrounds in the Florida Keys. That makes them even more appealing.
Try to reserve your RV site a year in advance if you want to stay in one of the great Florida State Parks with RV camping, especially during the winter. From one day to eleven months in advance, reservations can be made. Sites that are not reserved are rented on a first-come basis.
The longest stay can be reserved for 14 days at each park, although the camp management may allow you to remain for up to 28 days if it's a slower time of year. Seniors over 65 who live in Florida are eligible for a 50% reduction in camping costs.
RVers traveling south on US 1 will see private campgrounds lining both sides of the road, many relatively modest and frequently have tiki huts on the water. These provide a relaxing stay, with sunset being the greatest time of day for drinks and meeting new people.
2. Be knowledgeable about the weather in the Florida Keys
Winter, spring, and summer on the Florida Keys are often nearly perfect; however, summer does see more rain. The best weather of the year can be from late September to early November. Ironically, it's also hurricane season, when storms frequently necessitate a quick evacuation along US 1 or the Overseas Highway, the only road leading away from the Keys. 
Keep an eye on the weather and make plans in advance if you decide to go to RV campgrounds in the Florida Keys at this time of year. To avoid getting stuck in a 100-mile traffic bottleneck, leave early. Above all, follow the authorities' instructions.


3. Drive carefully
The majority of US 1 in the Keys has low-speed limits and an active police presence. Many drivers are shocked to discover that their anticipated travel time has increased by a few hours, but you must still follow the posted speed limit. 
Authorities enforce a nightly speed limit of 35 mph and a 30 mph limit on minor roads on Big Pine Key. Big Pine Key is home to a Key Deer and habitat information center run by the US Fish & Wildlife Service. 
Adhering to the speed limit is extremely crucial. The Key deer population is in peril. Thus, they take the speed restriction seriously. It's only a short distance from Mile Marker 29 to Mile Marker 33.
You also need to look out for these adorable young deer, which are common throughout the Keys and normally grow to less than 3 feet tall. They frequently swim across islands. You wouldn't want to run over one of the cute fawns, which are born in April through June. 
If you have an RV larger than a van, plan to bring along a tow car to use on the islands for the least stressful trip to the Keys. This way, you won't have to worry about driving your Class A through Key West and other island cities' frequently congested, always-narrow roadways because you can stay connected at the campsite. Consider hiring a car for the duration of your trip if you don't tow.
Bus transportation is another great choice for getting around. There are multiple stops along the route taken by the Lower Keys Shuttle between Marathon and Key West. Key West also features a robust city transportation network and the free Duval Loop bus.
4. Don't miss sightseeing while driving through the Overseas Highway
The Overseas Highway, often known as US Route 1, is the sole road that leads to the Florida Keys. It mostly travels along the route of the Henry Flagler-built Overseas Railroad, which was constructed in the early 1900s. 
The Overseas Highway now spans Monroe County, traveling 113 miles across the Florida Keys until reaching a stop at Milepost 0 in Key West. Mile Marker (MM) shorthand is sometimes used in Keys directions. To find your way, look for the MM signs along US 1.
Keep a look out for any former railroad, and Overseas Highway spurs as you travel the road. These sections were not included in the most recent building, and many of them are currently used as public fishing piers.
Watch this video to learn how to book online for a reservation in a public state park in the Florida Keys. This also contains some helpful tips on the amenities and features provided by campgrounds in the Florida Keys.
RV Campgrounds In The Florida Keys FAQs