The best beaches in Florida Keys for families practically promise days full of sunscreen, ice cream, and margaritas. This collection of coral islands, some of which have sand beaches, is tucked up against the Atlantic Ocean to the east and the Gulf of Mexico to the west. 
The archipelago is primarily known for its breathtaking coral displays, but it also has several beautiful beaches where you can escape the intense Florida sun. A major draw is the year-round beach weather.
This article lists the 15 best beaches across the Florida Keys to help you know where you can bring your family for the next trip!
1. Dry Tortugas National Park
Location: The ferry terminal and ticket booth location are at 100 Grinnell Street, while the parking location is at 300 Grinnell Street.
Only after taking a lovely boat ride to Dry Tortugas National Park is one of the Florida Keys' most breathtaking beaches reachable. The fort's majestic stone wall surrounds the lengthy arc of sand beach. The shallow water and stunning ocean turquoise color are ideal for drifting comfortably in the Florida heat.
The Dry Tortugas is one of Florida's best places for diving and snorkeling. Since they are 70 miles offshore, they are home to a distinct variety of marine species than the keys that are nearer the mainland. Just outside the barrier wall, beside the old coal docks, at Little Africa Reef, and at the Windjammer wreck, amazing snorkeling may be enjoyed.
2. John Pennekamp Coral Reef State Park
Location: 102601 Overseas Highway, Key Largo, FL 33037, USA
At John Pennekamp State Park, visiting the beach is more about what is in the sea than on the shore. The most well-known beach in the park is Cannon Beach. A few palm trees can be seen further back in the sand on this tiny beach, which is situated between mangroves. When you see the cannons at the back of the beach, you'll know you're in the right place.
While swimming is permitted here, snorkeling is a popular activity. There are many different kinds of colorful fish and even unique sponges in offshore shallow waters. Make sure to swim a little bit offshore to observe the anchor and cannon from a 1715 shipwreck.
Location: 2601 South Roosevelt Boulevard, Key West, FL 33040, USA
There's a little possibility you'll become bored at Smathers Beach. Since it features water activities like kayaking and parasailing, Key West's largest public beach is teeming with activity. There are volleyball nets and sun loungers available if you stay on the beach and observe others.
Right next to Roosevelt Boulevard, you'll discover a bustling group of people enjoying the renowned Florida sunlight as they run, skate, and cycle. Get your fill at one of the many food carts surrounding the boulevard if the activity has left you feeling hungry.
It can be difficult to find parking in Key West, but this is not the case at Smathers Beach, where there is plenty of space on the boulevard.
Location: Sombrero Beach Road, Marathon, FL 33050, USA
Sombrero Beach, located in the center of Marathon, attracts visitors with its incredible variety of activities and appealing beauty. Its ocean is a stunning shade of blue, and its fine sand is sprinkled with picture-perfect palm trees.
Sombrero Beach is suitable for experienced swimmers because the water there is a little deeper than most Florida Keys beaches. You could spend all day at this beach because it has BBQ pits, picnic spots, volleyball nets, a pier, and public showers. Swim just off the shore to go snorkeling, but watch out for the rocks.
Additionally, the beach is accessible to people with disabilities and welcomes pets.
5. Fort Zachary Taylor Historic State Park Beach
Location: 601 Howard England Way, Key West, FL 33040, USA
You can experience a Caribbean vacation since this is the southernmost U.S. beach and is only a short distance from Cuba and Barbados. Here, you may enjoy a day of sunbathing beneath swaying palm trees, drifting in warm tropical waves, and indulging in inexpensive cocktails from the beach club.
Due to the strong water currents in this area, snorkeling is wonderful, and lots of colorful fish swimming around. The concession stands in the bamboo hut lend chairs, umbrellas, and snorkeling equipment if you need beach equipment. A tiny café serves nibbles, cold beverages, and regional specialties.
For something a little more cultural, visit the historic Fort Zachary Taylor to learn about the Keys' past. It can be a little rocky near the shore, so pack appropriate water shoes.
Location: 1000 Atlantic Boulevard, Key West, FL 33040, USA
Higgs Beach in Key West, also known as Clarence S. Higgs Memorial Beach, has a calm and relaxed atmosphere. This coastal park features a fort from the Civil War, two off-leash dog parks for small and large dogs, a historical cemetery, and walking trails.
Use the tennis or pickleball courts to work up an appetite that can be satisfied in the welcoming café. Bring your equipment. You may rent lounge chairs, umbrellas, kayaks, stand-up paddleboards, and other beach equipment at the concession stand.
7. Harry Harris Beach Park
Location: 50 E Beach Road, Tavernier, Florida
Harry Harris Beach Park in Tavernier, Florida Keys, is undoubtedly one of the best beaches in the archipelago for families vacationing with kids. This expansive park, situated halfway between Key Largo and Islamorada, features a soft sand beach and a shallow, rock-free entry. It is appropriate for kids of all ages.
Swimming is good in this area because a substantial rock seawall shields the calm seas from the Atlantic. Additionally, the fishing from the jetty and breakwater is noteworthy. A basketball court and baseball diamond are available for older children who might still need to expend some energy. Small children can spend some time exploring the expansive playground.
8. C.B. Harvey Rest Beach
Location: White Street and Atlantic Boulevard, Key West, FL 33040, USA
For those who get up early, C.B. Harvey Rest Beach is the best spot to start your day. This breathtaking dawn location should make you reluctantly get out of bed. 
If this isn't your thing, the beach at dusk is as beautiful. Every evening, yoga lessons are performed on a terrace overlooking the beach. It's peaceful to conclude the day as the beach is bathed in golden light.
Between these wonderful hours of the day, you can master the art of doing nothing by lounging in the sun while reading a book, going snorkeling, or going up to the White Street Pier (which divides it from Higgs Beach) to watch fishermen do what they do best.
Location: Ocean Drive West, Key Colony Beach, FL 33051, USA
Sunset Park Beach is a little stretch of sand lined with wooden chairs and picnic tables in the municipality of Key Colony Beach. As the day comes to an end and the sun sets, you might enjoy curling up at the beach with an icy beverage.
When residents sing a song written just for the island, the already mesmerizing ambiance is enhanced even further; you may even be given a song sheet to participate in. Despite not being a bathing beach, people frequently spend the afternoon here having fun and relaxing on the pier or the sand.
Location: Lower Matecumbe Key, Florida
On Islamorada, a charming beach called Anne's Beach is bordered by lovely mangrove trees, a wooden boardwalk, and a lot of nudists who like to sunbathe. This beach is the ultimate paradise if you have no issues with "lounging sans clothing."
If you're extremely bothered by nudity, you may be able to escape it at the beach because there are several private coves. Grab a picnic and enjoy the sunshine on the sand or at a picnic table. You can easily stroll at least a quarter of a mile into the sea because of how shallow the water is.
11. Curry Hammock State Park
Location: 56200 Overseas Hwy, Marathon, FL 33050, United States
The largest undeveloped area between Key Largo and Big Pine Key is Curry Hammock State Park. Even the most seasoned tourists will be drawn in by this unspoiled haven, which stands out for its isolation along a section of the Keys noted for development.
Curry Hammock State Park's 1,200-foot-long sandy beach fronts the Atlantic Ocean. Sunbathing, swimming, exploring the beach, watching birds, snorkeling, and kiteboarding are all well-liked pastimes. Observe what the ocean has washed up or look for shorebirds. From the beach and kayak launch areas, visitors have observed manatees, sharks, dolphins, stingrays, tarpon, and more. 
The Florida Keys environment depends on the mangrove swamp, rockland hammocks, and seagrass beds protected by the park. Every fall, Curry Hammock hosts a record number of peregrine falcons and serves as an essential habitat for various local and migratory species. 
On tranquil days, paddlers search for their private paradise, while on windy, crazy days, kiteboarders fill the park with their activity and excitement.
Location: Big Pine Key, FL 33043, United States
Calusa Beach is a white sand beach with palm trees that slopes gently into warm, azure waters. It is located close to the southernmost point of Bahia Honda Key.
Calusa Beach is a portion of Bahia Honda State Park and one of just a few excellent beaches in the Florida Keys that is fully natural. It is rather small, encroached by grass, and has room for only a few picnic tables, offering a seaside location from which to enjoy the goods sold at the beach's food and souvenir vendors.
Its waters are quiet enough for small children to enjoy and are close to the nearest parking spaces. The historic Bahia Honda Bridge borders the waters on its western side. 
Although there are 58 camping spots, Calusa Beach's popularity necessitates bookings up to a year in advance, and it's uncommon to locate a free pitch on the spot during the peak season.
13. Isla Bella Beach Resort
Location: 1 Knights Key Blvd, Marathon, FL 33050, United States
Isla Bella Beach Resort in the Florida Keys has 24 breathtaking acres of gorgeous oceanfront property with fine white sand and a clear blue sea, setting a new benchmark for contemporary luxury resorts. Every room and suite offers a spectacular ocean view and a large outside terrace to take it all in because of the hotel's more than a mile of waterfront property and clever design. 
A new age has arrived in The Keys with the addition of first-rate cuisine, a stunning beach bar shaded by palm trees, five magnificent pools to select from, and access to world-class fishing and adventure.
Location: 87000 Overseas Hwy, Islamorada, FL 33036, United States
A spot for swimming on a gorgeously maintained shallow water beach in the clear Florida Bay. The amenities of Founders Park Beach include Tiki huts, picnic tables, grills, a pavilion, a sand volleyball court, shade trees, kiddie playgrounds, outdoor showers, and restrooms. 
At the Park Office, volleyballs are available for rental. On the beach, no glass, booze, or pets are allowed. Grills provided in the picnic area must be used.
Location: Coco Plum Dr, Marathon, FL 33050, United States
Coco Plum Beach is located in the Atlantic Ocean. It is more like a marsh region with a nearby natural beach. Beach lovers will find enough privacy along Coco Plum, which is also long enough for a lovely stroll with your significant other. It is also well-liked by dog owners because it is pet-friendly. 
There is a covered chickee (pavilion) that is offered on a first-come, first-served basis as far as amenities go. The parking lot is where you'll find the bathrooms. You must bring anything extra you might need. Coco Plum Beach is also a turtle-nesting beach.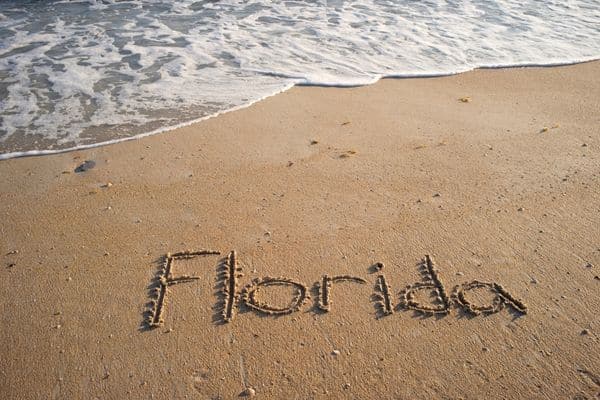 Explore The Best Beaches in Florida Keys for Families
Florida is home to some of the most beautiful beaches in the world, and the Florida Keys are no exception. The crystal-clear turquoise waters and powdery white sand make it a slice of paradise. They are not just a great spot for sunbathing and swimming; you can also explore nature trails and enjoy some fantastic snorkeling.
Each Key has its own charm, so whether you're looking for lively beach scenes or a peaceful escape, the Florida Keys have something to offer.
There will be unstoppable canine adventures once we spill the sandy beans on the seven most paws-itively awesome dog-friendly beaches in Florida Keys, where the sun kisses the fur and the waves beckon your four-legged friends. These beachfront gems aren't just for humans – they're tailor-made for the ultimate pupcation!
We have put up a list of our top 16 sites for tent camping in the Florida Keys to help you choose the appropriate one for you if you have finally decided on your trip to the islands but are still having trouble selecting the campsite.
In this article, we will embark on a journey to unveil the secrets of the Florida Keys islands, diving into their captivating past, immersing ourselves in the vibrant culture, and exploring the diverse attractions that beckon visitors from around the globe. So, fasten your seatbelts and prepare for an extraordinary adventure!
Best Beaches In Florida Keys For Families FAQs
The archipelago is primarily known for its breathtaking coral displays, but it also has several beautiful beaches where you can escape the intense Florida sun. A major draw is the year-round beach weather.
These are the top seven best beaches across the Florida Keys to help you know where you can bring your family for the next trip! 
Dry Tortugas National Park

John Pennekamp Coral Reef State Park

Smathers Beach

Sombrero Beach

Fort Zachary Taylor Historic State Park Beach

Higgs Beach

Harry Harris Beach Park
The beaches in Bahia Honda State Park at MM 36.8 in Big Pine Key have long been considered the nicest beaches in the Florida Keys, according to consensus. The beaches in Bahia Honda are also not artificial; they are natural.
After being devastated by Hurricane Irma, the 2.5-mile-long Sandspur Beach on the island's Atlantic Ocean side was reopened in the spring of 2022.
Have you ever pondered which Florida Keys islands would be the best option for your upcoming getaway? And if you're thinking about taking a trip to the Florida Keys soon, you might not know which island is the best place to go, given your preferences.
Key West is ideal if you're looking for many things to do, things to do, and places to go. However, Key Largo is the place to go if you're seeking a more leisurely holiday with outdoor activities.