If you're looking for a really good time in the Florida Keys, you might need to find the best Key Largo snorkeling tours available. This will make you appreciate the Keys more for its vast marine life and clear waters. 
Key Largo, the longest and most northern of the Florida Keys, is a popular spot for divers and snorkelers. The first underwater park in the United States, John Pennekamp Coral Reef State Park, is located in the self-proclaimed Dive Capital of the World, bordered by Florida Bay and the Atlantic Ocean.
What You Should Know Before Snorkeling In Key Largo
All snorkeling excursions depart from Key Largo by boat, giving you easy access to the greatest reefs. There are two distinct trip types:
The least expensive approach to viewing the marine parks in Key Largo is to join a small group snorkeling excursion. The vessels are typically catamarans or yachts with capacity for everyone and comfy seating. Up to 38 people can fit comfortably, although it always seems open.
Group excursions include stops at some of the most well-known reefs in the region, allowing you enough time for swimming and snorkeling. Longer trips make many stops. Non-swimmers are welcome to join the group and spend the snorkeling sessions lounging in the sun on the deck.
Why not take a private tour for a special boat trip? Private tours can be quite affordable if you travel with friends. By booking a private charter, you may avoid the crowds and benefit from the captain's local expertise in locating secluded reefs packed with wildlife.
As you sail out to several reefs, unwind on deck with refreshments and snacks before jumping overboard to swim among shoals of fish. For the turtles, have your camera close at hand!
The Most Popular Key Largo Snorkeling Spots
Snorkeling at Key Largo will undoubtedly be one of the highlights of your trip because the Florida Keys are home to the only living coral reef in the US. Take a catamaran or yacht journey to the top reefs to enjoy them. Families and novice snorkelers can enjoy the shallow waters.
Check out our list of the most popular snorkeling spots in Key Largo so you'll know what to expect.
John Pennekamp Coral Reef State Park
The John Pennekamp Coral Reef State Park is the most well-liked snorkeling destination in Key Largo. It was the country's first underwater park, which opened in 1963. Both the park's grounds, which include magnificent beaches and walking areas, and its undersea riches are stunning places to explore. It's normally advised to take a snorkeling tour with a tour company outside the park.
There are two snorkeling beaches in the park that you can reach on foot, but you won't see any coral there; instead, you'll see fish darting around.  The only places in Key Largo to snorkel off the coast are at one of those two beaches. 
The beaches lead to a mangrove-lined, sea grass-bottomed bay that is completely enclosed. There won't be any corals, but you might observe some fish and other creatures. This type of shore snorkeling, which has a sandy bottom, is excellent for younger children, beginners, or swimmers who need more confidence. 
More seasoned snorkelers might swim out to the wreckage of a Spanish shipwreck from the eighteenth century (approximately 100 feet offshore by the park) or try some more challenging dive sites near Key Largo.
With good reason, this coral reef is one of the most popular in the world. If the weather is calm, this should be at the top of your Key Largo snorkeling locations list. We have heard amazing things about the magnificent Elkhorn Coral, enormous brain corals, a wealth of marine life, and crystal-clear seas.
Molasses Reef is a must-see on any snorkeling excursion to the archipelago. Due to its location roughly 6 miles offshore, the reef—which is arguably most known for its brain coral—attracts a greater variety of larger marine wildlife, including a sizable number of sea turtles. However, the famed Molasses Reef is home to 32 mooring buoys for snorkeling boats.
Due to the location's reliance on the weather, tour operators will exercise greater caution when traveling this far offshore in stormy conditions. This is one of the best snorkeling spots in the Lower 48.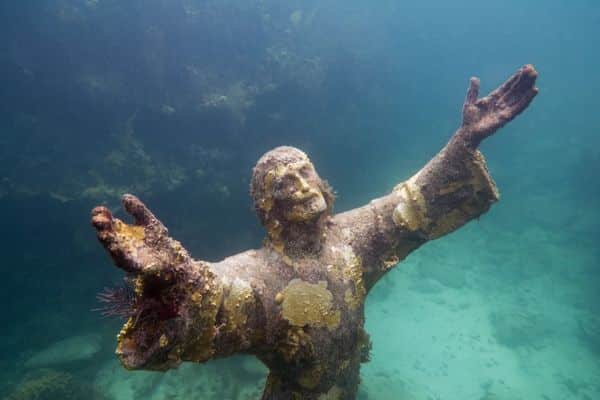 Here is yet another one of the Keys' busiest locations. On the ocean floor is a nine-foot-tall bronze statue of Christ. Although a bit deep for snorkelers to appreciate as much as dives, it is still fairly interesting to view.
The tops of the coral canyon-like formations, known as "spur and groove" reefs, can be seen at low tide in this region. The Christ of the Abyss statue (also known as Christ of the Deep), a 9-foot-tall statue of Jesus that was purposefully erected in Dry Rocks in 1965, is the only thing that is still noticeably wet. It is a copy of the Christ of the Abyss sculpture in Italy, which is located close to Portofino.
The Christ of the Abyss statue is perched on a concrete base within a small canyon. The monument is frequently surrounded by rays and barracuda, calm around snorkelers and divers. The statue is submerged in water that is about 25 feet deep.
The eastern side of the reef features traditional coral fingers abundant in marine life, and this area is particularly renowned for its magnificent brain coral specimens. The well-known barracuda Smoky frequents this area.
For whatever reason, only the afternoons are when most boat companies venture out to this area. And the Christ of the Abyss is frequently combined with Dry Rocks as a second destination because it is a good snorkeling spot.
Because this is a shallow reef area, Sea Gardens is one of the less popular snorkeling locations off Key Largo. Though certainly not as catchy as its moniker, the reef is also called Mosquito Bank and is situated between Key Largo and Molasses Key. Although there are some fish in this area, the main attraction is a massive collection of soft coral that sways with the tides like an underwater forest of trees.
Another popular snorkeling location is the White Banks, especially for the larger catamaran snorkel boat companies that depart from Key Largo.
Two small reef patches connected by a sandy waterway make up the White Banks. Because of its proximity to the beach, it benefits from modest currents and frequent wind protection. Snorkeling around these shallow but vibrantly colored reefs is a wonderful experience; plus, it has a huge fish and invertebrate population.
The reef at Grecian Rocks is quite well-liked by snorkelers. Even on stormy days, the waters are very calm due to the shallow reef's ability to absorb waves. Snorkelers can easily swim from the boat up to the reef line, where there are abundant corals and colorful fish.
You pass through sandy sections as you swim closer to the reef. The rays prefer to hang around there. They completely cover themselves in the sand, leaving only their silhouette and two alert eyes visible. Additionally, several brain corals, tiny Sargent Majors, and colorful Parrott Fish are present.
Queen Conch Shells cover much of the seagrass. It should be noted that this is a protected area; snorkelers must refrain from touching or taking anything, only images.
Grecian Rocks is where practically all boat companies will take you when the wind and waves come in from the Atlantic at 10-15 knots. It is somewhat protected from the wind and waves compared to other reefs nearby.
A group of spur and groove coral formations is known as Elbow Reef, and they are situated about six nautical miles southeast of Key Largo. 
Many ships, like the City of Washington, which ran aground and sunk here in 1917, have suffered because of the crooked reef. One of the Key's most snorkel-friendly shipwrecks, the 325-foot-long underwater ruin is surrounded by a circle of wreckage and is situated in relatively shallow water at around 25 feet. It is a hotel and way station for various marine animals, including turtles and nurse sharks.
The numerous locations mentioned here are excellent for both snorkeling and diving, and Snapper Ledge's shallow reef, which has coral from 15 feet to 25 feet deep, is no exception. You can see why the ledge got its name by getting in the water just here, where there are clouds of Yellowtail Snapper whirling through the currents like a lemon-hued tornado. Locals love diving at this ledge, and it comes highly recommended.
A few nurse sharks and both green and spotted Moray eels are common sightings. Goatfish, hog snapper, trunkfish, sea urchins, lobster, nurse sharks, spider crabs, rays, octopus, corkscrew anemone, eel, cleaner shrimp, butter hamlet, and hawkfish are among the other frequently seen marine creatures. Snapper's Ledge is home to one of the Upper Keys' largest and healthiest Boulder Brain Corals (Colpophyllia natans).
Watch this video of Yellowtail Snappers and other marine creatures you can expect to see swimming at Snapper Ledge. The video is from FloridaKeysTV YouTube channel.
These snorkeling excursions are the greatest ones that are offered. Snorkelers could observe dolphins, angelfish, parrotfish, sea turtles, spotted eagle rays, and other marine life in addition to colorful reefs, shipwrecks, and monuments.
Top Snorkeling Tour Providers You'll Find In Key Largo
Near the Marriott Courtyard Hotel, on Caribbean Drive on Key Largo Dock, the majority of private trips depart. Parking is available outside the Jules Undersea Park, and a short walk will bring you to the dock for one exclusive tour that leaves from Shoreland Drive on Largo Sound.
You will be escorted to the boat from several locations along the Overseas Highway, where all small-group snorkeling cruises from Key Largo leave from. For the precise location, refer to your joining instructions.
Two four-hour excursions are provided daily by Paradise Island Charters. Depending on the day and time, snorkeling excursions happen at Christ of the Abyss, a number of shallow reefs, the wrecks of the USS Spiegel Grove and SS Benwood, or the remains of the U.S. Duane, a coast guard cutter. 
The two tours available each day start at 8:30 a.m. and 1 p.m.; however, check-in is one hour prior to departure. An individual must be at least two years old and at least four years old to snorkel, and there is a maximum of 15 passengers per trip. 
The tour package includes two locations, snorkel equipment, reef-safe sunscreen, and a cooler for food and drinks. Rental of wetsuits is possible for an additional cost. Additionally, the business provides private charters and scuba diving tours.
In the warm waters of Florida Bay, Caribbean Watersports provides morning and afternoon sail and snorkel tours. These two-and-a-half to three-hour excursions feature gorgeous sailing, an hour spent in the water, and stops to see mangrove islands, manatees, and dolphins. 
Additionally, private charters are offered for a maximum of eight passengers, with additional fees for up to 24 passengers. On board, there are food and drink options for passengers. 
The company also offers parasailing, water sports equipment rentals, a tour of the local animals, and a sunset cruise.
Keys Diver offers a seasonal sunset cruise in addition to the four daily snorkel cruises. The trips run two and a half hours, including an hour in the water. 
Serious snorkelers should reserve a spot on the four 1/2-hour expeditions that depart at 12:15 p.m. since this will provide them two hours of snorkeling time and the chance to visit Christ of the Abyss, depending on the weather. The packages include a safety vest and snorkeling equipment. 
Visitors gush about the crew's expertise and friendliness and think the tour's cost is fair. For some people, it was the best snorkeling they had ever had. Additionally, Keys Diver provides exclusive private scuba dive charters.
With three daily cruises, Snorkel Key Largo transports snorkelers to a number of patch reefs in the shallow seas of Islamorada, John Pennekamp Coral Reef State Park, and the Florida Keys National Marine Sanctuary. 
The business offers one-and-a-half-hour, two-and-a-half-hour, and four-hour excursions. The two shorter tours spend an hour on the water and travel to the same spot. The midday tour includes two hours of snorkeling and stops at two locations. 
All three tours run daily and come with safety gear, training, and snorkeling gear.
Sundiver provides daily two one-and-a-half-hour tours to the reefs of the Florida Keys National Marine Sanctuary. The Christ of the Abyss monument is featured on the voyage that departs at 9 a.m., while the trips at 3 p.m. offer views of a wealth of marine life, including tropical fish and perhaps sea turtles, lobsters, starfish, and rays. Seasonally, there is also a sunset and reef snorkeling experience that departs at 5:30 p.m. 
Anyone who is not swimming or snorkeling is welcome to board, regardless of age. Anyone under the age of 18 who wants to go snorkeling needs to be accompanied by an adult. A mask, fins, and safety vest are included in the tour package. The business also provides exclusive snorkeling charters.
Since the weather in Key Largo is generally consistent throughout the year, snorkeling is possible all year long. Since the water is always warm enough to swim in, many tourists opt to go snorkeling while only wearing a bathing suit. 
Come during the Spring when the weather is great, and there are fewer tourists if you want to escape the busy season. It is recommended that you wear sunscreen, but it must be reef-safe.
Here is an exclusive guide on the water temperature in the Florida Keys.
Best Key Largo Snorkeling Tours FAQs