Located in the stunning Florida Keys archipelago, beaches in Key Largo are a tropical paradise renowned for their crystal-clear waters. With its vibrant marine life, lush mangroves, and captivating coral reefs, this charming island offers many outdoor activities and natural wonders for beach lovers and adventure seekers alike. 
If you're planning a visit to Key Largo and want to make the most of your beach experience, this complete guide will provide you with essential information on what to do, where to park, and more. So, let's dive into the enchanting world of Key Largo's eight captivating public and private beaches.
Cannon Beach is located in John Pennekamp Coral Reef State Park near the park's visitor center. You must pay the standard entrance price to use it. The well-kept facilities, which include bathrooms, showers, and a spacious picnic area, make the entry cost worthwhile. 
The name Cannon Beach appears to have been derived from the shipwrecked wreckage of a Spanish warship that sank here. Its cannons and anchor have since been inhabited by a plethora of water life, making it an excellent snorkeling and scuba diving destination. 
Cannon Beach is also an excellent site to expose children to snorkeling – the same goes for adults. The sand is clean, fine, and golden, making it ideal for a relaxing day by the water on one of Key Largo's top beaches. Kids will enjoy exploring the beach, which is lapped by warm, clear water, and will be fascinated by the cannons. Bring beach shoes because the ground can be rough. 
Colorful tropical fish and other small marine life, such as crabs and shrimp, can be seen there. Larger species, such as tuna and barracuda, are occasionally sighted, even near the sand. Going to the shipwreck site, you might observe tarpon, manatees, rays, and other larger fish. Be careful that alligators may pay you a visit: while unlikely, it is not unheard of. 
If you tire of laying on the beach, you may rent a kayak, hike, or take a glass-bottom boat tour from Cannon Beach. All equipment and tours can be reserved locally, depending on availability. As with the rest of the park, you can camp overnight if you purchase the necessary permit. 
A food truck and vending machines are nearby for all your snacking needs. If you're on a tight budget, carry everything you need, including towels, water equipment, food, and beverages. All public parking in Cannon Beach is day use only, while RVs have designated areas for parking. You must have a special permit from the City Hall for a disabled parking spot. Some shops and restaurants there provide parking for their customers. For more information about parking for more than two hours in the area, click here.
Here's a sneak peek of deep diving in Cannon Beach by Raf Edwards.
Far Beach is just down the road from Cannon Beach and part of John Pennekamp State Park. There are fewer people because there are no amenities right on the beach. Mileage 120 marks the location of this beach. 
After entering the state park, continue driving past the main beach parking area (Cannon Beach) for about a minute or two until you reach another parking lot. That is the parking lot at Far Beach. You will see Far Beach right before you arrive at the Far Beach parking lot! You don't have to walk far from the parking lot to get to the beach.
Far Beach's parking lot is substantially smaller, with fewer people. It does become crowded, especially during peak season, so arrive early if you want to find a parking spot – and a good spot on the sand.  
Because it is a small beach, it can fill up quickly. Even on hotter days, it's usually easy to find a shady location beneath a palm tree to get some shade. 
Again, this is a great place for people of all ages to swim, and beach shoes are also recommended due to the rocky bottom. Because it is a shallow location that may be easily heated up by the sun, the water tends to be warm. 
You should carry your gear if you wish to try snorkeling from Far Beach. The marine life is comparable to that of Cannon Beach, with species ranging from crabs and small fish to manatees. Alligators are another possibility, so be cautious and follow any local advice.
Other items to pack include beach chairs if desired, and other supplies such as snacks, drinks, and entertainment. Far Beach has fewer facilities than Cannon Beach, so bringing your picnic and a blanket to lay it down on is excellent. 
If you want to walk off your lunch, a wonderful nature trail close to the beach can be accessed, and it can be fascinating to check for native animals such as lizards and local bird life. Far Beach is also a nice place to camp if you have obtained the proper state park permit. 
Families and groups of friends consider Harry Harris Park Beach in Tavernier to be an excellent area to spend time in Key Largo. You may enjoy your trip without worrying about your children's safety because it is one of the safest beaches for children in Key Largo, owing to the lack of waves.
This beach charges a fee on weekends in exchange for access to a sandy beach secured by a rock jetty, covered picnic tables, BBQ grills, and showers. A boat ramp is available nearby for those who want to see the water from above rather than inside or below the surface. 
According to info published by Monroe County, the boat ramp is a deep-water, easy-access boat ramp. The combined length of the vehicle and trailer cannot exceed 55 feet. There are 20 parking places for vehicles with trailers for day use only. Parking is first come, first served.
Children can also have fun in play parks, where they may observe iguanas waddling around on the grass. Jellyfish are another aquatic critter to keep an eye out for, as they occasionally visit Harry Harris Beach. This Key Largo beach is popular among pet owners because it is dog-friendly. 
This beach is clean and well-maintained, so it may be well spent if you don't mind paying an admission charge in exchange for peace and quiet. If you attend on a weekday, you may also be allowed free access to the beach. Those who spend time there describe it as a relaxed, pleasant environment.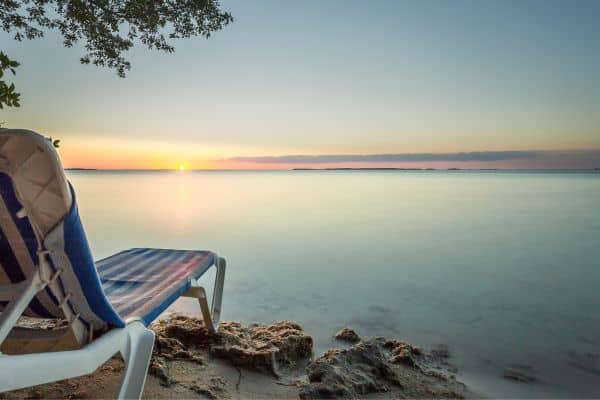 Visit Bungalows Key Largo for personalized beach time and gourmet dinner later. This resort stretched out over a 12-acre seaside location, with 135 elegant wooden bungalows. The Bungalows resort offers much more than lavish housing, such as a private beach.
A gym, a sauna, the full-service Zen Garden Spa, a magnificent infinity pool, and a half-dozen bars and restaurants, including pool and tiki bars, are also available at the property. One of the restaurants, Fish Tales, serves a variety of freshly prepared seafood, and Sea Seor combines Mexican flavors with those of the region's fruits de mer. Because of the easygoing attitude throughout the resort, you can dress whichever you choose for supper.
Guests can also use water sports equipment and attend free yoga classes. Kayaks, stand-up paddleboards, and snorkels are all provided, making it easy to try something new or get back into a pattern.
The bungalows at this Key Largo beach resort include outdoor tubs, private decks, and ocean views. There are also rain showers. The interiors are finished with a polished, sophisticated look and are adorned in soothing neutrals.
Sunset Cove Key Largo is also suitable for a more laid-back beach getaway. It has a variety of accommodations as well as some fantastic shared amenities such as water sports equipment, a picnic area with BBQ grills, and a boat dock. The tiki huts strewn throughout the grounds add to the tropical ambiance.
The resort offers everything from motel-style accommodations to beachfront condos. Pets are permitted in some lodgings, making this location ideal for those looking for a dog beach on Key Largo for daily walks.
The larger accommodations offer full kitchens and sofa beds, while the smaller ones have microwaves and mini-fridges. There is cable TV and air conditioning to keep you cool. Guests are provided with a daily breakfast buffet.
Sunset Cove is a wonderful alternative beachfront hotel on Key Largo to consider if you want to find something less expensive than the Marriott Key Largo or Bungalows Key Largo. Lots of white, blue, and natural wood provide a coastal vibe throughout, and visitors may enjoy a secluded stretch of golden sand by the pier.
Discover the charm and distinct atmosphere of this 32-year family-owned and operated resort in Key Largo. Rock Reef Resort is a handy location for meetings, fishing, diving, and seeing the historical treasures of the Florida Keys and the Everglades, with over 4 acres of lush flora, walk-in beach access, stunning sunsets, and all your favorite amenities. 
You'll be in the neighborhood diners and shops in less than a minute. The resort's boat ramp and mooring facilities can accommodate boats up to 21 feet in length.
This hotel provides a beautiful chunk of riverfront land only available to guests. The private beach is a sandy peninsula overlooking a lovely open harbor enclosed by mangroves. On one side, there are docks, while on the other, there is a sandy boat launch. A tiny pavilion with picnic tables is located at the peninsula's tip. There are hammocks and beach chairs sprinkled throughout, as well as kayaks, pedal boats, and stand-up paddleboards (all complimentary to guests) for your mini mangrove adventure.
Lignumvitae Key Botanical State Park
Lignumvitae Key is a small island near Key Largo. It is home to a lovely botanical garden with exotic species from all over the world. It's a wonderful spot to unwind and enjoy nature.
This peaceful beach is ideal for swimming, sunbathing, and snorkeling. Turtles, nurse sharks, and stingrays are frequently seen in the sea. History buffs visit William Matheson's historic mansion on Lignumvitae Key, which he erected in 1919. Visitors can explore this charming house, furnished with original period pieces, and gain insight into the life of early settlers in the area.
Regarding parking, visitors to Lignumvitae Key Botanical State Park have several options. Since the park is on an island, no direct parking is available on-site. However, visitors can access the park by taking a boat or kayak from nearby Robbie's Marina, which provides parking facilities for those arriving by car. From there, it's a scenic and leisurely ride to the island, where you can dock your boat or kayak and explore this natural paradise.
If you're looking for a fantastic beach near Key Largo but not in the Keys, Anne's Beach is one of the most beautiful. It is located at Mile Marker 73.4 in Islamorada. This beach can be found a little further down the Florida Keys, toward Key West. The drive from the John Pennekamp Coral Reef State Park takes about 30-40 minutes.
It is named after local environmentalist Anne Eaton. Parking, bathrooms, and picnic tables are available. Because the water is clear and shallow, it has been known for tourists to step on some marine life when exploring the shallows.
Pets are welcome at Anne's Beach. There is a pet-friendly patch of sand where you can spend the day swimming with your four-legged friends. 
Anne's Beach has two tiny parking lots. Because it is free, stopping there on your route down the Overseas Highway is preferable. The majority of guests stay in the beach areas near the parking lots.  A boardwalk winds through the mangroves from one parking lot to the other.
Indian Key Historic State Park
The Indian Key Historic State Park, located on a tiny slice of paradise, is your entryway to spectacular forgotten shorelines and beautiful antique artifacts that tell the fascinating narrative of the Indian Key. This state park was formerly the headquarters of a wealthy enterprise that scoured the Florida Keys for shipwrecks and salvaged any cargo they could. As a result, visitors to Indian Key Historic State Park can learn everything they need to know about the island's history through interpretive exhibits and ranger-led walking tours. 
The island, which can only be reached by boat, also has a nature trail, a canoe and kayak launch, and excellent wildlife viewing. Water activities such as snorkeling and swimming are also permitted at Indian Key Historic State Park.
Watch this overview of Indian Key Historic State Park in 4K by The Key Largo Dude.
Key Largo and its surrounding areas boast an impressive array of public and private beaches that cater to every beachgoer's desires. Each beach offers unique charm and allure, from crystal-clear waters and vibrant marine life to soft sandy shores and breathtaking sunsets.
Regardless of which beach you choose to visit, it's important to respect the environment and follow any rules and regulations in place to preserve these natural wonders. Embrace the beauty of the surrounding nature, enjoy the warm waters, and create unforgettable memories as you immerse yourself in the coastal charm of this tropical paradise.
Beaches in Key Largo FAQs