Kayaking in Key Largo is one of the most exciting ways to explore the waters in the Keys. As you kayak across the pristine waters, you'll learn about mangroves and their importance to the environment there. Discover more about the fish, turtles, manatees, and birds that call these places home.
Always be careful of wildlife, underwater obstructions, and other boats wherever you put in your kayak, canoe, or stand-up paddleboard. Always prioritize your safety if you want to enjoy a fantastic trip in Key Largo!
The Kayaking Experience in Key Largo
The Florida Keys are made up of various mangroves, some inaccessible by land or water. Fish, birds, reptiles, and mammals find valuable habitats in the mangroves that develop along estuaries, rivers, and lakes. Here, you may genuinely enjoy nature at its finest. The majority of the plants and animals on these islands are unique to these islands!
Mangrove kayaking is among the most well-liked activities in Key Largo. It's time to do one of these tours if you haven't already! You can explore independently by renting a kayak or even a paddleboard. You'll need plastic bags to transport your kayak and other gear, water, sunscreen, sunglasses, hats, and cameras.
Kayaking through the Key Largo mangroves is a fascinating way to view the Florida Keys in a region that receives far less tourism than other island sections. Mangroves are saltwater-adapted trees. They spread out up to three miles inland! You may get a close-up look at this lovely ecosystem by taking a kayak excursion.
There are a few things you should be aware of if you plan to go kayaking in Key Largo. Many recreational water sports are fantastic in the tropical Key Largo area, but kayaking is one of its most popular activities.
Kayaking is possible at numerous locations in Key Largo. Some locations are well-known for having manatees, while others are less so. Also, there are various places where you may go snorkeling. The sponge gardens and stunning coral in these waters are well-known.
If you have kayaking experience, the area has some hidden treasures. For instance, if you go west of the park, you can kayak through the mangroves and come upon seagrass areas. Key Largo offers a good alternative for those who wish to stay away from congested waterways and boasts several kayaking-friendly locations with clear waters and stunning reefs.
It's time to board a boat and tour the Everglades! Here are the beautiful destinations for kayaking in Key Lago.
John Pennekamp Coral Reef State Park
The majority of the kayaking spots at John Pennekamp Coral Reef State Park have clear waters, there are a number of mangrove tunnels, the current is quiet, and there is a ton of species. In the state park's headquarters, you may hire kayaks and arrange trips, from glass-bottom boats to shuttles, to the coral reef for snorkeling excursions.
A wonderful way to spend an afternoon is to look for stingrays, turtles, and alligators while viewing the colorful fish in the clear water. If you're visiting the Florida Keys for the first time, aim your kayak toward the stunning mangrove islands to experience nature at its most beautiful.
Kayaking in the mangroves
Get off the highways and immerse yourself in the sights and sounds of Everglades National Park to appreciate this unique environment.
A boat is one of the greatest ways to achieve that, especially a quiet, eco-friendly kayak or canoe. There are 12 kayaking paths in Everglades National Park and the nearby wildlife refuges of Big Cypress and Ten Thousand Islands.
There are a variety of kayaking routes available, from short, beginner-friendly "beginning" paths to the 99-mile Wilderness Waterway between Flamingo and Everglades City, which requires extensive planning and backcountry permits.
Harry Harris Beach And Park
You might have plans to kayak through the clear seas and investigate the coral reefs and shipwrecks. At Key Largo, Florida, Harry Harris Beach and Park is a fantastic site to begin kayaking.
The fun begins when you paddle out of the quiet harbor heading up to the park. Although the waves are easy for beginners, they can get choppy if you are not careful. Because it is not too deep and there is much fish to see, families with young children appreciate the region.
For people who enjoy kayaking, Florida is a great place with lots of water. Perhaps one of the most stunning and uncrowded places to kayak is in Key Largo's Rock Harbor, which attracts many visitors.
Key Largo's Rock Harbor offers a full-service kayaking experience with all the necessary gear. The best part is that you may bring your own kayak or hire one from a nearby company, making it affordable! Moreover, Mile Markers Restaurant is situated right on the river and has close covered parking and dock facilities.
In Lower Sound Point, Key Largo, kayaking is a fantastic opportunity to discover the stunning beach. There are numerous native Florida birds visible, and the sea is tranquil. In shallow water, keep an eye out for stingrays.
Winter and late fall are the greatest times to visit Lower Sound Point since the water is quiet and pleasant. There are mangroves, coral reefs, and a ton of water life to observe on this twelve-mile paddle, making it ideal for adventure seekers.
Everyone may find something to enjoy in Lower Sound Point in Key Largo. It is simple to understand why this would be a lovely place for kayaking because the water near the coast is practically a deep blue color. It is also incredibly peaceful and isolated, which is ideal for anyone seeking some quiet time.
Boaters exploring the Gulf of Mexico's waters can use a well-known kayaking location in Key Largo's North Sound Creek. The creek is one of Florida's top kayaking locations and has several islands close offshore for visitors to explore.
The water is often fairly calm, with an average depth of three feet. From Miami, 26 miles away, the creek extends. The creek flows from the Everglades National Park to Florida Bay, an estuary of saline water.
Despite having a large portion of freshwater, some areas also include saltwater. Manatees, turtles, and mangroves are just a few of North Sound Creek's many living species.
Looe Key National Marine Sanctuary
Come to Looe Key National Marine Sanctuary if you're seeking an adventure that will take you into the Florida Keys and away from the crowd. Tourists can explore historic shipwrecks or take in the diverse marine life that calls these waters home.
In Key Largo, numerous kayaking trips and businesses provide tours through picturesque channels and mangrove woods. It's a terrific chance to spot animals, including loggerhead turtles, sea turtles, nurse sharks, stingrays, and even some little fish, because the water is calm and clean.
There are numerous canoe and kayak launching areas spread out within the sanctuary. Each one has a sign advising tourists on what safety precautions they should take before getting into their boats in the water. Many islands can be explored on adventures during the day or at night.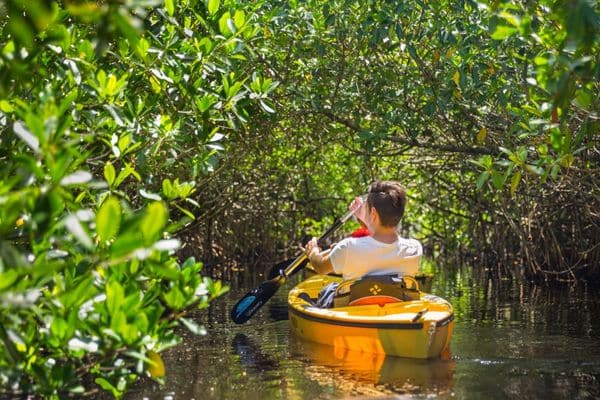 Kayaking trips in Key Largo are a wonderful opportunity to discover the stunning mangrove forest and native fauna of this Florida region. Numerous kayaking tours are available, including both group and private experiences, from half-day to full-day excursions.
It would be beneficial for first-time visitors to go on a guided kayak tour. Backcountry paddle tour guides from the area take their clients to destinations they might otherwise miss.
During this three-hour tour of the Key Largo mangroves by the Florida Bay Outfitters, get a local's perspective on the waterways of the island. If you're interested, you can snorkel during a portion of the journey to see the world beneath the mangroves. 
The tour involves paddling across crystal-clear, tranquil waters while in the safe mangrove channels close offshore at Key Largo. This excursion is accessible to practically everyone and is great for beginners or intermediate paddlers.
Which do you prefer, single or double kayaks? Either way, you can count on knowledgeable guides to make your trip special! Each tour operator at PADDLE! The Florida Keys offers their distinct enthusiasm and in-depth local expertise on the mangrove and coastal ecosystems.
The small group tour is ideal for first-timers and anybody curious about the Keys. You will glide through clear, safe shallow water to explore mangrove forests, manatee grass beds, and a distinctive habitat home to over 600 species of birds, fish, and marine life.
Out There Kayak Expeditions
"Out There" is a 26-foot pontoon boat specially designed and built. It is propelled by a 150-horsepower Yamaha 4-stroke outboard and can cruise both inshore to coral reefs as well as through the shallow seas of Everglades National Park. On your Key Largo kayak adventure, you will never have to deal with a large crowd because they only take a maximum of 6 individuals.
For those who prefer sunbathing to paddling, the boat has comfortable seating and plenty of deck space, as well as a bi-mini top for shade on hotter days. Its open design offers guests unrestricted views of the surrounding countryside and sunsets. The journey is dry and stable, making it perfect for anyone worried about getting seasick.
The best way to discover the crystal-clear Caribbean seas and mangrove paths is on one of the 100% transparent kayaks at Tropic Water Sports. See a wide range of marine life that can be found up to 75 feet below the surface.
The trip includes:
Bottled water

Sunscreen

Water Shoes (A few sizes only, so it's recommended to bring your own)

Snorkeling gear (when available)

Waterproof bag 

Freshwater shower, soap, and fluff, fresh towels
Pictures and videos will be taken during the activity when possible, and they'll be uploaded to your phone before you leave.
Paddle a kayak or a stand-up paddleboard along Florida Bay. Take a leisurely paddle along the coast of Blackwater Sound, where you can see birds and other marine life.
Single and double kayaks are offered at Pirates Cove Watersports. There will be instructions and a safety briefing.
Prepare yourself for kayak paradise by scheduling a trip to the Florida Keys. There are several great kayaking places for paddlers of any ability level, whether you explore by kayak, canoe, or stand-up paddle board.
Key Largo is the first island of the Florida Keys you'll encounter if you go south on US Highway 1 from Miami. The John Pennekamp Coral Reef State Park's brilliant coral is located on the Atlantic Ocean's side of Key Largo.
Most visitors come here to snorkel with the tropical fish on the reef. Yet, there are many fantastic locations where you can launch a kayak and take in the splendor of the Florida Keys from the ocean or the bayside.
Kayaking in Key Largo FAQs