There is nothing else like how the Florida Keys kayak fishing adventures are organized. Just 100 yards from the road, in certain places, one may grab a kayak and practically vanish into the surrounding wilderness. You can have a fishing excursion you won't soon forget by adding a seasoned fishing guide to the mix.
The Florida Keys have long offered rentals, tours, and guided outings for kayaking. However, guided kayak fishing charters are extremely uncommon. They are even more uncommon when they involve professional flats fishing operators who truly know how to go to some of the most pristine waters for fishing a fisherman could dream of. They are very adept at catching the local fish.
Where Are The Best Spots For A Florida Keys Kayak Fishing Adventure
There are excellent kayaking and boating options in the Florida Keys. You can go kayaking in several locations, including Key Largo, Key West, Islamorada, and Marathon. Almost all location in the Florida Keys is accessible by kayak. 
Sugarloaf Marina
Sugarloaf Marina is one of the last "old school" marinas in the Florida Keys. The Sugarloaf Marina, situated next to the iconic Sugarloaf Lodge, has long served as the center of the neighborhood. It has hosted fishing competitions over the years and served as a popular hangout for locals and top-tier fishing guides.
A short paddle from the marina will take you to the tranquil mangrove creeks, where you may unwind and unwind. Kayaking is an excellent method to obtain a close-up view of the many marine environments and observe a wide variety of fish, rays, sharks, birds, horseshoe crabs, and other marine life. 
You can get everything you might need for a fun day on the water at Sugarloaf Marina, a full-service marina. You can rent paddle boards and single or double kayaks from them for a half-day or a full day.
Blimp Road
You may take off from Blimp Road on Cudjoe Key, then pass by a military blimp from the smallest air force base in the US that was used for drug cartel reconnaissance. You can catch wonderful fish even before reaching the Tarpon Belly Key, such as trout, mangrove snappers, and pinfish.
The island was dredged years ago to create shrimp hatcheries. The islands' former hatcheries have been reduced to mere channels. There was a lot of fish activity there during high tide (mostly mangrove snapper, needlefish, and baby tarpon).
Spanish Key Harbor
In the lower Florida Keys, there is an island called Spanish Harbor Key. In the beginning, there were three keys there. When the Overseas Railroad was constructed, they were connected by fills. 
The three keys were an unnamed one in the east, Middle Summerland Key in the center, and West Summerland Key at its westernmost point. While the name of West Summerland is kept, the other two are referred to as the Spanish Harbor Keys, after the anchorage between this key and Big Pine Key. 
Indian mounds and storage structures still existing from the time the Flagler Railway was built are among the interesting aspects of this key.
Key Largo fishing experience – Catching a snook
The Florida Keys state parks, hotels, and kayak launches provide additional kayaking amenities. In the Keys, numerous boat rentals offer boating amenities. Of course, you'll be stopping by some places for lunch during your kayak tour. There are some stunning waterfront dining areas at Key Largo.
A saltwater fishing license is required to fish in the Florida Keys. You need a fishing license if you are 16 to 65 years old. In addition, if you have a physical disability, you wouldn't require a license.
For more information about hunting or fishing licenses or permits, you can read through the Florida Fish and Wildlife Conservation Commission's regulations here.
How To Pick A Good Kayak Fishing Gear
The preferred tools of the trade are canoes and kayaks. The boats the guides use are equipped with rod holders, drink holders, and spaces to store some basic equipment specifically for fishing.  When sneaking up on fish, a clean deck also helps to muffle noise.
Select a stable kayak. Sight fishing is made simpler by standing in the kayak. A skilled kayaker can stand up and fish if their balance is good since they are stable. Outriggers are available on some kayaks to increase stability. 
Find a boat that is calm and has little hull slap. Inquire about the boats your potential kayaking guide uses and how his specific business operates. Let him know if you have any special requirements.
What You Can Expect From The Fishing Calendar
Fishing is accessible all year long in the Florida Keys. But we should put comfort first while determining the optimal fishing period. 
Fishing in the Florida Keys is influenced by hurricanes and temperatures, among other things. The majority of hurricane season typically lasts from June until November. On the other side, from May through October, the heat continues. The temperature rises above 30 C in the interval between these months.
Therefore, it would be best to go kayak fishing from November to April. You can fish for tuna, kingfish, grouper, mutton snapper, yellowtail, and many other fish during the fishing season.
You may also access this Florida Keys Fishing Season Species Calendar to learn when and where to catch your favorite species.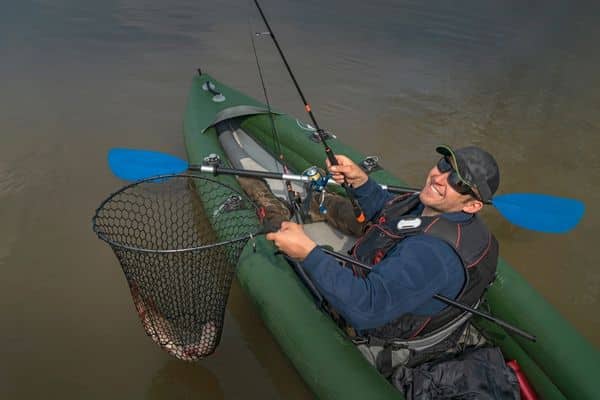 Understanding the benefits of kayak fishing can only be done with the expertise of a professional fishing guide. The most silent method of fishing the flats is the kayak. You may cover more ground while fishing, which gives the soloist a wonderful day on the water. 
If you are planning your own Florida Keys kayak fishing trip, learn more about glamping in the Florida Keys here. This will give you enough information to take advantage of luxurious camping.
Florida Keys Kayak Fishing FAQs