There will be unstoppable canine adventures once we spill the sandy beans on the seven most paws-itively awesome dog-friendly beaches in Florida Keys, where the sun kisses the fur and the waves beckon your four-legged friends. These beachfront gems aren't just for humans – they're tailor-made for the ultimate pupcation!
We're talking about the Florida Keys beaches that will have your fur babies feeling like they just landed a starring role in a canine Baywatch reboot. From frolicking in the surf to digging up buried treasures (or just burying a bone or two), these beach havens are a mutt's dream come true.
Key West Dog Beach by Unnamed Adventures
Location: 1500 Vernon Ave, Key West, FL 33040, United States
Dogs are welcome at Key West Dog Beach in Key West, Florida – the only beach in the Florida Keys where swimming with dogs is permitted. This popular spot is a great place for your dog to enjoy some sun time, but keep a watch on your dog because the beach is rocky. 
Head over to Louie's Backyard, a pet-friendly restaurant and bar next door to Dog Beach, for a refreshing drink and something to eat after working up a sweat on the beach.
Here are some reviews about Key West Dog Beach from recent visitors:
This is a fun area to visit to let dogs go in ocean & play with other dogs. Also Louie's was nice for a drink on their deck.
While this is a small beach, my pups had a great time running around and playing! This place is great if you have a little common sense...yes, there is seaweed...it's the ocean. No, it's not totally enclosed...it's a beach. Yes, it is small...but so is Key West. Long story short, well behaved pups will have a good time, bring water and poop bags. Parking is free and while there was seaweed, it didn't smell bad at all. Well worth it.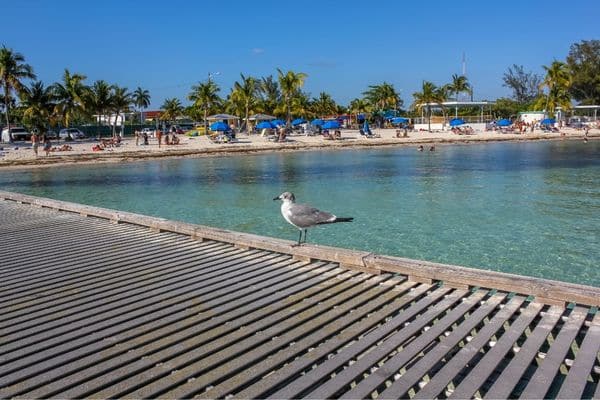 Location: 100 Atlantic Blvd, Key West, FL 33040, United States
For both residents and beachgoers, Key West has a lot to offer. Higgs Beach Dog Park is a beloved location among the residents of this Florida neighborhood because of its beautiful scenery, verdant spaces, and reasonable size. 
This fantastic off-leash area, also called the Clarence Higgs Beach Dog area, is next to the spectacular vistas of the Atlantic Ocean. Take a moment to appreciate the expansive views; a few dog parks in Key West have views like it! 
Open to the public are the dog park and beach, as well as a variety of nearby activities like tennis courts, snorkeling, and kayaking. Higgs Beach Dog Park is a rather large park with two distinct fenced-in dog sections that provide shade, water, grass, and lots of space for dogs to run around and play. There are several benches where you can sit and unwind while watching your pet play. Large dogs and little dogs have their fenced-in sections. 
Dogs must follow park regulations:
Dogs must be amiable and have current licenses and immunizations. 

Dog owners must tidy up after their pets and spend as much time as possible with them. 

Dogs should be leashed when they are outside of the fenced-in area. As long as they are leashed, dogs are allowed on the pier or beach across the street. 
Nothing compares to spending a Key West summer day with your cherished pet. This off-leash park has lovely grassy spaces where your pets can play or unwind in the shade during the sweltering Florida summers. 
Here are some reviews about Higgs Beach Dog Park from recent visitors:
We took our dog on our trip to Key West only to find he was wasn't allowed on the majority of the beaches. This was a great place just to let him have a good run and some exercise. There wasn't anyone there when we first got there but it soon filled up. Seems very popular. It could do with some revamping though.
My GSD had fun running around and playing with a few other dogs. There was nice shade in the morning and plenty of room to be socially distanced. We will be back!
Smathers Beach by Florida 4K
Location: 2601 S Roosevelt Blvd, Key West, FL 33040, United States
The largest beach in Key West is Smathers Beach, which stretches along the southern shore. Savor a quick stroll from the city center along the sidewalk that offers unhindered ocean views.  Although dogs aren't permitted on the beach properly, you may still enjoy our renowned sunsets there with your pet.
Smathers Beach is the ideal location for volleyball and water sports. Food trucks and other merchants are frequently seen renting chairs and rafts or offering various food options. There are picnic tables, drinking fountains, restrooms, and parking near the beach.
Here's a review about Smathers Beach from a recent visitor:
the "beach" itself is not sandy... but, as you get into the water, it does get sandy... shallow water for quite a long way out... not much more than waist deep to the end of the pier...saw a couple of wiener dogs wearing life vests out in the water having a great time swimming around in circles....
Quick Walk at Sombrero Beach by Wigglebutts Adventures
Location: 2301 Sombrero Beach Rd, Mile Marker 50 Marathon, FL 33050, United States
Spend the day at a charming Florida beach with your best friend. In Marathon, Florida Keys, Sombrero Beach is the ideal place to plunge into the sea. It offers visitors a ton of entertainment options. 
There are no mangroves at Sombrero Beach, unlike many other nearby beaches. The water has a lovely blue hue, and the sand is velvety. There are picnic tables, playgrounds, volleyball courts, restrooms, and showers at the beach. 
To ensure everyone could enjoy their day at the beach, they made it completely handicap accessible. As long as they are leashed, dogs are also permitted on the beach. Dogs and their owners enjoy playing in the sand and splattering in the water. Having your pet on the beach and in the water is acceptable as long as it doesn't bother the other visitors. 
People frequently go swimming, tanning, surfing, fishing, and snorkeling at the beach. When the weather is great, local yoga studios usually have their students practicing outside on the beach. The beach is open from 7:30 AM til sunset.
The Dolphin Research Center is a short drive away from the beach if you're up for a little excursion. The beach is a turtle nesting site, and injured and sick sea turtles are cared for at the Turtle Hospital until they are well enough to be returned to the wild. 
Here are some reviews about Sombrero Beach from recent visitors:
dogs are allowed on leash but we took ours into the water without a leash because he listens to us; clean beach; bring floats to enjoy the water. Very nice place!
If you're around Marathon, FL you absolutely do not want to miss a day at the Sombrero Beach with your dog. Great water and tons of room. Parking does get busy but there is a lot of it. We drove up from Key West and it was totally worth the drive.
Anne's Beach Park, Islamorada | pet friendly beach in The Florida Keys by The Malamute Pack
Location: Overseas Highway MM 73.5, Islamorada, FL 33036, United States
With its gorgeous sandy shoreline and shallow seas, Anne's Beach is a great place for your kids and family dog to swim safely. Dogs in the Florida Keys are really fortunate to have access to a fascinating location where they may run around and play in the tropical waters. 
Along with pavilions with access to fresh water, bathers and their dogs can enjoy a lovely backdrop of shade provided by well-established native trees. Every woofer needs to walk on a leash and behave like a pooch. This creates a laid-back vibe that allows everyone to have a hassle-free beach day. This secluded area is directly behind a busy road, so keeping dogs on leash might be a good idea. 
There are restrooms and clean-off facilities in two lots with limited parking. Additionally, there is a walkway that descends stairs to the beach and leads to picnic tables. Dogs adore swimming about and practicing their dog-paddling in a calm environment, and visiting is free. 
At Anne's Beach, litter bags are usually accessible, and it is greatly appreciated if dog owners contribute to maintaining this dog-friendly paradise. Weekends may get hectic at this place since all dogs are welcome. Many people prefer the beach on weekdays when there are more dogs and their owners and fewer beachgoers. 
Here's a review about Anne's Beach from a recent visitor:
This isn't a typical beach so I guess I get the negative reviews but we loved it. Great walkway with several small coves. It was perfect.
Coco Plum Beach in Marathon Florida // Florida Keys Beaches by Suite Life Sanburg
Location: 109 Coco Plum Dr, Marathon, FL 33050, United States
Some of the world's most stunning beaches are found in Florida, and many of them are very dog-friendly, like Coco Plum Beach. Pet owners can bring their dogs there to play in the shallow waves of the warm Atlantic sea on a sandy beach located in the center of the keys. The salt marsh wetlands that the beach runs parallel to are home to many bird species that nest and turtle species. 
There's a covered pavilion with neat picnic tables and shelter from the summer sun in the form of native trees and tropical palms. The best news for dog owners is that their pets can swim and dig holes in the sand without a leash. 
Restrooms are situated in the parking lot. This allows all dogs the opportunity to spend time at the beach with their guardians and experience the fun and summertime atmosphere. When dogs are off-leash, it's crucial that they remain near their owners and don't interfere with other people's beach time. 
Dogs are always welcome at Coco Plums Beach, as long as they abide by a few basic regulations. In order to keep the beach clean, remember to bring poop bags and pick them up after your Labra-doodle, Poodle, or Chihuahua. 
The soft sandy shore is just a short stroll from the free parking area, and both locals and tourists use this quiet area as a retreat for tanning, swimming, or reading. Popular activities include boat trips, fishing, and snorkeling, and the youngsters can find many fascinating shells to bring home. 
Coco Plum Beach is a fantastic area to take the dog because it's usually not too busy. It gets really hot under the Florida sun, so don't forget to bring fresh water for your dog. Also, keep in mind that dogs can become sunburned just like people. There is guaranteed protection for the entire day with an umbrella or canine tent. It could be a good idea to get your dog a life jacket if it's their first time in the water.
Here are some reviews about Coco Plum Beach from recent visitors:
This is a beautiful beach and the added plus is it's dog friendly. They're were an assortment of dogs running and playing on the beach and swimming in the ocean. It's nice for people with dogs that like the water. Most beaches don't allow dogs.
Very dog friendly, beautiful beach. Dog bags provided.
7. Rowell's Waterfront Park
Rowell's Waterfront Park: Key Largo's Best Kept Secret by The Key Largo Dude
Location: 104550 Overseas Hwy, Key Largo, FL 33037, United States
In Key Largo, there's a dog-friendly park called Rowell's Waterfront Park. There are picnic tables, benches, and a kayak launch in this passive park. Dogs must be leashed, but they are free to take in the vistas of Florida Bay.
There is no cost to enter the park. The park is accessible from 8:00 AM until dusk every day.
I have been waiting for this park to open and it did not disappoint! Perfect area for dog to run around and swim. Dogs should be on leash, but were off leash by the water. They also have picnic tables, so bring your lunch or book and enjoy! We loved it!
Beautiful spot for watching the sunset - bonus: our traveling doggo made a couple of great friends! Pretty cool 'pool' for my son to snorkel around in while we were waiting for sunset.
Bark to the Beach: Your Guide To Dog-Friendly Beaches In Florida Keys
Remember when Forrest Gump said, "Life is like a box of treats"? Well, in the Florida Keys, it's more like a treasure chest of tail-wagging delights. From Key Largo to Key West, each stretch of sand is a canvas for your dog's masterpiece of mischief and joy. From sun-soaked fetch sessions to Insta-worthy paw prints in the sand, our guide to the Dog-Friendly Beaches in the Florida Keys has been nothing short of epic. 
So grab your leashes, shades, and maybe a surfboard for your pup's Instagram debut, and head straight to the Florida Keys. These beaches aren't just pet-friendly; they're the hottest spots where sand meets swagger, and every paw print tells a tale of adventure.
The best beaches in Florida Keys for families practically promise days full of sunscreen, ice cream, and margaritas. This collection of coral islands, some of which have sand beaches, is tucked up against the Atlantic Ocean to the east and the Gulf of Mexico to the west.
Anne's Beach is a lovely spot to soak up the sun, unwind with a book, wade in the shallows, or sleep. Bring a friend so they can help you turn over when your first side is finished!
Florida Keys islands are nestled in the sparkling blue waters of the Atlantic Ocean. In this article, we will embark on a journey to unveil the secrets of the Florida Keys islands, diving into their captivating past, immersing ourselves in the vibrant culture, and exploring the diverse attractions that beckon visitors from around the globe.
Dog-Friendly Beaches In Florida Keys FAQs
When it comes to being the ultimate dog-friendly paradise, Key West takes the biscuit! With its laid-back vibes and a multitude of pet-friendly establishments, you and your furry friend can explore the Conch Republic together. From parks to beaches, Key West has got tails wagging.
Key West is not just about Hemingway and sunsets; it's also a haven for beach-loving pups. Check out Higgs Beach Dog Park, where your furry mate can frolic in the sand and make new paw-some pals. Just remember to pack the sunscreen for both you and your four-legged beach buddy.
Siesta Key, known for its powdery white sands, is a bit of a mixed bag when it comes to dogs on the beach. While dogs are not allowed on the main public beach, Brohard Paw Park in nearby Venice is a fantastic alternative. It's a designated dog beach where your pup can strut their stuff and even take a dip. So, while Siesta Key's main beach might be off-limits, the nearby paw park ensures your dog doesn't miss out on the coastal fun.