Anne's Beach is a natural sand beach situated at Mile Marker 73.5 near the southern end of Upper Matecumbe Key. Although there are not many sandy beaches in the Florida Keys overall, this small section at the oceanside is a lovely area to unwind and spend the day swimming in the warm, tropical waters of the Atlantic Ocean. It's also free.
Anne's is a lovely spot to soak up the sun, unwind with a book, wade in the shallows, or sleep. Bring a friend so they can help you turn over when your first side is finished!
Why Is It Named 'Anne's Beach'?
The beach is named after Anne Eaton, a charming woman who lived nearby and made numerous contributions to preserve Islamorada and its fauna. She was a teacher by trade and was paralyzed by polio at the age of 24. Because of that, Anne spent the rest of her life in a wheelchair. 
Anne wed a 74-year-old millionaire from Ohio who founded the Republic Steel Corporation at age 35 and was a vocal supporter of nuclear disarmament. In the 1960s, she fell in love with the Keys, purchased an old frame home made of Dade County pine, and immersed herself in Keys life, establishing herself there as a permanent resident. She actively campaigned against the Keys' excessive development and assisted in raising money to keep the section of the beach open as a county park. 
Anne passed away in 1992. Since she cherished the region, it is only fitting that her memory be kept akin to how her efforts have helped conserve so many of the wonderful and stunning aspects of the island.
What Anne's Beach Has To Offer
Anne's Beach is often ranked among the top beaches in the Florida Keys, with various attractions that can make for an even more enjoyable day. 
Due to its proximity to the Overseas Highway, Islamorada's Lower Matecumbe Key beach is easy to find. Very helpful little green signs show how far you are from Florida City (MM 127) and Key West along the side of the road (MM 0).
For those of you who have never been to the Florida Keys, the highway is the main route through the Keys, beginning on the Florida mainland and going all the way down to Key West, which is the southernmost point. Thus, depending on where you started, go down the road or up it, and pay particular attention to MM 73.5 to reach Anne's Beach.
Two parking spaces are available at the beach's south and north ends. The north end parking lot features a public restroom and a shower. The "Highway Piers Historical Marker" may be seen at the bayside parking lot, and in the water on the bayside are the remains of a bridge that was constructed in 1935 by World War I veterans who had been granted jobs during the Great Depression. 
An elevated boardwalk that connects the land parcels offers guests a picturesque journey through the mangroves and marshes. The boardwalk provides access to five covered pavilions with picnic tables, all of which have beautiful ocean views and offer a wonderful location for a picnic, a family get-together, or a base of operations.
Although there will be more space for sunbathers at low tide, the beach is at its best. These sand flats have extremely shallow water—almost too shallow for swimming. The most depth you may wade out to is only your knees. 
In the summer, tourists simply plop down in knee-deep water and relax while the turquoise water laps over them as they sit in the sand. Windsurfers frequently visit Anne's Beach, and on windy days, it's entertaining to watch them soar and swoop. The beach is an ideal spot to bring your pets and for young children to play.
In addition, paddle boarding, kayaking, kiteboarding, and snorkeling are excellent activities at Anne's beach. The Florida Keys' natural beauty can be explored and enjoyed to the fullest extent thanks to the area's wide, shallow waters and flats of sand and grass.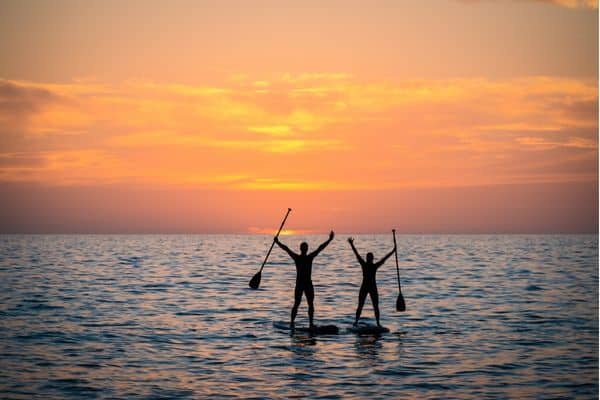 Feel the wind in your hair, the waves lapping at your feet, and the salt on your lips at Anne's Beach. There are lots of activities to do nearby but stay for the sunset to cap off an unforgettable day out.
Among the stunning Florida Keys, Robbie's of Islamorada is renowned for its friendly atmosphere and small-town charm. Visitors can not only enjoy fishing and other water sports there, but they can also discover amazing sights like the vibrant coral reefs and local fauna. For visitors who want to get close to marine life, Robbie's is one of the most popular spots to feed tarpons. 
The restaurant's mouthwatering, traditional seafood dishes, made with fresh, locally caught fish, are certain to please visitors. The site also provides access to kayaking excursions, boat rentals, and many more activities.
San Pedro Underwater Archaeological Preserve
Scuba divers and snorkelers will both enjoy the intriguing San Pedro Underwater Archaeological Preserve. It provides tourists glimpses of fascinating antiques from the 18th and 19th centuries as they explore the magnificent aquatic life below. It is surrounded by thirteen historic sites filled with stunning coral reefs. 
You can take a ranger-led informative tour of the area, or you can rent your own boat or kayak and explore at your own pace.
Lignumvitae Key Botanical State Park
It's impossible to imagine a more beautiful piece of heaven than Lignumvitae Key Botanical State Park. With access to the beach, freshwater and saltwater fishing, and distinctive coral formations, the park also offers visitors botanical features such as three varieties of native palms, Strangler Fig, and Wild Olive Trees. 
One of its most breathtaking features is the beautiful mangrove swamps that make up this tropical getaway, teeming with large and tiny animals.
For a thrilling and unforgettable holiday, Sundance Watersports offers on-the-water action for all ages. 
Sundance Watersports was founded in 1994 by Cindy and George Shattuck. Since then, they have brought families the best watersports adventures the Keys offers. They're quite happy to have opened up shop in Robbie's on Islamorada, a hip marina that was chosen as the top attraction in the Keys for tourists to see.
Take in the beauty of Islamorada by doing the most calming activity you can think of – yoga. Owner of Island Flow Yoga and experienced Yoga Alliance certified instructor Lauren Ferrante is a registered yoga school and transformational life coach headquartered in Islamorada, a chain of beautiful islands. Her enlightening, down-to-earth vinyasa flow lessons are performed outdoors in some of The Florida Keys' most breathtaking beachside settings. 
Her enthusiasm and attention to detail fuel your movement through a creatively sequenced flow aided by crucial alignment cues. Students will feel more expansive, empowered, and at ease after being lovingly pushed to find their best selves.
Daily open group courses, individual sessions, and life coaching consultations are all available at Island Flow Yoga, both locally and virtually. In addition, Lauren provides on-site yoga instruction for special occasions like family reunions, retreats, and vacation weddings.
Spending time with your friends, family, or even your loved ones is always a good idea. In the Keys, Anne's Beach is a very popular destination. Before starting your day with outdoor activities, you must find something to eat.
Here are the top five dining spots near Anne's Beach:
Italian Food Company Islamorada
The popular and historic structure, formerly home to Bentleys, has been renovated by co-owners Tony and Isis Wright into a piece of Italy in the Florida Keys. This welcoming, authentic trattoria offers five-star Italian cuisine in a welcoming setting. 
The food, service, and attention to detail at Italian Food Company draw locals, families, couples, and groups. Visitors eat at hand-painted lava tables imported from the foothills of Mount Etna and are surrounded by various murals that show images from Venice, Sicily, and the Amalfi Coast. 
If you have a passion for all things Italian, you will grow to enjoy this home away from home. It has chefs and servers who were lovingly brought from Italy, as well as fun and fanfare.
Another Italian restaurant to try in Key Largo if you're craving Italian food is DiGiorgio's Cafe Largo. The DiGiorgio family owns and operates this cafe, which was featured in Guy Fieri's "Diners, Drive-Ins, and Dives." 
The DiGiorgio family immigrated from San Marino in north Italy and Cassino, outside of Rome, and has been in business in South Florida since 1968. In 1990, the family moved to Key Largo and mixed all the varieties of local seafood available with pasta.
They have built a great following and reputation, as they are the first to come to mind when you think of pasta, local seafood, veal, tiramisu, and other Italian cuisines at Key Largo.
Porky's Bayside Restaurant and Marina
Porky's Bayside is a historic island-style tiki diner in Marathon, Florida, right on the water by the gulf! They serve fresh local seafood, and the BBQ is smoked daily. 
The Original Award-Winning Deep Fried Key Lime Pie, along with the Finest Mojitos in town, can be found at Porky's Bayside. Start your day with a Bottomless Mimosa and Smokehouse Southern Style Breakfast, or come in for lunch or dinner and live music! 
Watch this YouTube video from Randy Santel trying Porkey's Baby Back BBQ Ribs, Pork Spare Ribs, Tostoner (plantain chips), Cuban-style rice, and the infamous deep-fried Key Lime Pie.
Sol by The Sea at Playa Largo Resort & Spa
At Sol by The Sea, you can enjoy waterfront dining at white-washed tables with pastel fabrics, driftwood seats, and a hint of bohemian style. This beach hut is perched on the edge of the pier among shining white motor yachts and is rustically lovely and romantic. 
Here, the small mermaid and the modern sportsman cross paths beneath a sunset whose peach, mango, and pink hues may be found in any tall tropical beverage.
The full-service restaurant Butterfly Café serves seafood dinners to guests and passing diners while offering stunning bay views in Tranquility Bay. Guests can choose to dine in the Butterfly Cafe's upmarket, stylish interior, furnished with wicker chairs and grommet curtains, or unwind on the patio outside.
After enjoying a long day full of activities across Islamorada and trying the best cuisines the island chain has to offer, you need to have a place to relax and sleep. Below is a list of the most popular nearby hotels near Anne's Beach that you can check out.
Islamorada, known as the "Sport Fishing Capital of the World," offers an unrivaled vacation destination all year long. Chesapeake Beach Resort combines all your favorite coastal holiday amenities in one breathtaking setting. Pure blue waters, snow-white sand, and glorious sunshine surround the resort. 
Every room features a spacious, comfortable bed and a calm, serene ambiance. Choose a Garden View accommodation to benefit from the private balcony. Meanwhile, reserve a suite or villa for ultimate luxury, which are excellent for extended visits, big parties, and families.
Imagine being transported to a tropical paradise where you may rejuvenate your mind, body, and spirit while rediscovering. Cheeca Lodge & Spa is a Florida Keys Islamorada resort that offers a benchmark of perfection attained by a few. Be lost in the relaxed elegance permeating every aspect and become accustomed to Islamorada's easygoing way of life.
Cheeca Lodge is a notable location for serious anglers. More than 500 different types of fish can be seen nearby on a charter boat. The end of their 525-foot pier, the longest in the Keys, is where the casual angler can toss a line. 
In this five-star resort in Islamorada, various additional activities are available, such as scuba diving, sea kayaking, biking, and snorkeling. Enjoy first-rate dining at one of their three restaurants, Atlantic's Edge, Mia Cucina, or Nikai Sushi.
Between Islamorada and Marathon, in the middle of the Florida Keys, is where you'll find Lime Tree Bay Resort. A genuine island oasis with a private fishing pier, heated pools, various heated bathing areas, and front-row seats to the most mesmerizing sunsets over the Gulf of Mexico. It also has a quarter-mile white sand sunning beach with tiki huts, hammocks, and BBQ grills.
The resort offers many recently refurbished and luxurious lodging options, from studios and bedrooms to roomy townhomes and suites.
Here is a resort review from Watch Your Lip on YouTube:
Hawks Cay Resort provides the ideal fusion of seclusion and convenience as it is conveniently situated halfway between Miami and Key West while still being tucked away on the remote island of Duck Key. Passports are not required for visitors who are U.S. citizens. The best features of the Caribbean—clear turquoise waters, limitless sunshine, fantastic fishing and diving opportunities, fresh seafood, and a peaceful tropical atmosphere—can be experienced without the inconvenience of traveling abroad thanks to the region's convenient access by car, boat, or airline.
Each lodging option in the Florida Keys offers upmarket facilities, free Internet connection, and traditional Caribbean decor. It's the perfect spot when organizing a romantic weekend or a family resort holiday. 
Savor the flavors of authentic island cuisine at some of the top eateries and bars in the Florida Keys. Hawks Cay has casual and upscale dining venues that feature the distinctive tropical island ambiance of the resort while serving fresh, regional foods cooked by renowned chefs.
Postcard Inn Beach Resort & Marina
It's no surprise that Postcard Inn Beach Resort & Marina is a favorite among beach lovers, boaters, and other visitors to the Florida Keys, thanks to the real-life Kokomo and the sandy shores of its walk-in beach. 
The oceanfront resort, only a short drive from Key Largo, has provided delectable cocktails and a classic beach ambiance since 1951. Get up on Islamorada's sunrise side for a day full of Rum Runners, water sports, and all-day excitement. Also, all four Islamorada Resorts are accessible to resort visitors. 
The Conde Nast Readers' Choice Awards 2022 have recognized Postcard Inn Beach Resort & Marina as one of the Best 10 Resorts in the Florida Keys.