The Dry Tortugas camping experience is only available at Garden Key, where Fort Jefferson is located. And to fully enjoy your trip to Dry Tortugas National Park, careful planning is a must.
With breathtaking stargazing, snorkeling, sunsets, and more, camping at Garden Key is a fantastic experience. However, you must be ready to camp in this isolated area. Find out the most important details on this blog to learn more about Dry Tortugas camping so that you can make informed planning decisions.
Camping At Dry Tortugas National Park
Perhaps the most difficult of all national parks is the Dry Tortugas, located 70 miles west of Key West and can only be reached by ferry or seaplane. Unless you camp, you only have a few hours on the island to see the old fort and go snorkeling in the crystal-clear Caribbean waters.
The Dry Tortugas National Park is a very popular place for camping. With seven small islands, this 100-square-mile park is primarily open water. It is famous worldwide for its spectacular Fort Jefferson, beautiful blue waters, world-class coral reefs, and marine life, and the wide variety of birds that frequent the area.
Imagine spending the night on an island 70 miles from civilization, sleeping under the stars, and listening to the rhythmic sound of the ocean waves and warm tropical winds blowing through the palm palms. Since only a limited number of ferry reservations are available, booking in advance is recommended (9–12 months is ideal).
Dry Tortugas Campsite Amenities
All necessary equipment, such as a tent, fresh water, fuel, ice, and food, must be brought by campers. Upon leaving, you must take out all trash and waste.
In Dry Tortugas, there are no public restrooms. Visitors are welcome to use their fresh water to rinse when the ferry is docked at Garden Key. Soap is not allowed. There are composting toilets at the campground. From roughly 10 a.m. to 3 p.m., the composting toilets are closed. Make use of the restrooms on the commercial ferry boats at the port during these hours.
The only fires permitted in the campsite are those made with gas camping stoves or charcoal briquettes used in barbecues at campsites. Compressed gas canisters are not permitted onboard the ship if you intend to arrive there. Bring charcoal if you plan to grill.
Other campsite amenities include:
Picnic Tables

Elevated grills for charcoal fires

Hooks to keep items above the ground
If all eight regular campsites are taken, you must share the overflow space with other campers. A grassy area close to the normal campsites serves as the overflow area. There are tables and grills in overflow campsites, but these must be shared with other overflow campers. You may switch to a regular site if one becomes available when campers depart.
Dry Tortugas Campsite Reservation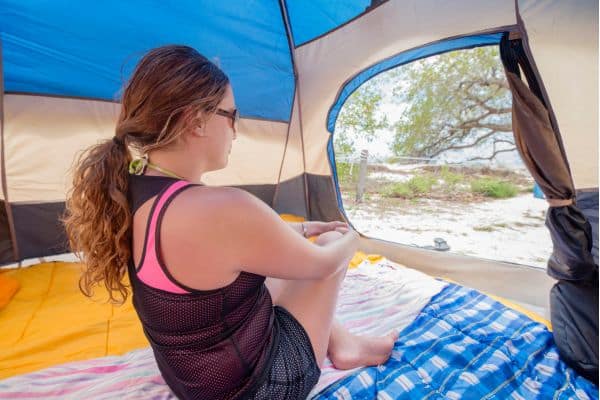 The rustic campground on Garden Key is close to the public dock. The individual spots are available on a first-come, first-served basis and may each hold up to three 2-person tents (6 people). A spot must be reserved in advance for groups of 10 to 20 persons.
Since campsites are assigned on a first-come basis, it makes sense to alight the boat as soon as possible and snag your first choice. Once they arrive, every camper will be given a spot to camp. When departing campers pack up for the day, those who remain for more than one night can upgrade their site.
The campground charges a nightly fee of:
$15 per night per individual site
$30 per night for the LARGE group site
A park ranger will point you toward the camping fee station once you get to the island. Only cash or checks can be used to pay fees. Credit or debit cards are not accepted.
Here are some campground regulations to take note of:
Every regular campground has a table, a BBQ grill, and a post for hanging food. The maximum allowed per campsite is three tents and six campers. You must keep all of your equipment within ten feet of your table.
For some shade and a wind buffer, trees and plants are essential. You can aid in preserving this priceless vegetation. Nothing should be fastened to campsite trees; however, a clothes line can be strung between posts. All camping equipment must stand alone. Respect the park's closed sections.
Only fires made with charcoal briquettes are permitted in BBQ grills at camping sites. The park allows gas camping stoves, but commercial ferries won't let you bring them on board.
There are composting toilets at the campground. The apparatus below the units composts waste. These devices are extremely fragile and are solely intended to dispose of toilet paper and human waste. Please don't flush anything down these toilets, including food scraps or rubbish. Drop toilet lids when not in use to lessen odor and help with composting. From roughly 10 a.m. to 3 p.m., the composting toilets are closed. You can use the restrooms on the commercial ferry boats at the port during these hours.
Gray water from dishwashing and other activities should drain below the high tide line at the dinghy beach.
Rats live in the Tortugas. Although the rat population is under control, rats may still be seen foraging through campgrounds for food. Storing your food and food waste in hard-sided containers is the only surefire to safeguard your food and stop harm to your equipment. If they detect food, rats will eat through tents and backpacks. They can also scale the provided hanging posts.
Boats may be kept on your property or near the approved dinghy beach. All types of boats are not allowed in the swim area. Only the approved dinghy beach, next to the government docks, may be used for boat launches and landings. When sailing, always remember to wear a life jacket.
Please respect others' privacy and observe the quiet hours between 10 p.m. and 6 a.m. It's also advised against using bright lanterns at these times.
The chance to tour Fort Jefferson is one of the best parts of any trip to the park. In the fort, take caution, as walking surfaces are frequently uneven. The fort is accessible from dawn until dusk or, in case of an emergency after hours, by contacting a ranger. After midnight, the beaches, the moat wall, and other external public spaces are still accessible.
The NPS restricts the number of campers arriving on the Yankee Freedom to 10 every day to guarantee that all campers have a site even though there are no official camping reservations at Dry Tortugas.
To accomplish this, you'll need to start planning well in advance because reservations for camper ferries fill up rapidly. Campers are collected for an orientation at the ferry docks. You are then free to gather your belongings, pack them, and wheel them to the campsite. If you are traveling with a group, send someone over once the orientation is finished to quickly obtain a free campsite while the rest of your company packs up their belongings.
Getting To Dry Tortugas In A Ferry
Campers only have one option if they don't have their own boat: the Yankee Freedom ferry, which departs from the Key West Seaport.
Upon arriving at Garden Key, private vessels should check with a ranger for information on camping and boat anchoring spots. Within one nautical mile of the Fort Jefferson port light, overnight anchoring is permitted in the sand and rubble bottom area, but it must not block any approved waterway.
Anywhere else in Dry Tortugas National Park, overnight anchoring is not allowed. When you arrive, you can use the wheeled carts on the dock to help you get your camping supplies from your boat to the campsite.
Adult campers must pay a round-trip fee of $220 (seasonal prices vary). There are just 11 campsites on the island hence, there are only a limited number of reservations available for campers. If you arrive by ferry, camping is only permitted for three days. 
You must arrive at the Yankee Freedom with all your supplies and gear by 6:00 a.m. on the morning of your journey if you want to camp at the Dry Tortugas National Park.
If you don't plan on camping, you'll have a breakfast snack when you board the ferry at 7:30 a.m. from Key West. The onboard naturalist will give you a tour of the area and the surroundings of Dry Tortugas National Park as you travel there. You will delight in the stunning landscape of the Marquesa Islands, Boca Grande, and frequent sightings of turtles and dolphins as you go to one of America's most isolated National Parks.
You can choose between taking an observation deck outside or traveling in the main cabin's air-conditioned comfort. The Yankee Freedom has three lavatories, a freshwater rinse shower, three restrooms, a full galley with food, soft drinks, beer, wine, mixed beverages (only on return rides), movies, and souvenirs. After departing Key West harbor, you will be at the National Park's limits in 2 hours and 10 minutes.
When you arrive in Dry Tortugas National Park, you can attend a guided tour or a brief educational session after disembarking at Fort Jefferson. After the tour, you can eat your complimentary box lunch back at the Yankee Freedom.
Visitors can enjoy swimming, snorkeling in Key West, beach walks, touring, birding, and the pristine island's flora and fauna.
What To Bring At Your Dry Tortugas Camping Trip
Camping at Dry Tortugas National Park is a packing challenge. You must bring everything, but you must also pack it all tightly into tote bags or storage bins and be able to load and unload it yourself onto and off of the ferry. Here are the things we recommend you bring on your trip:
Food and Water:

We suggest bringing two gallons of water per person per day to account for the hot climate. Additionally, carrying an extra day's worth of food and water is wise in case the ferry service is canceled. Store your food in sturdy, rat and crab-resistant hard-sided containers, and utilize available posts for hanging food and trash.

Shelter:

Make sure to bring a tent (mandatory), a sleeping bag, a sleeping pad, and robust stakes to withstand the frequent strong winds.

Cooking:

For cooking, have match-light charcoal for campground grills (please note that fuel isn't allowed on ferries), waterproof matches, a lighter, cooking utensils, biodegradable soap, and garbage bags.

Clothing:

Pack a range of clothing suitable for cold and warm weather. Include rain gear, a lightweight long-sleeve shirt and pants for protection against the sun and bugs, and a wide-brimmed hat.

Personal Equipment:

Remember essential personal items such as medications, a first-aid kit, a knife, a flashlight with spare batteries, snorkeling equipment, binoculars, sunglasses, sunscreen, insect repellent, and other necessities. You may have additional safety gear if you're a private boater or paddler.
Additional Reminders For A Full Dry Tortugas Camping Experience
Explorer Ponce de Leon gave the island the Spanish name Tortuga, which means "turtle" in English. Later, seamen added the word "Dry" to indicate no fresh water supply. Shipwrecks from the 1600s are abundant in the waterways surrounding the islands. Here's how you can have a full camping experience at Dry Tortugas:
During the day, take some bread and feed the fish off the dock. From the dock, shine your flashlight into the water at night. (This is an effective method to draw in little fish that draw in sharks and larger fish.)

Watch where you walk within the fort, especially if you have children. There are no walls or rails to prevent you from tripping over the edge of the second floor because it was never built.

Spend some time hanging out on the fort's upper floor. The water's hue is so vivid it appears to have been Photoshopped.

Take the snorkeling, particularly near the piles that still stand as the remains of the coal docks. The chart provided by Yankee Freedom, which highlights the greatest snorkeling, provides helpful information. Try as many of those areas as you can if you enjoy snorkeling. 

A light wet suit is recommended if you're camping in the winter because the sea gets as cold as 69 or 70 degrees.

Bring your fishing gear if you have a Florida saltwater fishing license. That's how other campers catch their dinner.

Take notice of the room on the second story that lies over the sallyport (entrance) to Fort Jefferson. Strangely, it is not labeled, yet it is the chamber where Dr. Samuel Mudd resided. He and the other prisoners dug a tiny trench in the floor to drain the water so they could sleep on a dry surface. You will learn about him and his amazing biography at the fort.

Look for the stalactites and stalagmites the 150-year-old water seepage through the fort's brickwork creates.

The Dry Tortugas, an important stopover for migratory birds along the flyway between North America and South America, is a favorite destination for birders in the springtime.  On an adjacent island called Bush Key, where sooty tern nests prevent access throughout the spring and summer, some 100,000 sooty terns congregate every year. A wide variety of songbirds are among the springtime visitors. April and May are the busiest months. The peregrine falcon is a product of the raptor migration in the fall, which makes a stop at the Dry Tortugas.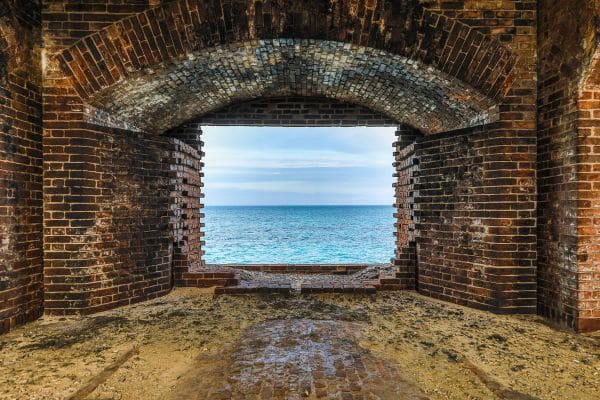 Make The Most Out Of Your Camping Experience at Dry Tortugas
The Dry Tortugas National Park offers a unique and captivating camping experience for those seeking an adventure. Nestled amidst the turquoise waters of the Gulf of Mexico, this remote paradise promises an escape from the ordinary and a chance to immerse yourself in the wonders of nature.
To make the most out of your camping experience at Dry Tortugas, meticulous preparation is key. Remember to secure your camping permit well in advance, arrange transportation, and pack thoughtfully, considering essentials like water, shelter, clothing, and food. Embrace the opportunity to explore pristine beaches, historic forts, and vibrant underwater ecosystems through snorkeling and hiking.
One of the most amazing ways to explore the uniqueness and beauty of this vast chain of islands is to go tent camping in the Florida Keys. We have put up a list of our top 16 sites for tent camping in the Florida Keys to help you choose the appropriate one for you if you have finally decided on your trip to the islands but are still having trouble selecting the campsite.
Finding manatees in the Florida Keys can be a challenge, but your chances of seeing these gentle and lovely creatures are substantially higher if you're on the islands! We've developed a list of the finest places to watch manatees in the Florida Keys. Learn more about manatees and how to find them!
Let's embark on a journey to discover the best Key West beaches that promise a tropical escape like no other. Nestled at the southernmost tip of the United States, this tropical paradise boasts a collection of beaches that beckon travelers to unwind and bask in their serene beauty.
Dry Tortugas Camping FAQs