Long Key State Park, located in the Florida Keys, has a fascinating history as a destination once reserved for the rich and famous. Today, it is a remarkable testament to the changing tides of accessibility and conservation. 
Imagine a time when pristine beaches, lush mangroves, and breathtaking natural beauty were exclusively accessible to the elite. This article delves into the captivating story of Long Key State Park, tracing its transformation from an exclusive retreat to a public treasure.
The Long Key State Park's Past And Present
The Long Key State Park, which used to be a popular destination for wealthy and well-off tourists, is now a peaceful sanctuary where you can go birdwatching, swimming, kayaking, or just sit on the coast and take in the view of the Atlantic Ocean.
This island served as a work camp for railroad workers building trestles and installing tracks to Key West during the turn of the 20th century for Henry Flagler's ambitious project. The camp's lodge and cottages were transformed into the Long Key Fishing Camp, now famed for being the author Zane Grey's famous winter residence from 1911 to 1926, and is served by the railroad.
Grey and American presidents were among the famous people who fished here, and many other well-known saltwater fishermen of the era. However, the 1935 Labor Day Hurricane completely damaged the building, which was never used again.
Hurricane Irma significantly damaged Long Key in 2017, and work is still being done to repair the beachside campgrounds. The full-service campgrounds were renowned for their views of the Florida Keys' azure ocean. Even though work to repair these locations is already underway, the park welcomes visitors with hike-in, tent-only campsites. 
Recreational options, including kayaking, hiking, birding, picnicking, flats fishing, and snorkeling, are only the beginning of what the excursions might entail in today's stunning Florida State Park. Come on out and spend the day at Long Key State Park!
Note: Please contact the park for the most recent information on restoration activities.
Experiences at Long Key State Park
TV88 Tours Long Key State Park with Park Services Specialist Chanell Guillaume
The park is accessible from 8 AM until sunset. Here are the admission fees at Long Key State Park:
| | |
| --- | --- |
| Admission | Fees |
| One person | $4.50 |
| Two-plus people | $5 plus 50 cents per person |
| Pedestrians and bicyclists | $2.50 each |
| Hike-in, tent-only campsites | $22.50 per night |
The park's hike-in, tent-only campsites are situated along the Atlantic Ocean in the Florida Keys. There are no power or water hookups; however, each tent site has a grill, picnic table, and hammock stand.
All Long Key State Park visitors will be given access to a wide range of amenities. These facilities consist of:
Beach wheelchair

Easily accessible restrooms

Accessible showers in the campground

Wheelchair ramp leading to the mangrove boardwalk

The park welcomes service animals; they are allowed in the public areas of the park
There are parking spaces accessible throughout the park. Pets are not permitted in the toilets, picnic areas, natural coastlines, picnic shelters, or on beaches. They must be on a six-foot hand-held leash and behave themselves at all times in the places where they are permitted. A picnic spot by the water has covered pavilions with tables. 
On your outdoor travels, it's crucial to stay hydrated. Simply carry a refillable water bottle to top it off at the park. This way, there will be less single-use plastic in landfills and less plastic trash in Florida's waterways, beaches, and campgrounds. Two stations for refilling water bottles are located at the restrooms at Long Key State Park. 
From the Florida Fish and Wildlife Conservation Commission 14 years ago
The park offers a superb opportunity for birding and is a recognized stop on the Great Florida Birding and Wildlife Trail. Wading and shorebirds can be seen yearly, but migrants are only visible during certain times. Ibis, egrets, and herons are frequent. Lucky visitors might spot a white-crowned pigeon or roseate spoonbill.
More than 500 top wildlife-watching locations are connected along the Great Florida Birding and Wildlife Trail. The Trail is the place to go if you want to observe native birds, butterflies, and other wildlife in Florida. Although wildlife-watching activities attract millions of residents and tourists each year and generate billions of dollars for Florida's economy, the Trail's main objective is to promote the preservation of the state's unique habitats and animals.
The Florida Fish and Wildlife Conservation Commission's program, The Trail, is made possible by numerous federal, state, and local government organizations, non-governmental organizations, and private landowners. It is partly supported by the Florida Department of Transportation and the Fish and Wildlife Foundation of Florida.
Visitors can enjoy two land-based nature trails in the park: The Golden Orb Trail and the Layton Trail.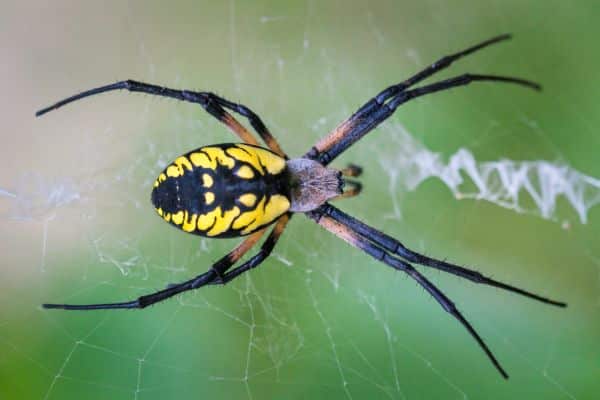 The parking lot serves as both the beginning and finish of the 1.5-mile Golden Orb Trail. Although there probably will be few along this trail, the golden silk orb-weaver spider is the inspiration for the trail's name. This spider was widespread before Hurricane Irma's devastation in September 2017, but it is now uncommon and elusive. 
Visitors are transported into hardwood hammocks, which are higher in elevation and considerably drier, as soon as they take the first steps along the trail. Various tropical plants flourish due to this ecosystem change, providing an essential haven for songbirds. Visitors can view poisonwood and gumbo limbo trees in this area. These hardwood hammocks are frequently home to white-crowned pigeons, a species the state has categorized as vulnerable. The fruit from the poisonwood tree is the pigeons' preferred diet. 
As you proceed down the route, the elevation changes are scarcely perceptible to the human eye. The Keys tidal barren (salt pan) is where visitors will see that the local plant life drastically changes and the canopy vanishes. The salt pan is frequently covered in small puddles of water due to its lower elevation, which makes it vulnerable to the daily high tides. In this setting, the desert-like landscape is dominated by shorter and smaller plants, including mangroves, wild dilly, and joewood.
The absence of a canopy makes the tidal barren a great place to look up and observe birds. Meanwhile, the fiddler crab makes tiny craters in the earth. Sometimes, there are so many crabs out and about.
The trail meets the ocean at the Keys tidal barren's end. Visitors are welcome to stroll along the seashore in this location leisurely.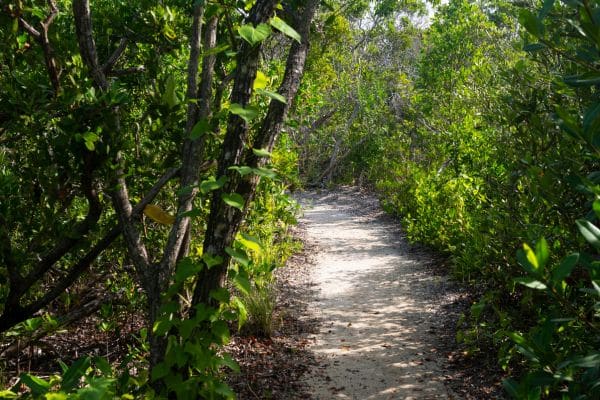 The bay side of Long Key, a largely unspoiled border of mangroves and tropical hammocks along Florida Bay, is the serene, less well-known side of Long Key State Park. You can explore these habitats for a quarter-mile on the Layton Trail before emerging in a picturesque Florida Bay location. 
Note: Use insect repellent and be prepared for mosquitoes. Poisonwood trees spread throughout the tropical hammock; do not touch the oozing tree bark there.
The Layton Trail winds past thatch palms, gumbo limbo, pigeon plum, and poisonwood as it circles through a lush tropical hardwood hammock. At the intersection of the loop, turn left to proceed to Florida Bay's limestone edge. Turn right and proceed along the shoreline lined with rubbish and dry grass.
The trail makes a right bend to re-enter the tropical hammock and complete the loop at an interpretive marker. When the trail leaves the tropical hammock and reaches the shore, you'll witness a panoramic vista of Florida Bay.
The Florida Keys provide some of the best sport fishing in the world. Fishing in the Middle Keys is renowned as among the world's greatest. Regulations regarding size, number, mode of capture, and season must be followed for all fishing within the park. 
You can have a fantastic fishing day without a boat. The historic Channel 5 and Channel 2 bridges that hop across Fiesta Key from Islamorada are particularly well-known for the fishing they provide access to and from Long Key. These were the original train overpasses that were later paved for automobiles and are now used as fishing piers. Some of the older spans on the Long Key Viaduct include fishing balconies.
Fishing Prospecting at Long Key State Park by Key West Kayak Fishing
If you have a boat, you should focus on the Gulf Stream and offshore reefs, Zane Grey's favorite fishing spots, or on the Florida Bay flats or along the bridge pilings connecting islands. Local expertise is advised, and on your first few trips, you might want to consider hiring a guide. You can buy fishing charts from Florida Sportsman magazine at any bait shop in the Keys.
At the lower end of Lower Matecumbe Key (Mile Marker 79.8), Bud 'n' Mary's Marina offers drift fishing excursions. At Bud 'n' Mary's, charters and backcountry guides are also offered. On the flats near the campground, fly fishing is quite well-liked. You can wade offshore from most of the island for hundreds of yards in some areas.
Note: A license is required for saltwater fishing in Florida, even from the shore. Despite being free, you still need to have a beachfront license. Florida residents over 65 are exempt from getting a license, but you'll still need a state-issued ID or a driver's license to establish your age. The Florida Fish and Wildlife Conservation Commission's Fishing in Florida website has more information.
Global positioning systems (GPS)-enabled handheld devices are used in the outdoor game known as geocaching. It functions as a low-cost, engaging, high-tech treasure hunt and is a fantastic method to learn about geography. To locate caches, participants utilize geographic coordinates. Some caches are simple to locate, while others are more challenging.
The greatest reward is the excitement of searching for and finding a new location. Environmental harm from geocaching should be kept to a minimum, and responsible land-use principles should be upheld. Learn more about geocaching here.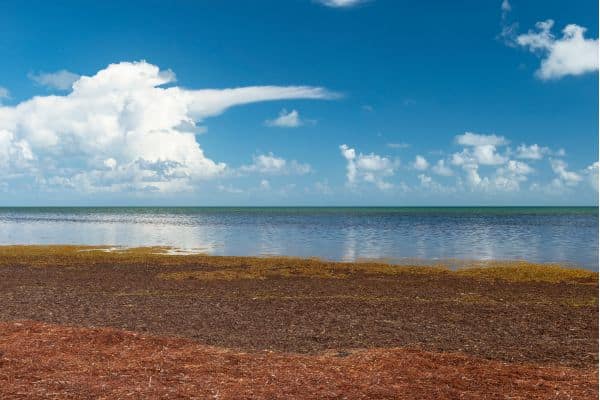 The natural shoreline of Long Key State Park is ideal for paddling and exploration due to the shallow waters. Visitors to the shoreline occasionally see sea stars, mullet, and horseshoe crabs. In the shallow grass flats, sportfish like bonefish and redfish can be found. During a paddle, kayakers have spotted loggerheads and green sea turtles.
At the ranger station, kayaks can be rented. For two hours, a single costs $17.50, and a double is $21.50. The park doesn't have any boat ramps. Visitors who require a trailer-accessible boat ramp should get in touch with the nearby marinas.
It is possible to swim and snorkel in designated places. As mentioned, the water at the park is typically shallow and has a seagrass-covered bottom.
The park is a great location to view the night sky because there is little light pollution there.
Long Key State Park: Open For Everyone!
Long Key State Park serves as a symbol of inclusivity and environmental preservation. Its designation as a state park in 1969 marked a significant turning point, shifting the purpose of the land from exclusivity to shared enjoyment. No longer limited to a privileged few, Long Key now welcomes families, nature enthusiasts, and adventure seekers to immerse themselves in its abundant beauty.
As we reflect on the Long Key State Park experience, we are reminded of preserving our natural treasures for future generations. Long Key stands as a beacon of hope, inspiring us to strive for a world where everyone can experience the wonders of nature firsthand.
Want to spend some time on the hammock? Or do you prefer an exhilarating deep-sea dive? The Florida Keys state parks should be on your bucket list.
Islamorada fishing charters help retain the island's "Sportfishing Capital of the World" title, as it caters to anglers of all skill levels. The town features a variety of fish species due to its access to gin-clear flats, pristine backcountry, and open ocean.