We present this ultimate guide to the Biscayne National Park snorkeling experience for avid explorers and nature enthusiasts who want a unique experience in Florida. 
Nestled along the sun-kissed shores of Florida, Biscayne National Park stands as a sanctuary of marine marvels, inviting you to embark on a snorkeling adventure like no other. Whether you're a seasoned underwater voyager or a curious first-timer, this guide promises to unlock the secrets of this aquatic haven, providing you with all you need to know to make your snorkeling escapade memorable and seamless.
Exploring The Biscayne National Park In Florida
Located just 30 kilometers south of Miami, Biscayne National Park safeguards the northernmost living coral reef ecosystem in the United States. Over ninety-five percent of the park is "underwater" and is only accessible by watercraft. It consists of a remarkable combination of aquamarine waters inhabited by colorful fish, sea turtles, dolphins, and manatees, attractive islands with mangrove trees, and extraordinary coral reefs. It also has a history of over 10,000 years, including pirates, shipwrecks, pineapple producers, and presidents.
Despite its proximity to one of the country's largest cities, Biscayne National Park's wild waters, islands, and mangroves are remarkably pristine. Despite efforts in the 1960s to transform the area into a massive waterfront residential community, the park is thriving today. Its terrestrial and aquatic animal diversity readily matches and exceeds that of every other National Park System unit.
The Biscayne National Park Institute is a non-profit organization where your purchases directly benefit the park. Explore the mangrove estuaries and shipwrecks in the bay and ocean, or dive beneath the waters to observe the vibrant coral reefs. Visit the uninhabited Florida Keys and stroll along their undeveloped beaches and trails. In addition, there are picnic areas and facilities.
The true charm of Biscayne National Park is that each visitor will have a unique experience, which can help you develop a deeper connection to the park's history and ecosystems. The programs, ranging from a few hours to a full day, highlight the park's incredible wildlife, rich history, and astounding marine ecosystems.
What Is Biscayne National Park Known For?
Things to do and see when you visit Biscayne National Park by Shore Me Some More
But what is Biscayne National Park known for? You guessed it right! Underwater activities, particularly snorkeling. 
Biscayne National Park is well-known for its outstanding snorkeling opportunities. The park's crystal-clear waters, teeming with an astounding variety of marine life and vibrant coral formations, make it a preeminent destination for snorkelers of all levels. 
Due to its distance to the Florida Keys and the warm waters of the Gulf Stream, Biscayne offers an underwater world that rivals some of the world's finest snorkeling spots. Snorkelers can immerse themselves in the captivating underwater world, encountering colorful fish darting among coral gardens, graceful sea turtles drifting through the depths, and even the possibility of spotting mesmerizing shipwrecks that have evolved into artificial reefs. Due to the accessibility of these underwater marvels and the simplicity of snorkeling, Biscayne National Park is an ideal destination for those searching for an unforgettable underwater adventure.
How To Maximize Your Biscayne National Park Snorkel Tours
Biscayne National Park is home to a wide variety of wildlife, including marine turtles, American crocodiles, manatees, bottlenose dolphins, over 600 native fish species, and hundreds of bird species.
The Boca Chita Lighthouse, a 65-foot-tall structure constructed in 1938, provides the best view of the Miami skyline in the park. The only way to reach the Boca Chita Key lighthouse is by watercraft. The Biscayne National Park Institute offers a variety of eco-friendly itineraries that include visits to the key and the lighthouse, as well as sailing and snorkeling excursions.
Biscayne Maritime Heritage Trail
Diving the Biscayne Maritime Heritage Trail by VISIT FLORIDA
Out in the Atlantic, snorkelers and divers can explore the Biscayne Maritime Heritage Trail, which connects six shipwrecks within the park's boundaries, from the 1878-sunken steamship Arratoon Apcar to the 1966 sunken schooner Mandalay. The route runs south of Key Biscayne to Elliott Key's southernmost point.
The park also offers a Jones Lagoon excursion to an isolated portion known for its nesting colonies and uncommon birds, such as the roseate spoonbill, sea turtles, and baby sharks. The best way for non-boat owners to get up close and personal with staghorn, elkhorn, and other coral species and thousands of colorful tropical fish is through one of the park's scuba and snorkel experiences.
What Else You Need To Know Before Snorkeling In Biscayne National Park
Before you take the plunge into the enchanting underwater realm of Biscayne National Park, there are a few crucial tidbits to remember. As you prepare for your snorkeling escapade, understanding the park's regulations, weather patterns, equipment essentials, and safety measures becomes paramount. In this section, we delve into everything you need to know before visiting the park, ensuring that your adventure is immersive and memorable but also safe and well-informed. 
Because Biscayne National Park is primarily accessible only by boat, many visits require planning, including boat tours and island lodging reservations. Anyone traveling to Biscayne during the summer should bring insect repellent, as the mosquito population is notoriously aggressive. 
Anyone entering the water to swim, scuba dive or snorkel is strongly advised to use reef-safe sunscreens (zinc oxide and titanium dioxide).
Children older than 8 can participate in various guided activities organized by the Biscayne National Park Institute, such as a small-group snorkeling excursion and an excursion that combines snorkeling with sailing and canoeing, as well as an island visit. Others, such as the snorkel and paddle eco-adventure, are available to children aged 12 and up.
The park's navigable waters are accessible around-the-clock. Due to low tides and sensitive coral areas, evaluating the park's boating regulations regarding marinas, safety, and tide predictions before your visit is essential.
To fish in park waters, anglers older than 16 must possess a Florida Fish & Wildlife Conservation Commission (FWC) license. Many areas are off-limits to fishing; consult the NPS website for a list of restricted areas and more information on fishing and lobstering.
Service animals are permitted within Biscayne National Park. Elliott Key and the premises of Convoy Point (but not the Dante Fascell Visitor Center) are the only locations where pets are permitted. They are prohibited everywhere on Boca Chita Key, including moored vessels. Pets must always be on a leash no longer than six feet. Visitors must pick up after themselves and dispose of trash responsibly. Find Biscayne National Park's complete pet policy and service animal guide

here

.
Visitors without a vehicle can reach the park via the Homestead National Parks Trolley (late November through April on weekends), which connects to Miami-Dade municipal bus service.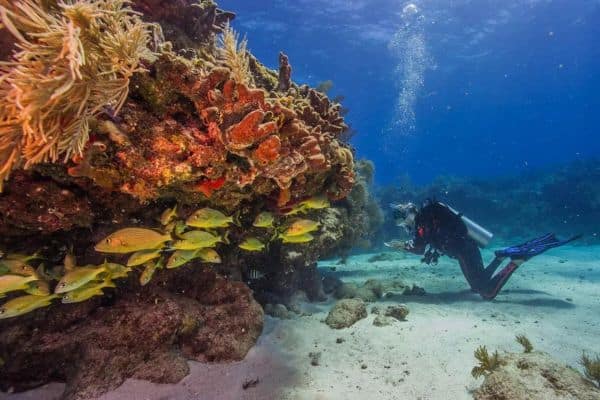 Experience The Best Snorkeling In Biscayne National Park
In the heart of Biscayne National Park lies a world that transcends the ordinary, where azure waters cradle a breathtaking tapestry of marine life and coral gardens. As we conclude this journey, one thing becomes abundantly clear: the allure of this underwater paradise is nothing short of magical. 
From the vibrant ballet of fish darting through vibrant corals to the gentle sway of seagrass beneath the sun's golden embrace, Biscayne National Park's snorkeling opportunities promise moments of awe and wonder that stay etched in memory. Remember to embrace the responsibility of preserving this delicate ecosystem for generations to come.
The Florida Keys is a great place to snorkel because there are so many different spots to visit and at any given time, you may find a new one. You don't need a guide to find the best spots for snorkeling in the Florida keys, just know where you want to go ahead of time. Here are a few amazing spots you can't miss!
John Pennekamp Coral Reef State Park: The First Underwater Park In The US
John Pennekamp Coral Reef State Park is the country's first underwater park, which spans roughly 70 nautical square miles. Let's see what more it has to offer!
Biscayne National Park Snorkeling FAQs