Nestled along Florida's stunning Gulf Coast, friends and families shouldn't miss the most fun things to do in Siesta Key! Whether you're a resident or a visitor exploring the area, Siesta Key offers abundant fun-filled activities to suit every taste.
From its pristine beaches with powdery white sand to its vibrant nightlife and diverse culinary scene, Siesta Key promises an unforgettable experience for all. Get ready to immerse yourself in the sun, sand, and endless possibilities on this captivating island getaway.
Why Is Siesta Key So Popular?
Why is Siesta Key so popular? Well, Siesta Beach was ranked #2 Beach in the US in 2023 by TripAdvisor's Traveler's Choice Awards.
Siesta Public Beach has twice been chosen as the best in the country. This eight-mile-long island features nightlife, dining, shopping, and resorts. 
The barrier island of Siesta Key, which is close to the brimming Gulf of Mexico, can be reached from downtown Sarasota. It is a must-visit island paradise known for its white quartz beaches, turquoise waters, and various beachside amenities. Everyone can find something to enjoy in Siesta Key. 
Siesta Key is a playground for outdoor excursions, a family vacation spot, and a romantic retreat for couples. Remember that the beach and bay are always nearby wherever you stay.
Plan Your Trip To Siesta Key: 20 of The Most Fun Things To Do
Traveling to Siesta Key offers the chance to enjoy the pinnacle of a tropical paradise. Prepare to immerse yourself in a world of sun-drenched beaches, breathtaking natural beauty, and unlimited recreational opportunities as you prepare for your journey to this charming barrier island along Florida's Gulf Coast. 
So let's start with the fundamentals of organizing your Siesta Key vacation, ensuring that every element of your stay is filled with rest, exploration, and priceless memories.
A stunning video of Siesta Key Beach by Florida 4K
The Siesta Key Beach, frequently named the best beach in the country, lives up to the hype. It is one of the top beaches in Florida with blue water because of the fine, white sand and stunning ocean.
On Siesta Beach, you could laze around all day reading a page-turner and soaking up the sun. Still, it would be negligent to refrain from participating in some of the numerous available local water activities. Siesta Key is ideal for parasailing, windsurfing, and kiteboarding because of its wonderful offshore breeze. Take a boating or fishing expedition farther from the coast, see dolphins playing in the wild, or engage in heart-pounding jet skiing.
Siesta Key Beach has numerous public access locations. The beach access with the most amenities is the Siesta Key pavilion. A volleyball court, bike racks, beach wheelchairs, lifeguards, and showers are available. Though some Siesta Key beaches and access sites are without parking, most do. It is a good idea to explore parking locations in advance and consider using a taxi.
The public beach has a large parking lot with 976 spaces. Here's a parking access guide:
| | | |
| --- | --- | --- |
| Siesta Key Beach Access | Location | Number of Parking Spaces |
| #1 | 3940 N Shell Road – at the end of a residential street | 9 |
| #4 | 136 Beach Road – near Siesta Key Village | 4 |
| #5 | Corner of Ocean Blvd and Beach Road – near Siesta Key Village | 25 |
| #7 | 412 Beach Road – near Siesta Key Village | 35 |
| #8 | 471 Beach Road – near Siesta Key Village | 20 |
| #9 | 507 Beach Road – near Siesta Public Beach and Siesta Key Village | 20 |
| #12 | Near Stickney Point at Midnight Pass Road and Old Stickney Point Road, and near South Siesta | 25 |
Numerous parking spots on Siesta Key are available and free. The Siesta Key Public Beach has the easiest parking at 948 Beach Road, according to CS Ginger Travel. Although the beach is packed, there are typically spaces open all day. The easier it will be for you to find a place, the earlier you arrive.
In the center of Siesta Key is a three- or four-block commercial district called Siesta Key Village. This bustling part of town is just five minutes north of Siesta Beach. Several of the island's most popular attractions are located in the village. 
Siesta Key Village tour by Sol Searcher
If you want to spend some time away from the beach, Siesta Key Village is ideal. The town is enjoyable to explore on foot. It is home to several highly regarded art galleries, boutique shops, and local markets that offer fantastic indoor entertainment. The hamlet also offers a grocery shop where you can stock up on goods that will be ideal for BBQ meals at the beach's picnic spots if you don't want to dine out three times a day.
Visit the Siesta Farmers Market if you are in the area on a Sunday morning. Stock up on fresh food, artwork, jewelry, crafts, crafts, rum from Florida's oldest distillery, and even produce. There are roughly 100 shops, eateries, and operating businesses at Siesta Key Village. You may visit some of them:
Beach Bazaar of Sarasota

Daquiri Deck

Lotus Boutique

Foxy Lady Siesta Key
After the sun sets, the Siesta Key Village really comes to life. The best nightlife on the island can be found here, where a mix of locals and visitors creates a fun environment. 
On South Siesta Key, there is a public beach called Turtle Beach, which is about a 15-minute drive from Siesta Key Public Beach. It is unquestionably a more tranquil area of the island.
The beach is still enjoyable despite lacking the lovely silky, white sand of Siesta Key Beach. It has rougher sand and slopes into the water more quickly. Use the beach volleyball nets and horseshoe pits if you're up for family fun!
A sneak peek of Turtle Beach by Florida 4K
For a better day on the beach, Turtle Beach has a parking area with approximately 300 spaces and a boat ramp where you can launch your kayaks or sail in the evening. In addition to boating, this is a popular place for kayaking and paddleboarding. Behind the shore is a sizable park where kids can run wild. Along with a pavilion and numerous park benches for a picnic in the afternoon, the park also has restrooms and showers.
If you want to spend more time in this place, the Turtle Beach Campground offers camping options. Take advantage of it because there aren't many campgrounds in Florida that provide immediate beach access.
Turtle Beach is a fantastic choice for snorkeling because there aren't as many people. Some of the nicest shells can be discovered when snorkeling. The optimum times to search for shells are an hour before and an hour after low tide. An additional favorable time to find shells is immediately following a storm. Shark teeth can also be found in abundance in Turtle Beach. 
Look through the sand for a few gorgeous seashells to take home as a souvenir!
The beautiful and less crowded Venice Beach by Florida 4K
Near Nokomis, about 30 minutes south of Siesta Key, is Venice Beach. It is named as such because it resembles a well-known Italian city. Its historic core is only a short stroll away, while the beach offers warm waves and stunning cityscapes.
Caspersen Beach, South Brohard Beach, Brohard Beach Fishing Pier, and Venice Municipal Beach are a few additional enjoyable beaches in the region. You should also explore the downtown area of Venice while you're there. It is a lovely village with noticeable northern Italian architectural influences. 
The search for fossilized shark teeth and shells in this region of Florida is highly well-liked. Shark teeth from the Paleozoic period are rather common here. In fact, it is regarded as the world's shark tooth capital. 
Like many of Florida's Gulf Coast's best beaches, Venice Beach offers visitors glistening white sand, calm waves, and Instagrammable lifeguard towers. Venice Beach's expansive shoreline and waterfront bars and restaurants give the area a vibrant atmosphere.
Despite Siesta Key Beach getting all the attention, Crescent Beach is undoubtedly one of the barrier island's most picturesque locations. Your first thought will be, "Why is the beach so quiet?" before the brilliant turquoise waves attract your attention.
Although it's one of Siesta Key's most picturesque beaches, Crescent Beach attracts fewer visitors due to its greater seclusion than its more well-known counterpart. Public beach access is available via Midnight Pass Road, which is "blink-and-you'll-miss-it" in nature. The need for more amenities is another factor in the lack of crowds. It is, however, a simple workaround.
A nice beach in Siesta Key – Crescent Beach – by Florida 4K
There are roughly 25 parking spots available. Arriving early is advised because parking can be challenging. Although there are no designated public access points, street parking is nearby. At Midnight Pass Road and Old Stickney Point Road, there is parking close to Stickney Point.
The ultimate thing to do at Crescent Beach is to swim in glistening seas with plenty of room to spread out on powder-like sand. Another attraction of Siesta Key is the Point of Rocks, located at the beach's southern end.
Point of Rocks is a popular diving and snorkeling location near Siesta Key. The quickest method to get to Point of Rocks is to stroll down Crescent Beach's southernmost stretch until you reach the sea wall. You can discover the tidal pools and snorkeling area just around the corner from it.
The aptly named Point isn't as frightening as it sounds; Point of Rocks also offers family-friendly entertainment. Point of Rocks is a great place for families with children of all ages because the water doesn't go deeper than five feet here. Wide-ranging marine life is visible in the expansive tidal pools. 
Discover crabs creeping across the surface or fish darting between enclaves. It is essential to wear water shoes because the pebbles might be slippery, and the terrain can be rough.
Snorkeling at Point of Rocks by TheToneman – Gulf Coast Snorkeling
7. Siesta Key Drum Circle
One of the great things to do in Siesta Key, Florida, at this time is to visit the beach because it is bustling. Beyond immaculate coastlines and breathtaking sunsets, Siesta Key is home to many entertaining local activities. The Siesta Key Drum Circle is among the best sights on the island. The local custom brings together dancers, performers, and families from around the island and surrounding area to celebrate music and fellowship.
Get to Siesta Beach an hour before sunset if you're in town on a Sunday night. Large crowds assembled on the beach for this exciting activity 52 times a year. A siren is used to signal the start of the drumming, which is followed by the instruments' pitter-pattering.
The community sings together as the music fills the air, bringing together people of all ages. Everyone can participate in the event as random instruments are distributed to the partygoers.
Here's a closeup experience of the Siesta Key Drum Circle by Cincinnati Clad King:
The Beer Can Island is a great neighboring beach to check out. The northernmost point of Longboat Key is about 35 minutes north of Siesta Key. It's a little difficult to travel to the island. 
To get to Beer Can Island, you must traverse some mangroves. Most guests arrive at the island by boat, using the shallow waters to beach their vessels without the need for a port. Alternatively, you can travel on four wheels to Beer Can Island via Broadway Street or North Shore Road. You will cross the bridge that links Anna Maria Island with Longboat Key. 
You can also walk across the bridge to get to the beach from Coquina Beach, where parking is most convenient. There is no public parking on the subdivision roads nearest the shore.
The beautiful yet vulnerable surroundings include bleached driftwood that has found a permanent home on the charming local beach. The forests and the turquoise colors clash at Beer Can Island, and the dead trees look completely out of place in such a picture-perfect setting. Bring a hammock to make the most of this well-liked attraction.
Sarasota Experiences takes you through a walking tour of Beer Can Island just after its renourishment project in 2021
If you enjoy taking long drives, Anna Maria Island, which is located about an hour north of Siesta Key, is the answer to your prayers. Travelers may experience a distinctive coastal village with a colorful past and lots of tourist attractions by taking a day trip to Anna Maria Island. 
Compared to Siesta Key, it is calmer and has less traffic. This tranquil island is primarily recognized for its expansive white sand beaches. It has lots of interesting shops, galleries, and eateries. It also has several entertaining piers. 
One of the nicest beaches on the island to visit is Coquina Beach, and a popular activity is going to Bean Point. Visit Bean Point in the evening for a breathtaking sunset.
Check out Anna Maria Island through this travel vlog by Alicia Mae Hirté.
Marco Island is a terrific option to take a day excursion to another gorgeous beach region. South of Siesta Key, it is roughly 2.5 hours away. The largest of the 10,000 Islands, Marco Island is situated along Florida's Paradise Coast.
A guide on the things to do at Marco Island
Kayaking, boating, and relaxing on the beach are all excellent things to do there. It has some of the state's best-preserved natural regions and over 100 miles of rivers. The Florida Everglades can be explored by kayak from Marco Island.
Tigertail Beach is the top beach on Marco Island. A tidal lagoon in the middle of the beach, which can be navigated through or around if you want to walk out to the ocean. It's possible to kayak, paddleboard, and swim in the inner lagoon.
Snook fishing on Siesta Key by Fishing with Essex
One of the top fishing spots in the country is on Florida's west coast. There are around 1,000 different fish species in the waters off the beaches of Siesta Key. You can either stand on a dock and fish yourself, or you can choose from a variety of tour organizations. Here are a few of Siesta Key's top public fishing spots:
Blind Pass Lagoon

Point of Rocks

Big Pass

Siesta Drive Bridge
And here are some companies that provide fishing expeditions if you'd prefer a more organized experience:
A Rodbender Fishing Charters

CB's Saltwater Outfitters & Boat Rentals
12. Kiteboarding or Wakeboarding
One of the enjoyable activities in Siesta Key, Florida, is kiteboarding, regardless of your experience level. It is a terrific activity to do directly from the beach because of Siesta Key's sandy beaches. 
There are numerous locations where you may rent equipment or get instruction in the area's vibrant kiteboarding culture. Another well-liked location to kiteboard is the channel that runs along Lido Key.
Parasailing is one of the enjoyable activities in Siesta Key. You can try this activity with Siesta Key Watersports. Up to 12 people can board a boat, making it simple to go out with a big party. Even parasailing with two to three persons at once is possible. 
This is a wonderful family outing close to Siesta Key that everyone will love.
Kayaking is one of the extremely enjoyable activities near Siesta Key, Florida, if you want to get out on the sea and explore the lovely water but aren't into kiteboarding. Lido Key is one of several fantastic locations in the region for kayaking.
For those who enjoy the outdoors and want to explore mangrove forests and search for wildlife like dolphins, rays, and manatees, this is the ideal Siesta Key activity. Families and novice paddlers alike will enjoy a mangrove kayaking tour.
15. Siesta Key Breeze Trolley
A video advertisement of the Siesta Key Chamber of Commerce Visitor Center
A tram connects Siesta Key Village and Turtle Beach – the Siesta Key Breeze Trolley. There are marked stops in between, but if you wish to board, you may easily flag it down. If you want to avoid having to travel far with your children, the trolley is a great and convenient method to go around Siesta Key, Florida.
Every day the trolley runs and operates from 8 AM to 10 PM on Sunday through Thursday. On the other hand, the trolley operates until midnight on Fridays and Saturdays.
What is the best aspect of the Siesta Key Breeze Trolley? It's free!
The first cycling tour company in Sarasota, Sarasota Bike Tours, offers all you need for a worry-free day of biking. Every tour includes a local guide who is well-versed in the area, as well as bikes, helmets, snacks, and water. Just show up and start peddling.
E-bikes can be a lot of fun. Sunset is among the greatest times of day on Siesta Key, and one of the nicest ways to enjoy the sunset is on an e-bike excursion.
The e-bikes are quite simple to use and make peddling incredibly simple. Even bicycles can be ridden on the sand. While riding down the beach, you can see the Gulf of Mexico's sunset.
17. Siesta Key Oyster Bar
A review of Siesta Key Oyster Bar by Goodall's Country Kitchen
With a meal and refreshments at the Siesta Key Oyster Bar, let the island party sensations take over you. One of the most well-liked spots to dine and drink on the barrier island is this restaurant and pub, popularly known as "SKOB" by locals and situated just a few steps away from the beach.
The bar's signature dish is oysters, as the name suggests. Join in the fun and save 50% on a dozen oysters at Big G's Oyster Happy Hour (3 PM to 6 PM daily).
This South Siesta Key beachfront restaurant features two glass-walled, casually stylish dining rooms and an outside dockside open-air patio. American and Asian, Italian and Floridian, and new-world and old-world flavors are all combined at Ophelia's on the Bay.
The freshest local fish and produce are used in the daily-changing menu. Eggplant Crepes, Colossal Lump Blue Crab Cakes, and Rope Cultured Prince Edward Island Black Mussels are notable appetizers. There is always a range of main dishes made with meat and seafood.
19. Captain Curt's Crab & Oyster Bar
On the southern end of the stunning Siesta Key, you can find Captain Curt's Village. There is everything you could need at Curt's Village to have a wonderful time.
Captain Curt's Crab & Oyster Bar is where you can eat, drink, and have fun while traveling back in time to when wonderful, fresh seafood was the norm. For a taste of Captain Curt's Clam Chowder that will never be forgotten, tourists from all over the world visit Siesta Key. Captain Curt's Clam Chowder, which won the Great Chowder Cook-Off in Newport, Rhode Island, was named The World's Best!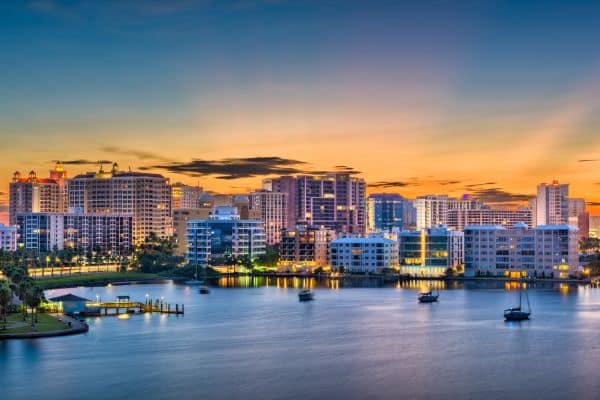 Sarasota is probably where your journey starts and ends because it is the town's entryway to Siesta Key. But the town need not serve as nothing more than a waypoint. In reality, Sarasota is a stunning city worth visiting on its own.
Located about 25 minutes to the north of Siesta Key, Sarasota is a charming and exciting city that you must explore while on your Siesta Key vacation. Beautiful beaches, golf courses, and botanical gardens are some of the city's most fun things to experience.
Wildlife enthusiasts will enjoy visiting the Mote Marine Laboratory and Aquarium as well as the Big Cat Habitat and Gulf Coast Sanctuary. There are a number of excellent museums to visit as well, with The Ringling being the best. Over 10,000 works of art, photographs, and sculptures from all eras are now housed in the spectacular art museum, which debuted in 1927.
Sarasota Jungle Gardens is another well-liked local attraction. The gardens have various exotic creatures, like pink flamingos and alligators, in addition to the beauty of a floral environment. The oldest and largest state park in Florida, Myakka River State Park, is also located there. Fishing, canoeing, and kayaking are all excellent in the area. Another popular activity there is taking an airboat ride.
Cedar Key Beach is the main beach on the island of Cedar Key, located around three miles into the Gulf of Mexico. Read on to learn more about it and the entertaining activities that await.
The Cabbage Key in Florida, a small island west of Fort Myers that can only be reached by boat, is well-known for various things, including its historic Dollar Bill Bar and its connection to Jimmy Buffett. Spending more time at Cabbage Key—especially in the serene mornings before day visitors arrive and on the radiant nights when there are only a few boaters and fishermen—unveils a new aspect of the island.
Things To Do In Siesta Key FAQs