Cedar Key Beach is the main beach on the island of Cedar Key, located around three miles into the Gulf of Mexico. Cedar Key is in a rural section of central Florida called the "Nature Coast." It is completely accessible to the general public, and there is no fee for using the causeway to reach the end of State Road 24, where the island paradise is situated.
Read on to learn more about Cedar Key Beach and the entertaining activities that await.
Cedar Key - The Island Paradise
The small community of Cedar Key is a charming, traditional, Old Florida holiday destination with magnificent beaches, fruitful fishing activities, and lush natural preserves. It is located about an hour's drive southwest of Gainesville.
Nearly all other significant cities are fairly remote from Cedar Key. Three bridges on the causeway cross salt marshes and a little spit of land. It's a place with few traffic lights and lots of peace and quiet. 
The homes and businesses of Cedar Key are perched on stilts above the Gulf of Mexico, with the water lapping at their bottoms. Florida residents frequently take weekend vacations to Cedar Key as it's a famous road trip destination in the state.
It's difficult to put into words, but the atmosphere of Cedar Key is a cross between a New England fishing community, a western frontier town, and an old hippy haven. "How Key West used to be" is a common description. Many structures date back centuries and are made of ancient, worn wood.
As the second-oldest community in Florida, Cedar Key has a lengthy and interesting history. Although it is now normally calm and quiet, it was previously one of Florida's busiest and most significant cities. Before the development of railroads and roads, Cedar Key served as a significant marine port that aided in trade and transportation throughout Florida.
Several creative people visit Cedar Key. Many painters, writers, photographers, and other creatives are attracted to the island's small-town atmosphere and stunning natural surroundings. 
From ancient times, Cedar Key has drawn visitors who enjoy the outdoors. John Muir, a well-known conservationist and environmentalist, stopped in Cedar Key during his "Thousand-Mile Walk to the Gulf," a journey from Indianapolis to the Gulf of Mexico.
Snowbirds that prefer a more relaxed pace of life than other Florida beach communities, which could be busier and more active, frequent Cedar Key. Many anglers and boaters enjoy visiting Cedar Key, and many of them have established long-term residences there.
Walking around the town exposes art galleries bursting with regional creations. You'll pass by vibrant mom-and-pop hotels and shops as you approach civilization. Then you enter this enchanted, walkable neighborhood with a main street and buildings covered in paintings. 
The atmosphere is upbeat and laid back. The best course of action is to leave your car parked and go exploring.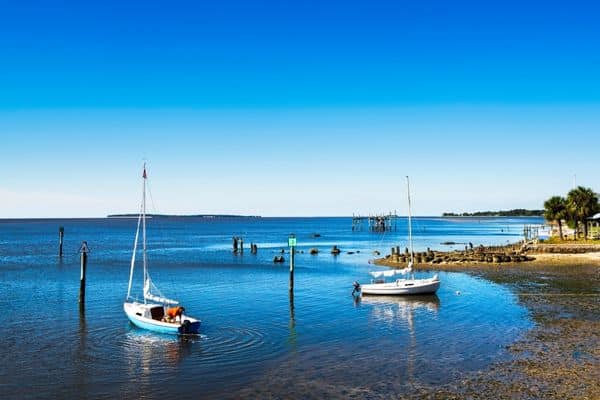 There are some lovely beaches in and around the Cedar Key area, even though the northern half of Florida's wildness is mostly dominated by salt marshes and similar landscapes. It's a terrific place to go if you want to spend some time on the sand and listen to the waves, feeling fully at peace. This site's calm stands out compared to the loudness and people of south Florida beach cities like Tampa and Miami.
Cedar Key Beach is the main beach in Cedar Key, with a designated swimming area. It's a small, quiet area, so there isn't much space to spread out and play beach games or other large activities, but it's a wonderful place to sit and enjoy the views while listening to the soft splash of the waves. 
Simply said, Cedar Key Beach is a must-see destination if you're in Cedar Key. It seldom gets too crowded and offers a tranquil, personal setting that couples and lone travelers will certainly appreciate. 
Cedar Key Beach is a nice kayak launching location to tour the adjacent islands and look out for some wildlife. There is a boat rental station nearby.
While there are numerous activities to do in Cedar Key, they all share the characteristics of being lowkey and leisurely. Check out the list below for some fun things to do near Cedar Key Beach.
One of the best things to do at Cedar Key is kayak out to Atsena Otie Key. The first town established in this collection of tiny islands was on the island of Atsena Otie Key. The pencil-wood factory was established there, and several hundred people were living there in the 1890s.
It ended when the town was destroyed by the hurricane of 1896 and a 10-foot storm surge. Residents who were still alive relocated to the island that is now Cedar Key. 
The Cedar Keys National Wildlife Refuge is currently in charge of overseeing the historic island of Atsena Otie Key. The old cemetery is visible at the end of a trail that leads through the woods and is shaded by oak trees.
With 400 feet of sandy shore, Cemetery Point Park is a three-and-a-half acre park situated on a coastal highland. The park offers a location to kayak, swim, and fish from the shore along a Gulf channel. 
The Florida Department of Environmental Protection has awarded a recreation grant to the City of Cedar Key to help develop the park. A picnic pavilion, a playground for kids, a restroom, a boardwalk access, and an overlook are all included in the development. The park's 1,200-foot boardwalk provides excellent views for bird watching and taking in the activity in a vibrant tidal marsh.
Cedar Key Museum State Park
Located on 18 acres of land, Cedar Key Museum State Park lets you stroll through mature oaks and pine trees before arriving at Cedar Key's extensive salt marshes. In 1867, John Muir did spend a few months in Cedar Key, which is recognized by a state historical sign on the property of the museum.
The displays are historical examples from the University of Florida design team's work on various displays for state parks during the 1950s and 1960s. This presents a singular opportunity to learn about Cedar Key's past while appreciating the amazing workmanship that went into creating these museum exhibits.
St. Clair Whitman, whose collections of seashells and Native American artifacts are on display in the museum, is honored by the historic Whitman residence. Another window into the past is provided by the residence, which has been meticulously restored to look as it did in the 1920s.
Railroad Trestle Nature Trail
The FNCC established the Cedar Key Railroad Trestle Trail trail, which is maintained with the very helpful assistance of the City of Cedar Key. The route is accessible to the public during the daytime and is situated on Grove Street close to State Road 24. Only pedestrians are permitted to use the area. 
The trail's course is a simple stroll past soaring pines, close to fragrant cedars, and through a wide variety of native plants and wildflowers. Every season offers a fresh view of the route and a variety of fauna that is constantly changing.
The location is ideal for a meditative stroll and has many photographic and artistic opportunities. The quantity and variety of species that swarm to this tranquil back marsh will delight birdwatchers.
The route of the former Fernandina to Cedar Key rail line can be visited by rail historians, who can also see the location of the line's former connection to the main cargo pier across the swamp. A few of the former trestle posts can still be seen by the water's edge.
Check out this very educational YouTube video from Florida Trailblazer, exploring the path of the old train track in the trail.
Cedar Key Historical Society Museum
On the picturesque island of Cedar Key off the coast of Florida, the Cedar Key History Museum is a well-kept gem. While learning intriguing tales about this seaside community's evolution over time, be enchanted by its alluring appeal.
See two historical structures that are rich in island history. There are exhibitions of prehistoric and Native American artifacts, commercial fishing equipment, and Florida's first coast-to-coast train, so there is something for everyone!
The museum is pet-friendly and wheelchair accessible. It costs $3.00 per person, and children 12 and under are free.
Clams are a big deal in Cedar Key. You can't go there and not try one of the most popular dishes on the island – clam chowder. Check out these popular eateries you can find near Cedar Key Beach.
Island Hotel & Restaurant
The Island Hotel, currently listed on the National Register of Historic Places, opened its doors in 1859 as Parsons and Hale's General Store. A great restaurant and bar are located on the main floor of this elegant bed and breakfast, with ten rooms on the second level.
Even if you choose not to stay there, you should still visit for dinner or a drink. When it was painted in 1948, the King Neptune painting in the Neptune Tavern with its bare-breasted mermaids was certainly scandalous.
A large balcony surrounds the second level with no phones or TVs. Some famous guests at the hotel include Jimmy Buffet, Richard Boone, Myrna Loy, and Tennessee Ernie Ford. According to legend, Jimmy Buffet sang and played his guitar from this location during many of his visits in the 1980s.
1842 Daily Grind & Mercantile
Little downtown cafe 1842 Daily Grind & Mercantile offers quick snacks and coffee. This cafe is one of Cedar Key's top-rated eateries for superb breakfast, lunch, and coffee.
This restaurant's pancakes, bagels, and sandwiches are excellent for catching up with friends. Upon entering, you'll notice the warm atmosphere created by the hardwood tables, chairs, and shelves stocked with freshly baked goods and the hippest coffee mugs.
As you enter Cedar Key for the first time, Annie's Cafe is in a plain old weathered building on your right. The trendier and newer restaurants downtown along the waterfront dock area is several blocks away. This cafe is among the top Cedar Key eateries with its attractive atmosphere, excellent cuisine, and helpful staff.
You'll pass through a tropical garden area as you enter the restaurant, which has some attractive plant arrangements and makes you feel comfortable. The entrance is encircled by a beautiful garden filled with creative pots and exotic flowers. The interior is tidy and welcoming. 
The first choice you'll have to make is whether to eat indoors, in the screened-in dining room, or on the waterfront patio. Without a doubt, the weather will influence your choice.
Annie's specialty is good old-fashioned cooking that transports you to Old Florida's simpler times. The menu features various foods, including grilled cheese sandwiches, chicken, and waffles. They provide the day's fresh fish, grits and greens, biscuits, and gravy.
One of their most popular dishes is their grouper sandwich. They also frequently serve soft-shell crab; if you're lucky, they're one of the few restaurants still serving mullet when it's in season.
Tony's Seafood Restaurant
Three miles out in the Gulf of Mexico on the little island community of Cedar Key, Tony's Seafood Restaurant first opened its doors in June 2005. After only one month of operation, Tony's 54-seat restaurant in Cedar Key's historic downtown debuted its renowned clam chowder.
You should put this restaurant at the top of your list of the best dining options in Cedar Key. The welcoming environment will make you feel at home as soon as you enter. It has wonderful nautical accents like paintings and fishing hooks, giving it a nautical theme.
Whether it's a sandwich of charred fish or succulent shrimp, they only serve locally caught seafood. Tony's founder and owner, Chef Eric, developed the incredible recipe for clam chowder while developing several other brand-new meals in Tony's modest kitchen. 
In the 1980s, Eric spent 12 years in the New England region and tried chowders from all around the Northeast. Thus was born the dish that would become an instant classic and the all-time winner of the international clam chowder competition.
People routinely ask for the recipe and always attempt to guess the ingredients. The formula's identity is a closely-guarded secret, known only to Chef Eric. Even the 2007 request for the recipe from Bon Appetite magazine was graciously declined.
As more customers became aware of the chowder, its popularity increased. Customers of Tony's eventually requested quarts and gallons to take home. Tony's started selling chowder online in September 2008 after launching a website. Soon after, it built a fully working concession trailer to transport the chowder to festivals and events around Florida.
Duncan's on the Gulf, one of Dock Street's most well-liked restaurants serves top-notch steak and seafood dishes. The lively environment of Duncan's on the Gulf makes it a favorite place to spend out with loved ones. Enjoy their delicious seafood and burgers while taking in the scenery, listening to music, or watching sports on TV.
The best of South Florida's traditional fresh seafood cooking is combined at Duncan's On The Gulf Restaurant with the healthier and more flavorful mesquite charcoal grilling. No matter what you are craving, you can find it on the extensive menu, which also features seafood, poboys, salads, spaghetti, burgers, and chicken. They are among the best birthday restaurants in Cedar Key since they also provide catering services for all events and occasions.
For more reference on where to eat and the place to go near Cedar Key Beach, check out this YouTube video showing a fun adventure across Cedar Key from Glorious Day Adventures.
Venture Out to Cedar Key Beach
A collection of tiny islands just off the shore make up Cedar Key, located in Levy County in the state's northwest. Fewer than a thousand people call Cedar Key home, yet it is widely regarded as a significant historical and ecological state region. The area's numerous beaches and fascinating Cedar Key Museum State Park draw many visitors yearly.
While many lovely beach towns around Florida, some of the best coastline sites include Naples, Miami, Destin, Clearwater, Tampa, and Siesta Key. If you're searching for something different, consider visiting Cedar Key.
Pigeon Key is a hidden gem waiting to be discovered, tucked away just beyond the stunning span of the famous 7 Mile Bridge. This captivating island invites visitors to go off on a trip through time and nature because it is rich in history and is surrounded by the clear waters of the Atlantic Ocean and the Gulf of Mexico.
Nestled along Florida's stunning Gulf Coast, friends and families shouldn't miss the most fun things to do in Siesta Key! Whether you're a resident or a visitor exploring the area, Siesta Key offers abundant fun-filled activities to suit every taste.
The Cabbage Key in Florida, a small island west of Fort Myers that can only be reached by boat, is well-known for various things, including its historic Dollar Bill Bar and its connection to Jimmy Buffett. But, spending more time at Cabbage Key—especially in the serene mornings before day visitors arrive and on the radiant nights when there are only a few boaters and fishermen—unveils a new aspect of the island.