Exploring the allure of the Florida Keys reveals a wealth of historical significance and natural beauty. Pigeon Key is a hidden gem waiting to be discovered, tucked away just beyond the stunning span of the famous 7 Mile Bridge. This captivating island invites visitors to go off on a trip through time and nature because it is rich in history and is surrounded by the clear waters of the Atlantic Ocean and the Gulf of Mexico. 
Pigeon Key is a tribute to the connected stories of human creativity and the natural grandeur of its coastal surrounds – what makes it an amazing tourist destination today.
Learn Pigeon Key's History
This five-acre site, which is listed on the National Register of Historic Places, functioned as a base for railroad employees building and then operating the Old Seven Mile Bridge, the last section of Henry M. Flagler's Key West Extension of the Florida East Coast (FEC) Railway.
The Keys were reachable from Florida's mainland thanks to Flagler's railway, and his Seven-Mile Bridge was regarded as an engineering marvel. Like Pigeon Key, the bridge is included on the National Historic Register. But now that automobiles may use the new Seven Mile Bridge, pedestrians, and bicycles use Flagler's engineering achievement as a fitness trail.
Following the island's designation as a National Historic Landmark in 1992, Pigeon Key was created; the rest is history! Pigeon Key, located at the edge of Marathon and tucked beneath this trestle, has seen a revival of its modest wood-frame homes. The Pigeon Key Foundation, which administers the island and tries to preserve its rich history, is responsible for the cottages largely painted in Flagler's signature yellow.
The ancient structures, which originally housed workers, are now used as classrooms and bunkhouses for the foundation's marine science education programs. The island's museum, The Assistant Bridge Tender's House, houses artifacts, photographs, and narratives about people who have lived there for over a century.
The 1935 Labor Day hurricane is reflected there, which claimed 400 lives overall, including 250 World War I veterans who were evacuated from work camps and drowned. The hurricane wrecked the railroad line, and Flagler immediately sold the bridge to the US Government.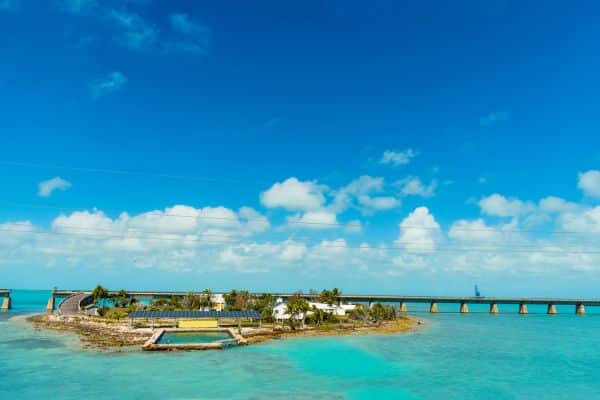 Pigeon Key Tours And Activities
Pigeon Key and Marine Science Center offers daily tours with four departures. The train leaves and arrives at the Pigeon Key Gift Shop. See the available times below, seven days a week, to manage your time wisely when setting off on a tour of Pigeon Key:
| | |
| --- | --- |
| Departure Times | Return Times |
| 10 AM | 12:20 PM |
| 11:30 AM | 1:50 PM |
| 1 PM (includes shark pool feeding) | 3:20 PM |
| 2:30 PM | 4:35 PM |
Visitors should check in at the Pigeon Key Visitors Center 10 minutes before the tour.
Here are the general admission pricing via train or bridge:
| | |
| --- | --- |
| Admission | Rates |
| Adult (13 and up) | $25 |
| Children (4-12 years old) | $20 |
| Veterans (must show military ID) | $23 |
| Ages 3 and below | Free |
You can buy tickets in person on the same day if you have a preference for a specific time and date, or you can reserve your ticket online.
Day & Overnight Marine Science Field Trips
Pigeon Key runs the Marine Science Center (PKFMSC) on a five-acre private island. The institute favors experiential learning, converting the island and its environment into a classroom.
More than 30,000 individuals from more than 1,000 schools across the United States have received private, individualized programs from PKFMSC for over 20 years. One student group is hosted by PKFMSC at a time, allowing them a customized experience catered to particular curricular requirements. Some of the most renowned marine scientists in the United States have devised and approved programs suitable for students of all ages, from elementary school through postgraduate level.
A snorkeling excursion to Sombrero Reef, the third-largest barrier coral reef system in the world, is included in each trip. All participants enjoy a setting that supports their unique learning styles through imaginative programs and activities, making a visit to Pigeon Key an unforgettable experience! 
This three days and two nights all-inclusive marine science field tours start at just $540 per person.
Marine Science Summer Camp
The curriculum at the Pigeon Key Marine Science Center favors experiential learning and contact with the Florida Keys ecology, giving campers a memorable, impactful, and unique experience.
The camp provides a range of marine programs that provide children with a firm grasp of the maritime environment. After a brief introduction to the topic, campers are immersed in it to use their newly acquired knowledge.
Numerous games, dissections, invertebrate collections, scavenger hunts for marine organisms, snorkeling excursions to Sombrero Reef, and other activities are available.
A sneak peek of Pigeon Key by TV88 Marathon Florida com
Visit The Historic Pigeon Key
Pigeon Key promises an unforgettable journey. As you traverse the paths that once echoed with the footsteps of pioneers and engineers or immerse yourself in the crystal-clear waters that teem with marine life, the island's unique blend of the past and present leaves an indelible mark on every traveler's soul.
Pigeon Key's invitation to explore its hidden corners, bask in its sun-drenched landscapes, and reflect on its historical significance is an opportunity to embrace both the tales of human achievement and the unspoiled beauty of nature that's being conserved until today.
Renowned as the longest bridge in the Florida Keys, Seven Mile Bridge has become an emblematic symbol of the region's rich history, natural beauty, and adventurous spirit. So, fasten your seatbelts and join us on a journey across the legendary Seven Mile Bridge—a true masterpiece of human ingenuity and an enduring symbol of Florida Keys.
Whether you're seeking a laid-back beach vacation or an action-packed getaway, this list of the 28 best things to do in Marathon, FL, is your ultimate guide to making the most of your time in this tropical paradise. Get ready to immerse yourself in the stunning surroundings and experience the charm and excitement that await you.