Seriously, everyone of any age or ability level can enjoy paddleboarding. That's why stand-up paddle board rentals in Key West are a must-do!
The Florida Keys are the ideal location for lovers of stand-up paddle boarding. It includes mangroves, beautiful islands, and crystal clear water to paddle on, which is everything a paddleboarding enthusiast could want. 
It's not that simple to locate all the best paddleboarding sites on your own, though, if you're a first-time visitor. Without any guidance or a guide, you risk missing out on some amazing paddleboarding spots. Here is a quick guide to help you on your stand-up paddleboarding trip to the Florida Keys.
What It's Like Paddleboarding in Key West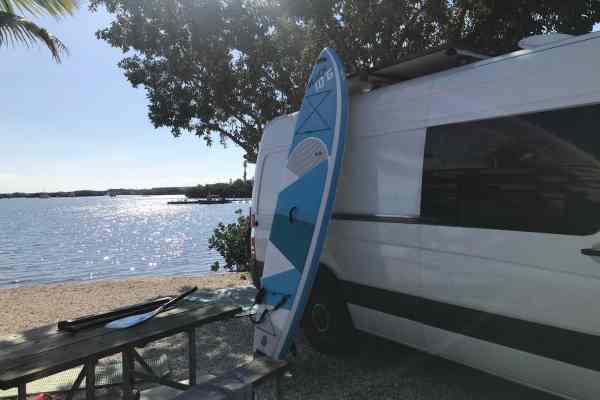 The Florida Keys are a group of tropical islands that are located 120 miles off Florida's southernmost point. A section of highway that runs above the stunning blue seas connects the islands. This lovely network of islands includes the island of Key West.
Key West has one of Florida's greatest views. Given its location sandwiched between the Gulf of Mexico and the Atlantic Ocean, it is no surprise that it is one of Florida's most popular vacation spots. 
Key West is the largest island in the Keys. A bulk of tourist travel to this particular island each year. And for a good reason. It's the ideal location for taking in the scenery, the lake, and a distinctive pub atmosphere.
The difficulty of a paddleboarding trip can be considerably influenced by tides and winds. Key West's location on the water makes it occasionally fairly windy. It is advised that you go early in the morning or late in the afternoon to paddle during the calmest conditions.
Be prepared for clear, blue skies in the morning. In the winter, it's possible for clouds to occasionally sweep in during the early afternoons, bringing with them sporadic downpours. Give yourself time to paddle at least two miles per hour in such circumstances.
Florida and the rest of the region are officially in hurricane season from June 1 to November 30. Even if hurricanes fail to make landfall, they might still have an adverse effect on your paddling trip. Before getting on the lake, always use a wind and weather app, or get local insider information by speaking with a paddling expert or outfitter.
If you stay in the protected mangrove areas, you can avoid the majority of windy situations. The flora and fauna that thrives in these places frequently shield you from the winds. You might witness bottlenose dolphins in great numbers as well as marine turtles, fish, eels, and sharks.
Always stay in regions with more boat activity to prevent any hazardous encounters with wildlife (crocodiles and snakes). Areas with quiet, undisturbed water are significantly more likely to harbor crocs and other deadly species. If a huge crocodile is spotted nearby, paddle quietly away from it without creating any sudden splashes or loud noises. 
Stand-up paddleboarding is just one of the many things available while visiting Key West. You may explore the extensive canals and mangrove trails in this area and see manatees and other species swim in the water. Utilize this travel guide, which is filled with insider knowledge on what makes Key West a great destination.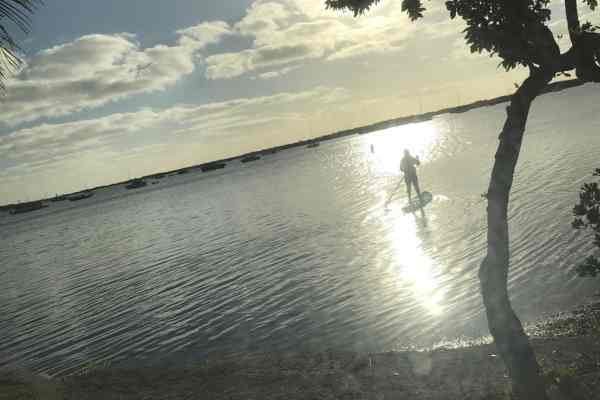 The Best Paddle Board Rentals You Can Find
Finding the ideal spots for paddle boarding in Key West may be challenging because of the area's size and topographic diversity, which runs from ports to mangroves. You might also wonder where you can get the best gear for paddleboarding, regardless of whether you're new to this kind of activity or a long-time stand-up paddleboarding enthusiast. 
But don't worry! Here are the best paddle board rentals in Key West you can find so you can have the best equipment for an ultimate paddleboarding experience!
In 1998, Lazy Dog was launched as a t-shirt and kayak company. Camillo, the first Lazy Dog, served as the model for the business's logo. 
Paddle boards became available for rental in 2007, but the business only decided to buy them for "fun" and to play. Two years later, Lazy Dog has the largest fleet of paddleboards on the island. To bring the paddleboarding industry back to Key West the right way, they started traveling the nation, competing in paddleboard races, attending workshops, and clinics, and getting certified. 
Rent a board from Lazy Dog and explore on your own, or take an eco-tour to enjoy the local marine life. They also provide fitness and yoga classes on paddle boards!
Navigate the Florida Keys' inner canals, wrecks, flats, beaches, and mangrove islands. You will be pleased with how simple paddleboarding or SUP (Stand Up Paddleboarding) is to learn if you have never done it before. Take your own paddleboard on a self-guided tour of Key West and find local mangrove estuaries, state parks, and beaches. 
You can rent a fiberglass board from Mellow Ventures along with handcrafted Kialoa paddles that are carefully picked. Their inflatable paddle boards are made to be portable and to perform at their best. Additionally, Mellow Ventures sell a variety of expensive Bote paddleboards and handle special orders. 
Cormorants, pelicans, ospreys, loggerhead turtles, sharks, and stingrays are just a few examples of wildlife that are frequently seen in Key West. Paddleboarding through the mangroves' clear, tranquil, and diverse environment is a relaxing and educational experience.
Enjoy the natural splendor of Key West during paddle board tours with Fun in the Sun Key West. Twice a day, from 8:15 am to 9:45 am, and from 4:30 pm to 6:00 pm (arrive 15 minutes early), tours depart from the Capitana. Hourly unguided rentals are also provided from 10 am to 5 pm (seasonal variations may apply). 
As you cross grass flats to a nearby mangrove channel, look for local aquatic life. Allow the knowledgeable tour guides to demonstrate the wonder and adventure of paddleboarding in the backcountry. The Key West paddleboard and kayak rentals are a fantastic way to enjoy the sunshine by the hour! 
Spend the day hanging out with your family! Before and after your paddle, unwind at the resort's pool and private beach.
A unique opportunity to see both the world above and below the water is provided by paddleboarding. It's an easy, enjoyable, and wonderful way to burn off all those Key West cocktails and delectable meals you've been indulging in while on vacation.
On your rental with Barefoot Billy's, explore Key West's stunning shoreline and waterways. The best way to explore this beautiful island is via paddle boarding. During your kayak, you might even see some local wildlife. Along the way, get in the water for a refreshing dip!
Top 5 Paddleboarding Locations
The Florida Keys is an island chain located 120 miles off Florida's southernmost point. This lovely network of islands includes the island metropolis of Key West. 
And if you're paddleboarding as part of a trip, don't forget to bring your action camera to capture some breathtaking images of the wilderness. Check out these beautiful spots and go paddleboarding in Key West.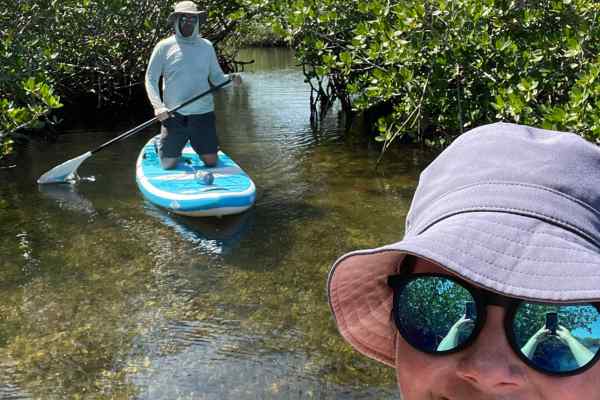 Continue going up US-1 S Highway in order to reach Bahia Honda State Park. Some of Florida's most spectacular marine life is waiting to be discovered in this beach paradise. The beautiful waters urge you to take a paddleboard and set out on the water. There is a high probability of spotting turtles, colorful fish, and other incredible marine life and birds in the ocean's pristine waters.
Paddle the length of Sandspur Beach and seek out a private palm tree along the mile-long stretch to escape the outside world. This sand beach surrounded by pristine water and palm trees will truly steal your breath away.
There are no SUP rentals or organized excursions available at this location. Therefore, either bring your own paddle board or paddle board rentals in Key West, and be sure to bring a map with you.
Blue-green water. Pristine lookouts. Superb snorkeling spots. If all of that sounds like a dream, you should go to Fort Zachary Taylor right away to make it happen.
At Key West's southernmost point, where the Key West Channel meets the Atlantic Ocean, you can carefully steer your stand-up paddleboards between boats going from the Key West Channel to the ocean. The beach at Fort Zachary is rocky and more open to ocean waves, so it's best to already know how to paddle board before you go there.
If you want to see what's below the surface, you might want to bring a snorkel and mask with you when you go SUP exploring. Keep your eyes open for sea turtles or dolphins that might be swimming next to you. You'll also see birds along the way, so don't forget to look up now and then.
In this southern part of Key West, there are lots of tours and places to rent boards, so don't worry if you don't have your own gear yet.
Big Pine Key is further up The Keys. This place is both beautiful and breathtaking, and it is also where a deer rescue center is located at the inland parks. Between the beautiful marshes, the beaches are more sandy, so this is a great place for people who have never been on a stand-up paddle board before.
You can rent a gear and take a guided tour, or even take a SUP yoga class in Manatee Bay. You will find that this place refreshes your mind and soul and lets you see the beauty of the environment around you.
Big Pine Key is one of the most suggested and talked about paddle boarding spots in Key West, and everyone should put it on their list.
The Seven Mile Bridge in Key West is on every tourist's "Key West bucket list tour," whether they come by car or boat. This is because it has been in several Hollywood action movies, including True Lies, License to Kill, Mission Impossible III, and 2 Fast 2 Furious.
This is often done on beautiful drives because it goes through the open ocean. You can get very close to some of the most famous scenes in Hollywood, but it's not for people with weak hearts. This water adventure should only be done by serious, skilled paddlers. Always check the weather before you leave, and give yourself time to think about your time and the whole trip.
Anyone who is really good at paddle boarding and has done it a lot must put this place on their ultimate bucket list.
Soak up the Caribbean vibes in Key West and let your worries melt away. The perfect sand and turquoise water make for some of the most beautiful paddleboarding views. If you want to get out of the sun, you can easily walk up to the shore and find a palm tree for shade.
The shallow water here is great for people who want to learn how to paddle or just want to rest. You can start out right from the beach or use the long wooden pier to go farther out. You can also use the pier to get a great view of the sun setting into the Atlantic Ocean as it goes around the point.
Key West Paddle Board Adventure
Rent a Paddleboard in Key West Now
Stand-up paddleboarding (SUP) in Key West sounds like a fantastic way to soak in the sun and enjoy the beautiful waters! 
One of the great things about Key West is its diverse waterways. You can paddle through calm, shallow waters near the shore or venture out to explore more open areas. The Key West Harbor, the Gulf of Mexico, and the Atlantic Ocean all offer unique paddling experiences.
It's not just a water activity; it's a chance to connect with nature, relax, and enjoy the unique charm of this tropical paradise. Ready to ride the waves and make some unforgettable memories?
Do you know that you don't even need snorkeling equipment to explore the ocean floor in the Florida Keys? Take glass bottom boat tours in Key West to experience the fascinating underwater environment.
Key West is riding heaven because it's only 4.2 square miles, easy to traverse, and you can always find a bike parking. You will love Key West biking, whether you ride through picturesque neighborhoods or take one of the many routes lined with stunning views thanks to the island's low-speed restrictions and plenty of bike racks.
When is the best time to visit Key West? You might be wondering about that while planning your next vacation with friends or family. In this blog post, we'll break down the different seasons and factors that can help you decide the ideal time to visit Key West.
Paddle Board Rentals In Key West FAQs