Key West is located at the southernmost Florida Keys island chain tip. It is a must to try out a helicopter ride in Key West at least once to witness a truly breathtaking vista.
Key West, a little tropical treasure nestled amid crystal blue oceans, lush green mangrove isles, and white sand, is a destination of unparalleled scenic splendor with spectacular sightseeing opportunities. And that's just Key West from the ground.
Helicopter Tours in Key West
One of the most thrilling attractions in Key West is helicopter excursions, starting at just $99 per person! Get a bird's eye perspective of Key West's magnificent seas, spot animals such as sea turtles, dolphins, and stingrays, and see portions of the island accessible by air and sea only. 
Different tours are available if you have the entire afternoon to kill or are simply passing through on a cruise. Whether you're a first-time pilot or a seasoned pilot, all excursions are enjoyable, family-friendly, and guaranteed to put a smile on your face!
Here are some of the best helicopter rides in Key West:
Keys Helicopter Tours is a family-run helicopter tour company designed for families to enjoy the breathtaking scenery of the Florida Keys. As the premier provider of helicopter sightseeing trips, the goal is to deliver complete customer pleasure by providing a remarkable moment filled with stunning aerial views, vital history, and fantastic wildlife sightings. 
In a Robinson R66, fly over the beautiful beaches, reefs, Seven Mile Bridge, turtles, dolphins, manatees, sharks, rays, and much more. It is a safe and comfortable helicopter with AC and autopilot that seats five people.
Fly-KeyWest is Key West's top helicopter tour operator, giving clients from all over the world with the most exhilarating experience in the Florida Keys since 2014. Fly-KeyWest is lucky to manage what is a bucket list experience for many. The goal is to deliver the most thrilling experience for guests while educating them about a unique region's cultural and natural treasures.
Fly-KeyWest's highly qualified and dedicated employees include pilots with exemplary safety records and years of expertise in military and civilian aviation and VIP operations. The management and administrative team are managed by tourism experts who can help make your trip the best.
The Robinson R44 Clipper II helicopter is used by Fly-KeyWest. This helicopter is suitable for short intimate trips of up to three passengers, with each client receiving a window seat in air-conditioned luxury for amazing views. With the added security of pop-out floats, this helicopter is suitable for Fly-KeyWest's operation.
An Overview of Fly-KeyWest's Helicopter Tour
Key West Helicopters is glad to provide customers with a fantastic selection of aerial sightseeing experiences to choose from. Helicopter trips delight clients with the exhilaration of flying while providing breathtaking views of Key West, the Lower Keys, the Florida Keys Backcountry, and much more.
Key West Helicopters' local experienced tour planners and pilots/guides are knowledgeable about Key West and the surrounding waterways and islands. They have exhaustively studied the Keys by land, sea, and air to assemble a collection of Key West helicopter excursions that allow guests to effortlessly match any price, taste, and timing needs.
When mixing the adrenaline of flying with the unequaled scenic magnificence of the Florida Keys, as seen from above, Key West helicopter tours are unrivaled. The variety of tour options available, the ability of R44 helicopters to skim low for wildlife spotting or fly high for panoramic views, and the expert skill and local knowledge of FAA-certified pilots all combine to make each of these Key West helicopter tours an unforgettable sightseeing experience.
You'll get a whole new perspective on Key West's historic sites and natural environs from above. Be in awe of the changing shades of blue in the waters surrounding the Keys, gain a new perspective on America's greatest tropical marine wilderness, and marvel at the Florida Keys island chain as it reaches southwest from the Florida peninsula to separate the Gulf of Mexico from the Atlantic Ocean.
Take a seat on one of the fantastic helicopter rides in Key West today! Because daily seating is limited and tickets sell quickly, make your reservations only through the online booking system of Key West Helicopters. 
South Beach Helicopters takes pride in having special landing places that no other helicopter tour operator in South Florida has and can help you customize your five-star experience. If you want to plan an action-packed day and are looking for a thrilling and enjoyable flight experience to an exotic location of your dreams, or if you need to attend a business meeting and want to avoid the hassle and stress that crowded airports and traffic can cause, then let South Beach Helicopters design a trip just for you! 
Take a breathtaking flight over the Florida Keys to Key West. It is a lively town noted for its delectable local cuisine. Once there, you can explore Old Town, visit Mallory Square, The Aquarium, and Duval Street, shop, hop on a jet ski, and have lunch at the 5-star Sunset Key Resort, among other things.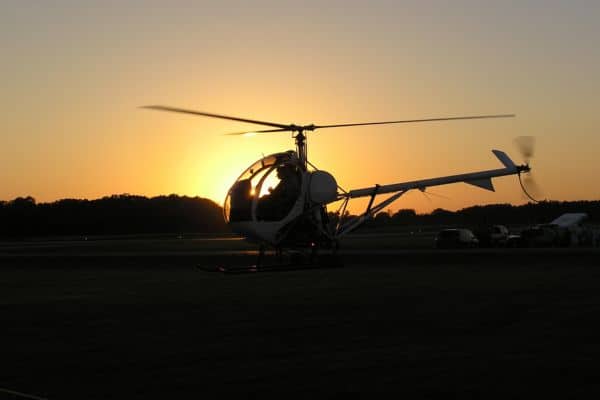 Most people would never get tired of visiting beautiful Key West on foot – or, better yet, by boat! If you want something different, take an exhilarating helicopter ride in Key West. Taking to the skies provides a unique perspective of this palm-lined island.
Fly over historical city landmarks, photograph sharks, dolphins, and stingrays, and search for sunken ships and reefs in the pristine blue ocean. Key West helicopter excursions are an excellent opportunity to celebrate a special occasion or just organize a vacation activity that your family will remember for years to come.
Helicopter Ride In Key West FAQs