You can choose to have a leisurely or exciting experience during your vacation through Florida Keys jet ski rental offers. The island chain serves as the ideal vacation spot since they are brimming with activities for people of all ages, hobbies, and origins. 
If you enjoy seeing new places, you can be sure that a vacation to the Florida Keys won't disappoint. You can put your fishing prowess to the test on a charter, get up close and personal with tropical fish on a snorkeling tour, or take to the sea on a jet ski to discover the alluring beauty of the island.
Some of the most beautiful beaches in the Florida Keys may be found in Marathon. Jet skis, in particular, are among the most well-liked watersports in the Florida Keys region. This post will discuss Marathon's most affordable and top-rated jet ski rental locations.
Take advantage of Islamorada Watersports Company's extensive rental fleet of jet skis, including various models. As you navigate through the mangrove tunnels and circle nearby reefs, discover almost 25 kilometers of the island's crystal-clear seas. You can stop to feed tarpon, go snorkeling, or cruise across Islamorada's wide waters.
The captains and operators at this jet ski rental are skilled at navigating the waterways and have the knowledge to make your jet ski excursion unforgettable. Choosing Islamorada Watersports Company ensures your safety while you are on the island.
Dolphin Bay Watersports is a fantastic choice if you're specifically seeking a guided jet ski excursion in Marathon. They charge $109 for 1-hour jet ski tours.
Yamaha Waverunners, which are exceptionally stable and dependable jet skis, are used for rentals. They are fantastic if you require speed because they can travel up to 50 mph on the water. The jet ski can accommodate up to 3 persons, making the $109 price tag relatively affordable. 
Local employees with extensive knowledge of the island's history and marine ecology serve as tour guides. Kayaks and paddleboards are also available for rent.
Florida Keys Jet Ski Rentals
Florida Keys Jet Ski Rentals offers hourly, daily, and weekly guided tours for visitors to the island. This is the perfect rental option if you're considering taking your next trip to the Florida Keys and want to enjoy some time on a jet ski.
The staff is welcoming, the tools and vessels are conventional, and the instructions are straightforward and well-explained. Even if you decide to take the jet ski tour by yourself, you will feel assured whether you are a seasoned rider or a novice.
A short look at TripAdvisor demonstrates that Florida Keys Jet Ski Rentals has consistently outperformed tourists' expectations by providing thrilling and safe jet ski rental services.
Wakezone Watersports is the cheapest to rent a jet ski in Marathon, Florida. For $140 per hour, you can rent a Yamaha jet ski if you'd prefer one with more power. They are also one of Marathon's only jet ski rental businesses that charge $500 for a full day of jet ski use.
Wakezone also provides two different types of supervised jet ski tours. The first involves a 20-mile tour around Marathon, including pit stops at certain swimming holes and sandbars. Each jet ski on this one-hour tour costs $110. The second tour lasts two hours and costs $179 per jet ski. Over 30 miles of the Marathon coastline are covered by this tour, which includes some free time for solo riding.
They provide banana boat rides and boat rentals in addition to jet skis.
A1A Watersports is a family-run company that provides jet ski rentals in Islamorada, as well as boat rentals from Key Largo to Marathon.
Given that they offer the largest open water-riding area on the island, A1A Watersports is the best place to rent a jet ski if you want to enjoy freedom riding. The fleet of jet skis here is continually updated with the newest models. One to three people can be safely and comfortably accommodated on each jet ski.
A1A Watersports has the ideal jet ski rental for you, whether you want to take a leisurely cruise over the water or need to experience the excitement of riding a jet ski at high speed. Each guest receives thorough safety instructions and a life jacket to help novice riders feel at ease on the water.
A1A Watersports also gives customers a choice between two jet ski rentals. The first option is to freely explore the open ocean with a guide on hand as needed, while the second is to hire a pro to be your tour guide and spend two hours exploring the islands.
Florida Keys Watersports is one of the best places to rent jet skis in Islamorada. Prepare to experience a 25-mile cruise of Islamorada's sand bars, mangrove islands/tunnels, and reefs. Visitors have plenty of time to satisfy their urge for speed in the open waters surrounding the island.
Freedom Ride 
Visitors can enjoy a tour of Islamorada and the Florida Keys' expansive riding regions for 30 minutes to 1 hour. For the duration of the excursion, you essentially tour the entire ocean.
In contrast, less daring or inexperienced riders can always take a solo tour of the quiet wide waters and enjoy themselves. If you are an expert rider, you will have plenty of freedom to reach speeds of up to 50 MPH.
See It All
Visitors are also welcome to take 1.5 to 2-hour guided tours on their own jet skis at specific times throughout the day. These tours take you around the lovely canals surrounding Islamorada Island and direct you to the greatest spots that locals only know about.
Do It All
Lastly, the expertly led tour at Florida Keys Watersports will take you to the top locations on the island in 2-hour segments. 
The jet ski tour is combined with a 30-minute snorkeling experience on the living coral reef after a 15-minute "Freedom Ride" in the open ocean. You will also tour the sandbar, pass under the Whale Harbor Bridge, and travel through the mangrove tunnels. 
The "Freedom Ride" continues for another 15 to 20 minutes and is followed by a leisurely ride back to the harbor.
One of the top jet ski rental businesses in the Florida Keys is JSK Watersports. Three alternative – budget-friendly jet ski tour options are available to visitors: a 2-hour jet ski and snorkeling tour, a 1-hour freedom ride rental, and a 30-minute rental.
Spray Watersports strives to offer tourists visiting Islamorada the newest and most distinctive jet ski rental fleet. All of these jet skis are roomy, fitted with the best safety features, and made to run in shallow water.
Before you embark on your water adventure, knowledgeable staff will provide a demonstration and go over all of the jet ski's components and controls. Before you start, they will also provide you with a ton of safety-related guidance and pointers.
The playground is ideal if you want to challenge yourself to some open wave jumping or just take a leisurely cruise through the seas.
You can have as much fun as you like in the stunning waters of the Florida Keys thanks to Spray Watersports, the only jet ski rental in Islamorada that offers half-hour rentals.
Sunset Watersports offers jet ski tours in Key West. The tour takes you to several areas in and around Key West as you travel through the Florida Marine Sanctuary. It provides genuinely unique views of the island. 
This trip gives you a thrilling jet ski ride, taking you around Key West's entire island and making a stop at a sandbar. Key West Harbor, Southernmost Point, Florida Keys Wildlife Sanctuary, Boca Chica Sandbar, and other undiscovered locations are among the additional destinations.
This excursion is frequently ranked as one of the best things to do in Key West. The 28-mile, action-packed jet ski trip makes five to six stops while teaching you interesting and historical information about the island.
After instructing you how to use the equipment, the engaging and knowledgeable jet ski experts at Sunset Watersports will take you around the entire island to explore the Key West coastline. They have brand-new jet ski equipment every year to guarantee that visitors are riding the greatest, top-of-the-line jet skis. Both novices and experienced jet skiers will enjoy this journey. 
While those wishing for a more leisurely trip cruise with the guide in the back, their knowledgeable guides will lead the way for the full-throttle adrenaline seekers.
On the island, explore kilometers of crystal-clear water and get close to the mangrove ecosystems. If crowded water activities are not your thing, Tropic Water Sports still has you covered. You may ride away from congested beaches and regions.
The spacious swim platform on Tropic Water Sports' jet skis makes it simple for riders to board and exit the vehicle.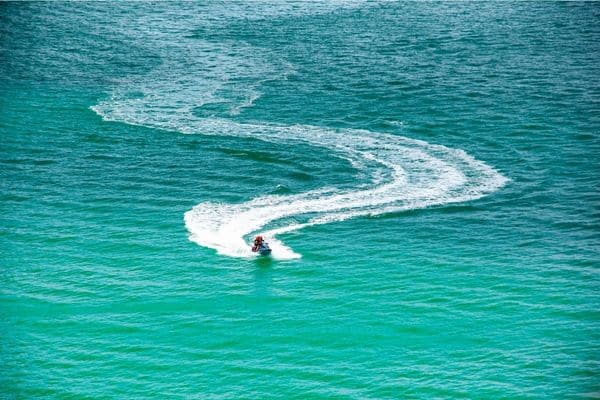 What You Need To Know Before Renting Out A Jet Ski In the Florida Keys
According to the Florida Fish and Wildlife Conservation Commission, anyone under 21 must have valid identification and a Boater Education ID card. You must obtain this official boater safety certification if you live in Florida and plan to rent or operate a personal watercraft or boat while visiting the Florida Keys.
The law mandates that anyone operating a boat in Florida waters with an engine of ten (10) horsepower or more must complete an approved boating safety course and acquire a Florida Boating Safety ID Card. 
This certificate is proof that the individual listed on the card has successfully completed the mandatory boating safety course; it is not a boating license. 
Even if you are from another state or nation, you still need to be certified for a boating license. Many methods exist for achieving this. You can take the boating license test online if you know boat rentals in the Florida Keys will be a part of your trip to Florida.
The Florida Keys National Marine Sanctuary offers boater education courses, and there are now online courses available that you can take, with online exams included as well. Click here to learn more about the Boater Education ID card.
Florida Keys Jet Ski Rental FAQs