Spearfishing in the Florida Keys is one of the reasons why fishermen and lovers of water sports swarm to these rich seas, which stretch from the Everglades to Key West. The Florida Keys have some of the nation's greatest waters for various reasons. You can free dive or scuba off a spearfishing charter in the Florida Keys and catch whatever you want for dinner.
With reefs, wrecks, and the deep water only a short distance away, the possibilities are endless. There is something for everyone in the Keys, whether you're an expert or a beginner.
Hunting communities around the world once relied heavily on the traditional spearfishing technique. It still works well for catching fish but lets you see a fascinating underwater world.
You'll swim with various gorgeous fish, whether using scuba equipment in the deep water or free diving with snorkels. Be prepared to be astounded by the vivid colors and how these many creatures coexist in the same habitat.
Nothing will make your heart race faster while fishing than the underwater hand-to-hand encounter you'll experience. The thing is, spearfishing is more than just underwater hunting. You must always be looking out for predators while you are so close to the fish. If the fish tries to escape, you might also have to use some forceful lifting.
The ability to precisely target your prey is another benefit of spearfishing. Bycatch or the wrong fish taking the bait won't be an issue. You won't be disappointed if you go after the exact thing you want to bring home.
Florida Keys Dive Center offers spearfishing classes and guided excursions from around $140 to $850. 
The Spearfishing Experience (A Visualization For Beginners)
Spearfishing in the Florida Keys is a beneficial but risky addition to this underwater sport when scuba diving. Because it's the most "up-close-and-personal" type of fishing there is in the Keys; spearfishing is regarded as risky. Additionally, enthusiasts frequently decide to go freediving, which makes spearfishing even more difficult.
At times, spearing might resemble deadly hand-to-hand fighting. Imagine fighting a huge grouper with a spear all the way to the surface while unable to reach for your kill knife. You don't want to let go, and since you're out of air, you can't be dragged back to the bottom.
As a man tries to outwit hostile fish in their struggle for survival, spearfishing almost has a primal vibe to it.
Spearfishing in the Florida Keys puts you right where your target is, as opposed to other types of fishing, where you are kept safely away from hazardous fish and sharp teeth. 
In this situation, you are the hunter. You look for and follow your target covertly. You launch a swift and violent assault. Your killing is quick and precise. It doesn't always turn out that way, but at least that is what you plan.
Things To Remember Before Going Spearfishing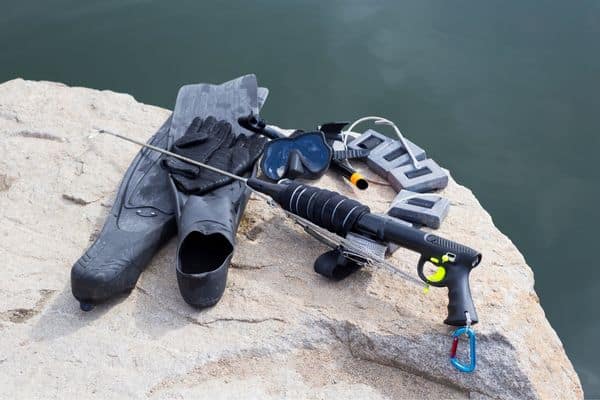 Know what to bring before grabbing your spear and heading out to sea in the Florida Keys. You should wear a thin wetsuit because the water can be warmer than you anticipate. Make sure you are outfitted with fins, snorkeling equipment, or a scuba set if you want to go deep in the water.
Prepare to hold your breath for a while if you're going spearfishing for the first time. While most charter companies will demand training before taking you deep underwater, you should become comfortable with a snorkel if you plan to spearfish in the shallows.
You should also check that you have the proper spear. You might not have a choice in what you receive if you hire a spearfishing guide in the Florida Keys. However, if you're required to carry your own, you should pick from a speargun, pole spear, or Hawaiian sling.
You should watch out for sharks when in the shallows. Keep in mind that most of them are shielded and avoid going after them, but more importantly, you should always stay safe! Sharks may be alerted to any strange activity by the vibrations produced by your spear, and they may then decide to investigate, even though they aren't drawn to human flesh.
The Best Places For Spearfishing in the Florida Keys And The Fishes To Target
The southernmost point of the US is the entry point to some amazing spearfishing chances. Beginners can hunt for Hogfish and smaller Snappers on several coral heads only a short distance from the coast.
You can go to renowned wrecks and islands a little further from the coast and find some very sought-after species. Go after some larger Groupers and Snappers at the Vandenberg or the Tortugas and Marquesas Islands.
There are excellent offshore prospects for the most talented spearfishers because the water goes deeper and faster here. Explore the Straits to find a fish migration route. You can pursue Mahi Mahi, Tuna, and Wahoo, among many other fish. Because of how great it is here, it is frequently regarded as one of the top spearfishing locations in the world!
The Middle Keys are excellent spearfishing grounds since they have fewer restrictions and have more shipwrecks. The shallows here are wider despite the limitations close to the coast.
You may travel outside of Marathon to discover reefs like Duck Key. If you head near the Atlantic, you'll run into wrecks like the Adelaide Baker and Thunderbolt. These provide great fish-feeding areas along with the reefs. Novices and experts are encouraged to take full advantage of the tasty species that call these waters home, including snappers, groupers, hogfish, and many others.
The fishing areas between Islamorada and the Everglades are well-known worldwide. Unfortunately, some of the shallower waters are off-limits to spearfishing. A 3-mile "Sanctuary Preservation Area" restricts the spearfishing options.
But you're in luck if you've earned a spearfishing certification. In waters of moderate depth, spearfishing excursions in Islamorada and Key Largo will lead you in search of large, powerful, and valuable fish. Target the reefs and wrecks for Snappers, Groupers, and a variety of other delectable species.
A documentary of saltwater spearfishing experience in the Keys
The Keys are ideal for all types of fishing since they have a plethora of warm waters right off the coast. There is something for everyone when it comes to spearfishing. You can go spearfishing every day of the year, so you never have to miss out.
When the season begins in the summer, there is also the opportunity to go lobster hunting. Beginners might try their hand at diving to capture these valuable species. You'll become addicted to the water after a few hours there! Remember that since you cannot use a spear, it is not spearfishing!
The best way to ensure your safety is to travel with a seasoned spearfishing or diving guide in the Florida Keys. Any experienced diver will be aware of the ideal locations to visit and will make sure that all the necessary gear is set up. They'll also provide you with all the assistance required to be safe and enjoy your day out!
At the end f the day, you can savor the fish you've caught with family and friends. You can also try kayak fishing if you'd like to catch some fish without needing to go underwater.
Spearfishing In The Florida Keys FAQs